4.7GW of solar PV capacity was installed in the United States in 2013–with about half of this coming online in the final quarter alone, according to a year-in-review report by GTM Research and the Solar Energy Industries Association (SEIA). This represents about 40% growth in the US's solar market since 2012.
This makes solar the 2nd largest contributor to new electricity generation capacity for the year, following only gas plants. The news has some saying that solar power has entered the 'mainstream' in the US, with still greater growth expected for 2014 and a cumulative solar PV capacity of over 12GW now installed across the country. 
The top 5 solar hotspots in 2013 were California with over 2.7GW, Arizona with 700MW, North Carolina with 335MW, then Massachusetts and New Jersey with about 235MW each. All other states installed 150MW or less. In terms of cumulative capacity, California is still #1 with over 5.5GW installed, followed by Arizona and New Jersey, with about 1.8GW and 1.2GW, respectively. (A full list can be seen in this compelling infographic.)
The report takes note of solar installation price declines in each state between 2012 and 2013 (average weighted installation prices fell about 15% to $2.59 in the 4th quarter), plus data on the percentage of new solar capacity by state (solar accounted for 100% to new installation capacity for 7 states). In the report SEIA & GTM Research also predict that the US solar market will grow by 26% in 2014, and discuss the most important factors that could influence how things unfold next year. These include the debate of net energy metering and US-China trade disputes over imported solar modules.
These numbers make Australia's solar PV uptake, with 3GW installed cumulatively (and counting), look small in comparison. Although the US market is far larger than the Australian solar market in absolute terms, however, adoption of solar power here has a very different story to tell. In contrast to the US market, which has seen most of its growth in the large-scale solar sector, residential solar installations dominated here: 250,000 households went solar in Australia in 2013, while in the US this number was closer to 150,000.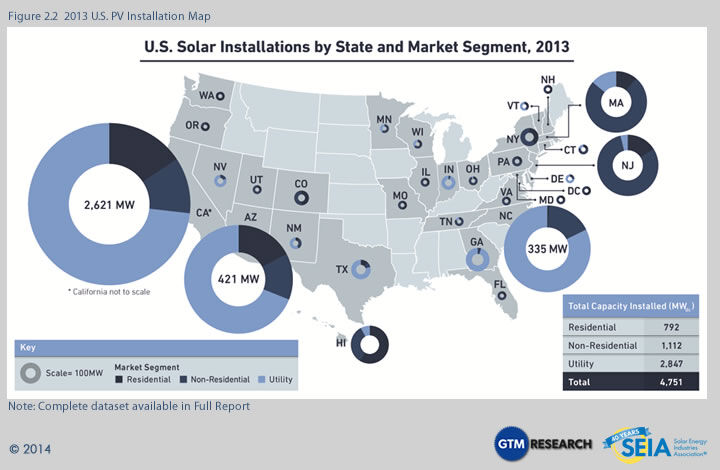 US solar installations by state & market segment. (Source: SEIA.)
Top image via SEIA
© 2014 Solar Choice Pty Ltd