Greentech Media Research (GTM) has recently released a report that predicts the module-level power electronics (MLPE) market to grow five-fold by 2017, singling out 2014 to be the landmark year for the explosive growth.
Such module-level power electronics help in maximising the energy output of existing modules by reducing losses due to power mismatch in strings. These products include DC optimisers as well as micro-inverters.
The GTM report predicts that the global solar microinverter and DC optimiser market is set to climb from 1.1 GW of installed capacity in 2013 to over 5GW by 2017 – a dramatic increase indeed considering MLPE products first entered the market only 4 years ago!
The current cumulative installed PV capacity currently stands at 2GW, which is barely 1.5% of the global cumulative installed capacity of 140 GW. This fraction is not expected to budge too much; however, the good news is in terms of new installed capacity.
In 2013, over 35 GW of new PV was installed worldwide of which 3% used module-level power electronics (MLPE) systems. If predictions on new installed capacity for 2014 are correct, this fraction could inch closer to 4%. Eventually, MLPE-enabled systems are expected to reach market penetrations of 7.5% or more of new installed capacity by 2017.
The change has been termed as a "second chapter" in the PV market. In the market's "first chapter",  initial growth was focused on selling the system reliability and granular monitoring benefits – mostly for the residential PV market. However, it has now been making inroads into commercial PV with developers seeing the benefits of increased operational throughput and design flexibility amid downward pressures on labour cost and electrical balance of systems. The various types of MLPE products are illustrated in the figure below.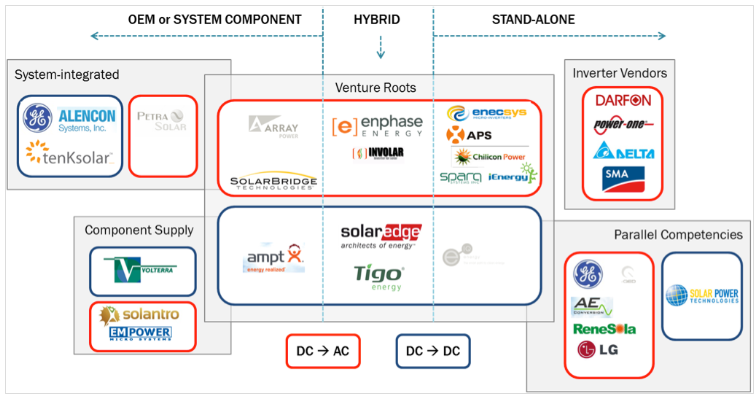 Image credit: GTM Research
The MLPE space has been dominated by 3 major companies, which together accounted for 88% of MLPE shipments in 2013: Enphase Energy, SolarEdge Technologies and Tigo Energy. However, according to Mike Munsell of GTM Research, "A new gang of well-funded competitors are entering the space to challenge the three established firms."
Paul Grana, the report author and GTM consultant, states that newer private and/or well-funded companies with "a broader and much more compelling value proposition" had boosted the market due to which "the sector has grown from a small niche to shipping more than a gigawatt per year." "The companies of four years ago would not recognise the companies of today", Grana added.
An increase in fully integrated AC modules and smart modules is also predicted, marking the entrance of module manufacturers into the MLPE market, which is expected to have a significant impact on the MPLE market up to 2017.
MJ Shiao, GTM research director for solar, says, "As the global industry focuses on balance-of-system costs, microinverters and DC optimizers represent a large, relatively untapped opportunity for installers and investors to reduce overall PV system and operational costs". He expects that Australia, along with the US, UK and Germany, will be one of the key global markets that will continue to "embrace and expand" MPLE products.
Top image via GTM Research
 © 2014 Solar Choice Pty Ltd

Latest posts by Nitin Nampalli
(see all)