Utility-scale solar in the US is likely to become competitive with fossil fueled energy generation sources in a matter of years, even if current tax credits are removed.
That is the assessment of SunPower, one of the biggest solar module manufacturers and project developers in the US, which this week bought out the 1.5GW solar portfolio in the US built up by Australia's Infigen Energy.
In a conference call accompanying its second quarter results, president and CEO Tom Werner said large-scale solar barely accounted for 1 per cent of total generation in the US, but had huge potential, even if the investment tax credit (ITC) was removed in 2017.
That's because of the declining costs. Werner pointed to one contract below $US50/MWh. Others have gone below $40/MWh.
"If you do the math on that and you project post-ITC, and you continue protecting our cost down and performance increases in our systems, that's where we get our confidence in a potential post-ITC world," Werner said.
"So, we think that our solar energy is interesting to utilities already post-ITC, assuming there is a post-ITC."
Costs for large-scale solar in the US are falling rapidly, helped by cheap finance from new asset classes and vehicles that analysts say will result in more investment than the oil and gas industries.
Werner's confidence is reflected in the company's forecast for solar deployment over the next four years, growing at 30 per cent compound rate.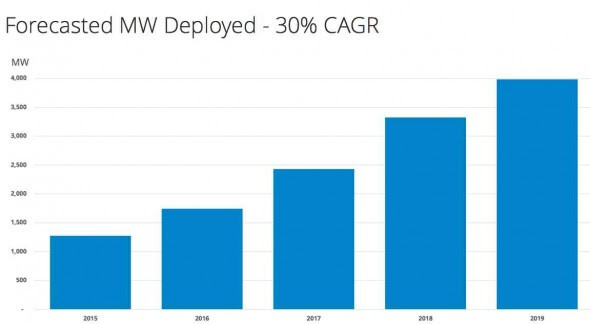 SunPower Development head Howard Wenger told the conference call that US utilities were "no longer really fighting solar", but trying to figure out a solution to combine solar with the traditional utility business.
© 2015 Solar Choice Pty Ltd

Latest posts by Giles Parkinson
(see all)