Western Australian will spend $300,000 on a feasibility study for the creation of the country's biggest edge-of-grid solution – a renewables-based micro grid to cut costs and improve energy security.
WA energy minister Mike Nahan announced the study on Thursday, which is expected to be the first of a number of such initiatives as grid operator Western Power looks to micro-grids to reduce massive costs and cross-subsidies to service remote areas.
This micro-grid study will centre on the town of Kalbarri, some 140kms north of Geraldton, whose grid connection is frequently interrupted by wind-blown salt and dust.
The area has 2,000 customers and a daily energy peak of 3.7MW.
"The Kalbarri microgrid will be an important test for applying technology in an innovative way to improve electricity supply for regional communities while using the network more sustainably and affordably," Dr Nahan said in a statement.
"This is a model that could be used as a blueprint for other regional areas and help in the development of further renewable generation across the rural edges of the electricity network."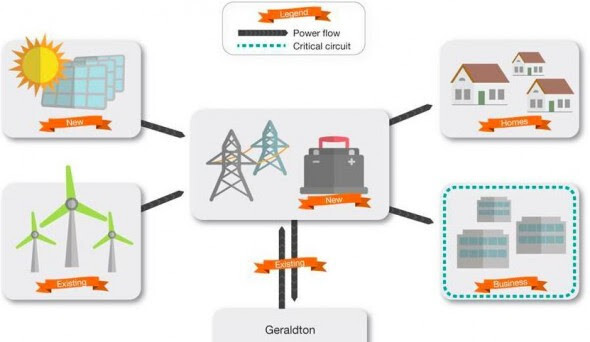 The study is expected to take six months to complete, will focus on using wind energy and solar power, and adding battery storage. The area already has a small, two-turbine wind farm with a capacity of 1.6MW.
It will retain the link to the main grid, but will consider the best way to supply the town and push excess power down the line. When stored energy was insufficient to meet demand it would be able to draw from the grid, and also have the ability to disconnect from the larger network should a fault occur.
© 2016 Solar Choice Pty Ltd

Latest posts by Giles Parkinson
(see all)