At the NSW Smart Energy Summit 2018 there was a lot of talk regarding the future of pumped hydro in NSW and the talk was promising.  Mr Turnbull of course talked a lot about Snowy 2.0, but it was the talk about a large array of other projects planned around NSW that really solidified pumped hydro's part in the transition to renewables.
The NSW Government has 24 new pumped hydro projects planned and according to SMH these projects together when completed could provide about half of the state's demand for electricity on the hottest days and three times the power of Snowy 2.0.
The NSW government has released a pumped hydro roadmap that is designed to ramp up the development of new hydro storage projects and back up the rising levels of new wind and solar generation.
The 24 proposed projects come after the federal government worked with the Australian National University to identify about 22,000 reservoirs that could be used to form around 98,000 possible pumped hydro projects around the country.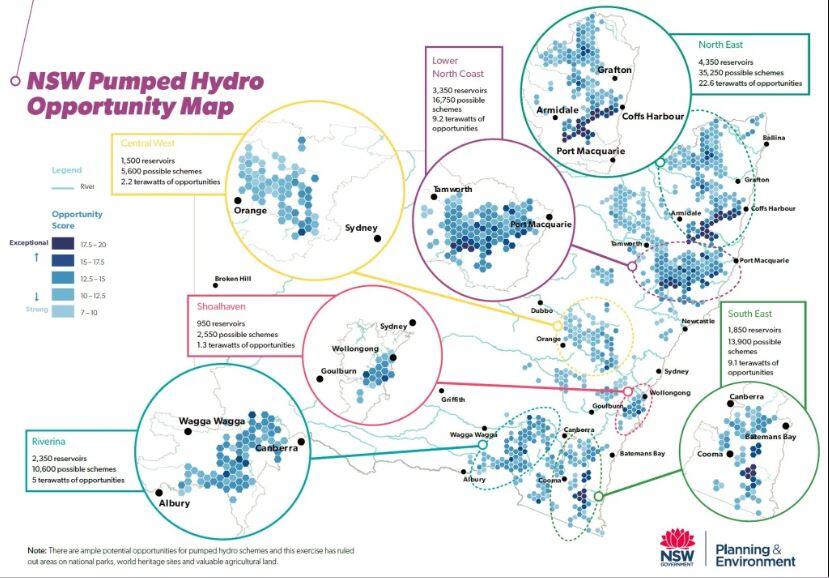 As you can see by looking at the above diagram the potential site opportunities are plentiful. With a large number of sites between Coffs Harbour and Port Macquarie and in West towards Armidale as well as sites South of Batemans Bay and Cooma.
NSW Energy Minister Don Harwin said the pumped hydro storage plants will help back up the $26 billion worth of new renewable energy projects being built in the state.
"Pumped hydro delivers the long-term, utility-scale energy storage that is critical to achieving a smooth transition to renewables in NSW," Mr Harwin said.
"This roadmap will drive future investment to ensure our energy system in NSW is robust and reliable into the future."
NSW currently has around 4700 megawatts of pumped hydro power across the state.
The state and federal governments are not the only groups ramping up hydro projects. AGL has worked with Japanese firm Idemitsu to turn a former Hunter Valley coal mine into a pumped hydro storage plant to replace the energy that will be lost when AGL closes its coal-fired Liddell power station in 2022.
Origin is planning to double its existing Shoalhaven pumped hydro storage capability in the NSW Kangaroo Valley, near Wollongong.
Article referenced from – The Sydney Morning Herald

Latest posts by Jake Elliott
(see all)