Solar Choice were "out of the office" last Tuesday 4th December to watch the Smart Energy Council play host to the NSW Smart Energy Summit.
Pre-arrival the buzz was centred around former Australian Prime Minister Malcolm Turnbull publicly speaking for the 1st time since being replaced by Scott Morrison. On Solar Choice's arrival it was clear everyone was keen to hear what he had to say with renewable industry advocates from all over the Country in attendance with a heavy artillery of media attention.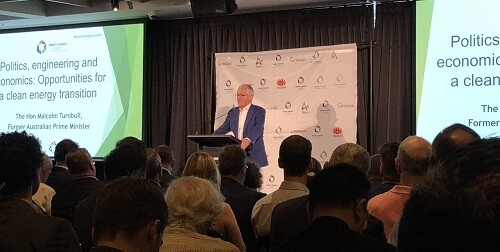 In articles since his talk you can read in The Australian about how he wishes to revive the National Energy Guarantee (NEG) and also how MPs who push for coal power stations are driven by ideology and idiocy in The Guardian. Ultimately though there was a backing behind the renewable energy sector, a passion about the goal to transition to a cleaner energy future with the challenge for all involved in the sector on how we get there. His full address to the summit can be seen here.
The day however didn't just revolve around Mr Turnbulls speech with a richness and variance of speakers all there to support this environmentally friendly sector. Following the Smart Energy Councils Chief Executive John Grimes introduction the speakers came thick and fast in the morning with talks on major firms showing their commitment by going 100% renewables, the outlook for smart energy nationally, C&I Power Purchase Agreement's (PPA's) and building further on a growing a renewable energy industry.
Following lunch the afternoon introduced a few well-known panel, inverter & storage manufactures and provided each with a chance to show how there products can make a difference in this growing space. The post-lunch talks also provided an opportunity for Simon Corbell to talk about Australia's biggest renewable energy project – The Walcha Energy Project.
Solar Choice's takeaway from the day was very positive knowing that the support in solar and other renewable sectors is overwhelming. We can see that storage is going have an extremely important role to play in the coming years as we see expediential growth in the residential and commercial space along with becoming more economically viable. New and exciting ways to introduce solar can also be expected as Solar Choice aims to keep on top of this and provide our customers with the most up-to-date and relevant information.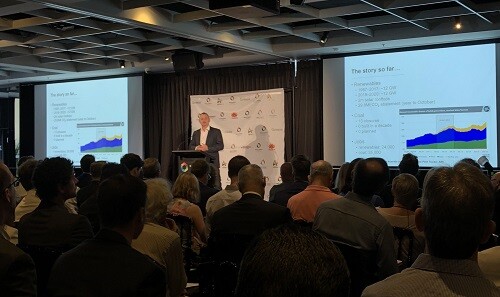 Latest posts by Matt Lasauce
(see all)