At the 2018 Australian Energy Storage Conference & Exhibition, it's very clear that big, unstoppable things are happening in Australia's energy sector.
Adelaide was a fitting venue for the event, with attendees who managed to arrive a day early invited on a tour of South Australia's world-leading (and ultra effective) 'Tesla Big Battery' at the Hornsdale Wind Farm, a day trip from the capital.
It also allowed the SA state & city governments to show off & boast a bit about how they're punching above their weight on national and global scales when it comes to energy transition. The conference was opened by the South Australian Energy & Mining Minister, Hon Dan van Holst Pellekaan MP – who both signified and espoused the new Liberal government's continued support for renewables, storage & general energy leadership in the state.
Just after the Minister was Sanjeev Gupta, 'billionaire British industrialist' and head of GFG Alliance, who has plans to revitalise the Whyalla steelworks with on-site renewable energy & storage. Mr Gupta's talk was noteworthy enough to make Channel 10 News, and was one of the most impactful (and talked about) sessions of the event.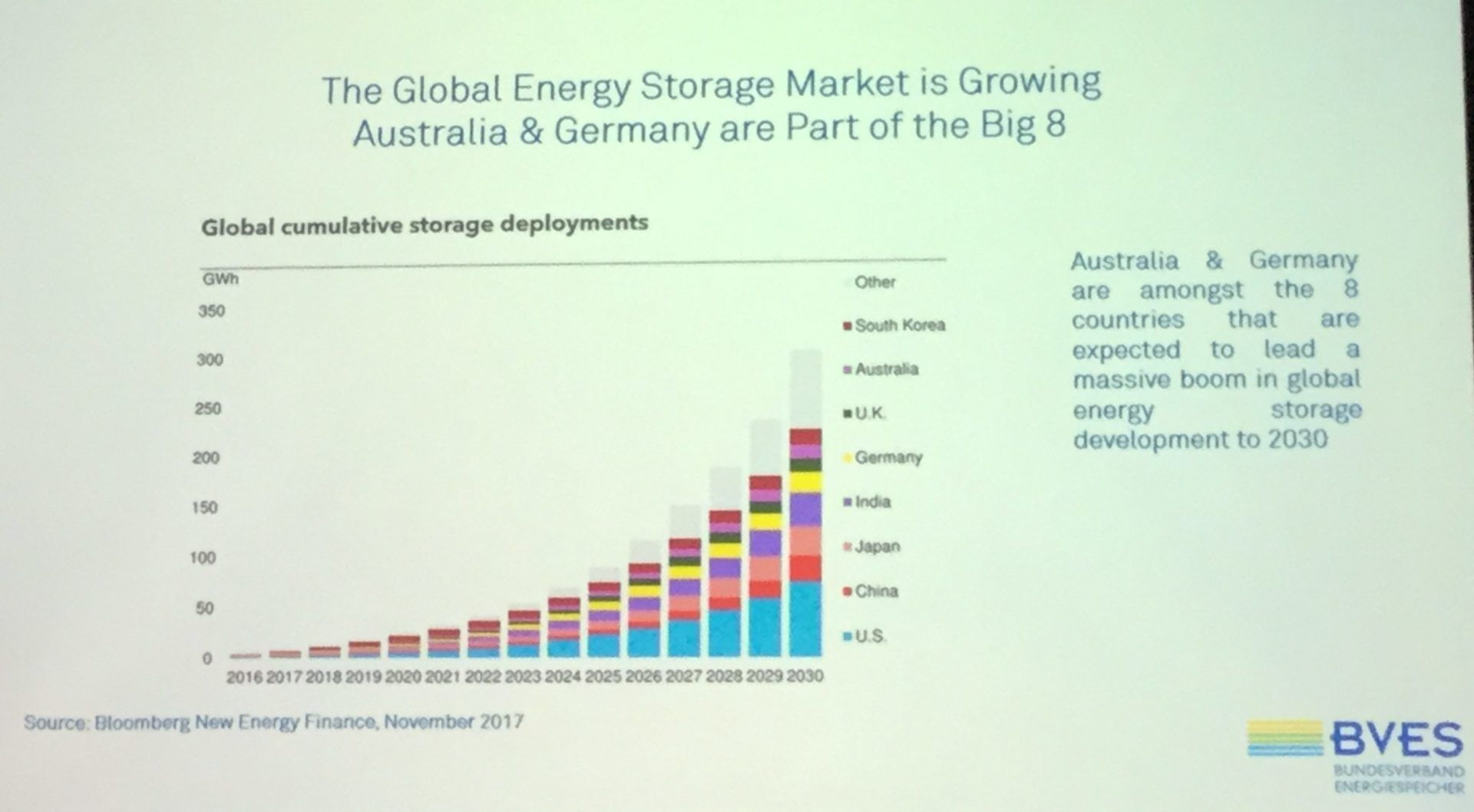 Forecast energy storage market growth globally. Australia is one of the 'Big 8'. (Photo from presentation by BVES, using a graph from Bloomberg New Energy Finance.)
Compare Solar & Battery Quotes
Australian Energy Storage 2018: Key buzzwords & concepts
The above are just few examples of all the interesting parts of this year's event. In fact, the 2018 Conference was a whirlwind tour of the amazing things happening in the energy storage space. There's so much going on nationally (not to mention globally – and the event encompassed both) in this space that it's impossible to capture it all. That being said, some of the buzzwords & acronyms being thrown around here help to paint a picture of the transformation underway. We've rounded up a handful of them below to try to paint a (very rough) picture of what was covered during the conference talks and what was on display in the exhibition hall.
DER, DERM & DERMS – Distributed Energy Resource (Management Systems)
What is it?

Software-based systems that allow a large number & variety of distributed energy systems (like small to medium-scale solar & battery storage) to be treated & operated as a single power plant. DERMS are especially important for microgrids (see below), but also crucial for the future of the primary grid as well.

Why are they talking about it at the conference?

Although you might hear politicians on the federal level fretting about the closure of coal-fired power plants and the implications of that for Australia's electricity supply, the fact is that huge amounts of new generation capacity are being added to the National Electricity Market (NEM) all the time. This capacity comes in a variety of types and sizes – not just limited to large-scale wind & solar farms, but also including small-scale solar & battery systems installed at the household level. DERMS 'aggregate' these resources, allowing them to more effectively take the place of 'conventional' generation types – like coal & gas plants. Basically, the increase in DER(MS) means a move from a 'command & control' energy model to a 'predictive' energy model, that takes into account what's going to be available in the short, medium & long-term in order to plan accordingly.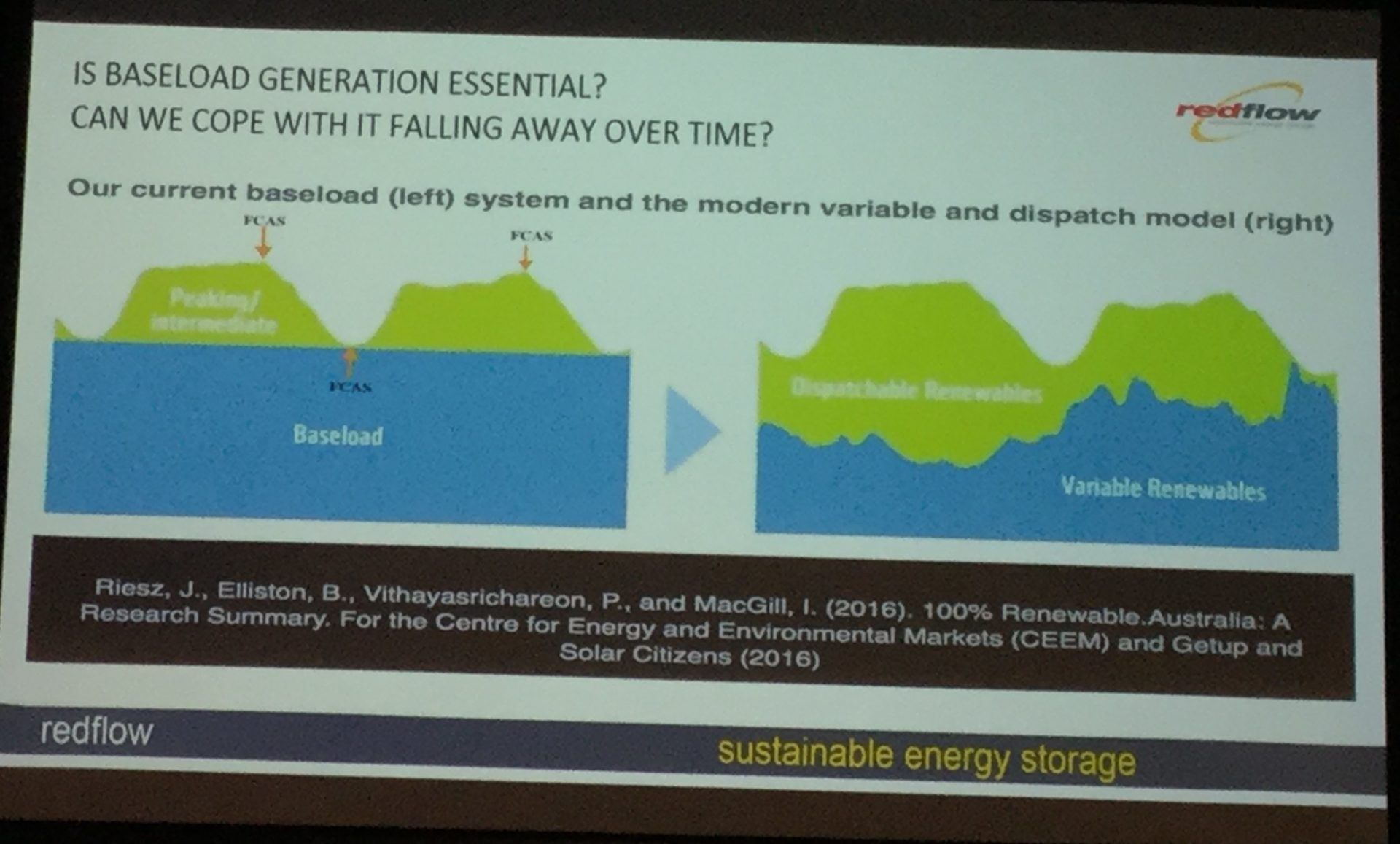 Moving away from baseload energy to variable renewables necessitates a transition from a 'command & control' to a 'predictive' model. (Photo of slide from presentation by Simon Hackett of Redflow.)
Who's talking about it or doing it?

Resposit Power's technology has received a bit of airplay with reference to the battery-based virtual power plants (VPPs) it is enabling through its retailer partners, but the names of other companies that have been flying under the radar with live projects are also being floated. These include ABB, SwitchDin, Greensync, Schneider Electric and even Tesla (with its SA government-backed VPP) – among others.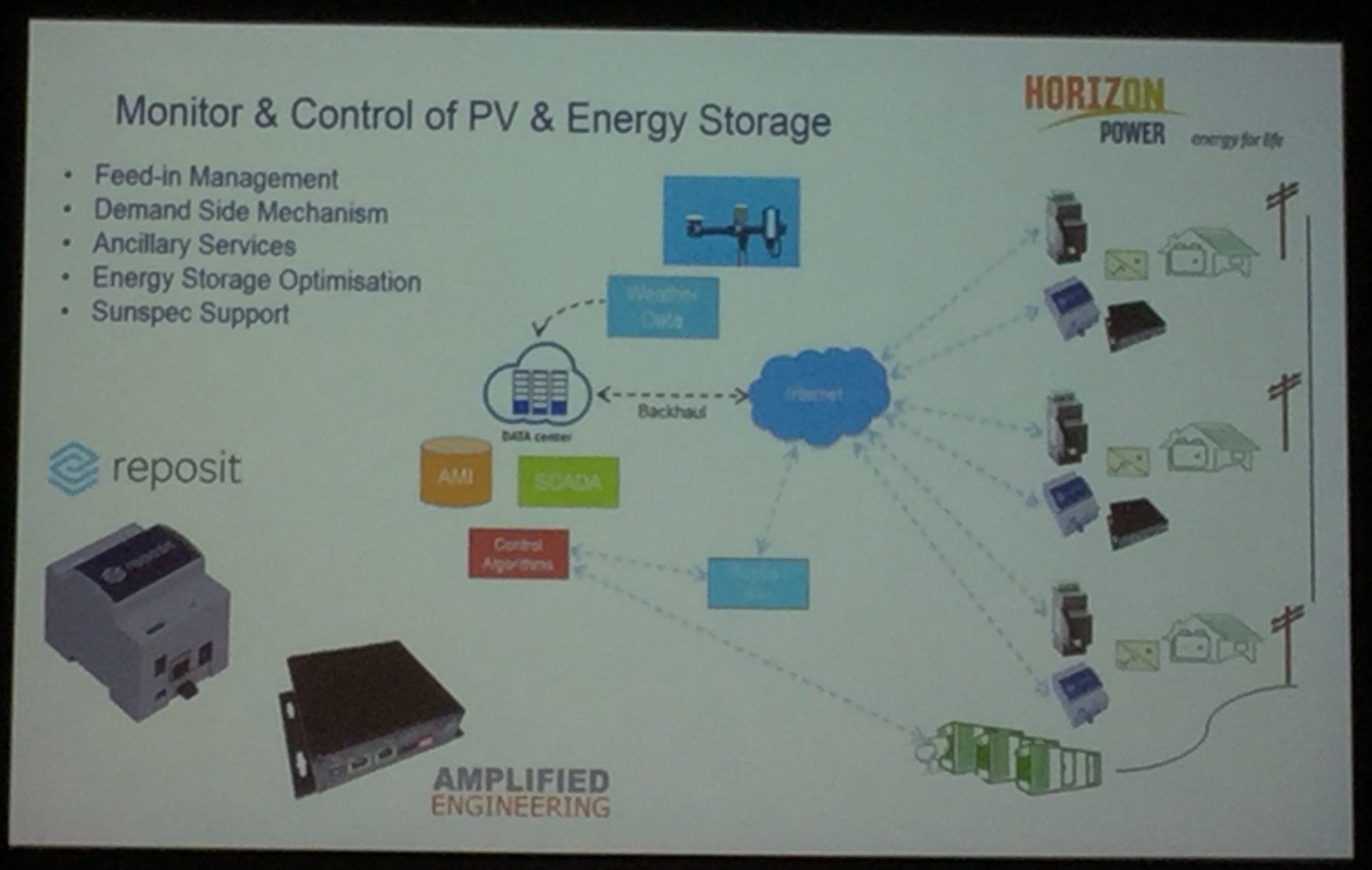 How WA's Horizon Power grid is trialing DERMs. (Photo of slide from presentation by David Edwards of Horizon Power.)
Microgrids & Embedded Networks
What are they?

Microgrids are – as the name suggests – small versions of the larger electricity grid that serves most of us (you know, the one we hardly ever think about unless if fails). Microgrids may stand completely on their own or have a connection to the larger grid infrastructure. Embedded networks are a specific type of microgrid that are connected/embedded in the larger grid.

Why are they talking about them at the conference?

Microgrids are a testing ground for the viability of distributed energy systems & the balancing of energy generation, storage and consumption. At the moment, microgrids tend to be set up to service either communities in remote areas or new residential, commercial or industrial developments aiming to take advantage of the cost benefits of on-site, 'behind the meter' renewables while also retaining a connection to the mains grid. Often, the easiest, fastest and most cost & space-effective way to build capacity into a microgrid is with smaller, distributed systems, but getting the most out of them requires a very 'smart' DERMS (see above). The learnings from these systems are being extrapolated into the larger grid.

Who's doing them or talking about them?

Microgrids and DERMS are closely related, so many of the names mentioned above also apply here: Reposit Power, SwitchDin, Greensync and Schneider Electric are some of the key DERMS providers for microgrids around the country. I learned that ABB is actually the world's largest builder of microgrids (with a microgrid centre of excellence in Darwin). David Edwards of regional WA network company Horizon Power, meanwhile, gave one of the most riveting accounts of microgrid learning experiences (and challenges) in his talk about the company's ARENA-backed project in Carnarvon.
Toby Price of Carnegie Clean Energy talks about microgrids at AES 2018.
FCAS – Frequency Control Ancillary Services
What is it?
Why are they talking about it at the conference?

Batteries are naturally very good at providing FCAS services, which is why the Tesla battery at the Hornsdale Power Reserve has been so successful. Furthermore, a battery doesn't need to be located in a single physical location to do FCAS; 100 megawatts of battery capacity all on a single concrete slab near a wind farm can do the job just as well as if it were divided into 1,000 smaller units and distributed across the country.

Who's doing it or talking about it?

The Hornsdale Power Reserve stole the show when it came to talk of FCAS, with the battery having a huge impact on the SA market and beyond. As with other Tesla projects & products in the past, the battery was an popular example to bring up, with speakers using it as a concrete example of the role of batteries on the grid. Kobad Bhavnagri of Bloomberg New Energy Finance talked about the fact that it remains unclear at this point is whether the future of the battery-supplied FCAS market is in large-scale batteries or in smaller, distributed systems.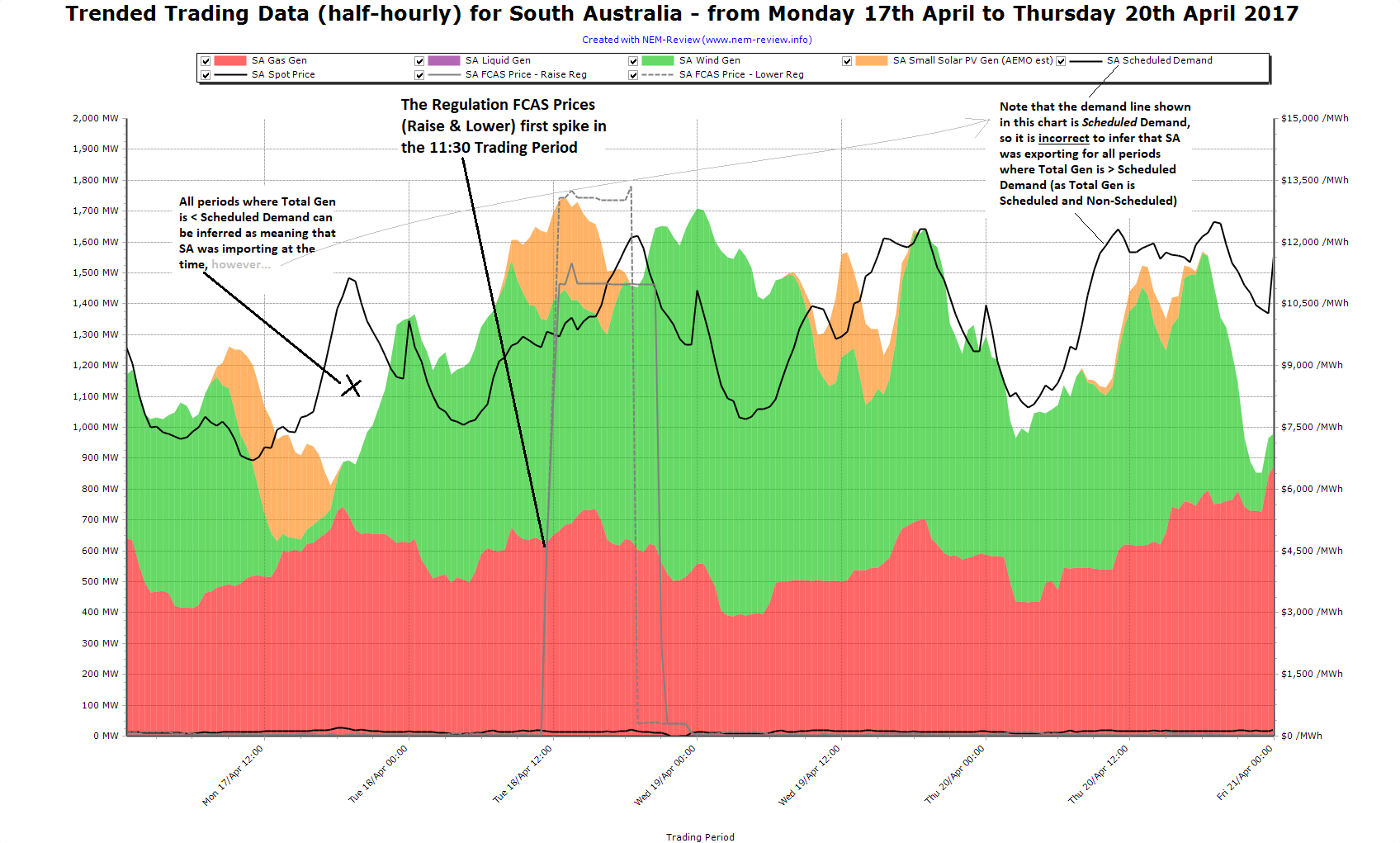 Wholesale electricity spot market prices (black line) vs FCAS spot market prices (grey line). (Image via WattClarity.) 
Other types of energy storage
(Admittedly not really a buzzword, but a concept worth mentioning!)
With the focus of our website being residential & commercial solar & energy storage, we tend to focus on batteries – mainly lithium batteries. But the fact is that there are tons of other types of batteries chemistries and energy storage technologies – most of which are not scalable down to the residential level like lithium batteries are. There were countless examples throughout the two days of talks. To list just a handful of these:

All-iron flow batteries by ESS Inc
Molten silicon thermal energy storage by 1414
Hydrogen storage by Hydrogenics
Pumped hydro storage & combined renewable/storage systems by Carnegie Clean Energy
Vanadium flow batteries by redT
Zinc-bromide flow batteries by Redflow
Flywheel storage by Amber Kinetics
Redflow's Simon Hackett talks about flow batteries – and more generally the role that batteries have to play in the energy transition.
Video explaining how 1414's molten silicon thermal energy storage concept works. (By 1414.)
There was a lot more – too much to cover here!
I've tried here to capture some of the main points from the 2018 Australian Energy Storage Conference & Exhibition, but there's plenty more that I've left out – either because I missed it or for the sake of brevity. If you're interested, you can learn more (and watch more) on the ETF's YouTube channel, or the Australian Energy Storage Facebook page.
We'll also be publishing a number of other articles about things from the conference in the coming weeks – sign up for our newsletter to keep up to date!
Compare Solar & Battery Quotes

Latest posts by James Martin II
(see all)