RossiniEnergy has developed a device that transforms underused forklifts into energy storage systems for businesses. The solution, called Nuvolino, is already in commercial operation in Italy and France – and has recently made its debut in Australia.
Energy storage: A powerful solution with just one problem
The transition to a resilient, sustainable power generation will only happen with greater uptake of renewables and energy storage – the latter of which will play the important role of energy buffer to compensate for the intermittency and unpredictability of solar and wind energy generation. Besides being an enabling technology, energy storage also provides energy security by being able to provide backup power when the grid fails.
An energy storage system of 10kWh can provide around $1,500 of savings per year by increasing solar self-consumption and helping business to avoid the purchase of electricity from the grid.The major barrier to the widespread deployment of battery storage is the cost. High battery prices mean that they routinely have payback periods well beyond 8 years – a duration which is unacceptable for most businesses looking to make a good investment.
Cost-effective storage for enterprises
Luca Rossini, founder of RossiniEnergy, has found a simple solution for businesses to significantly reduce the payback periods for battery storage by using existing, underutilised batteries that may otherwise go overlooked as a potential resource: The large battery banks inside forklifts.
Luca recounts the story of the time he dawned on him that forklifts could actually serve a second purpose. "I was talking to a forklift driver, who told me that these expensive piece of equipment may only operate a few hours a day – sitting idle the rest of the time."
"An electric forklift is basically a "battery on wheels", often with a capacity of 40 to 60 kWh, significantly larger than the tpical lithium ion stationary storage products available," he says. "If we could tap on even part of this capacity, we could have a very affordable system to increase self-consumption, reduce bills, and have backup power – not to mention make the forklift work harder as an asset and potentially prolong its life through better battery management."
This was the impetus for for the development of the Nuvolino solution, which will be available for sale in Australia by April 2018. Luca is confident that this approach will result in a payback period less than half that of a conventional, stationary battery storage solution.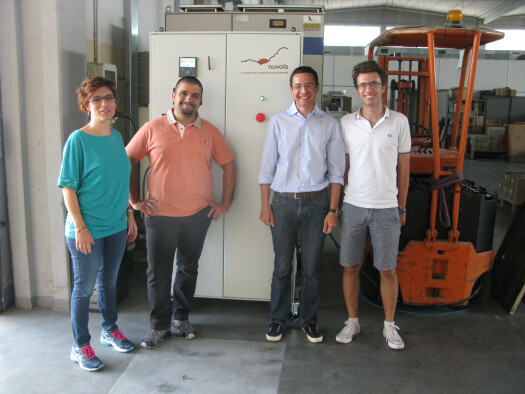 Book a test drive
After two years of installations in Italy and France, two patents and Australian certification, one Nuvolino device has been assembled in collaboration with UNSW labs in Sydney and installed at a company in St. Peters. Another unit is available for free trials in Australia.
The installation takes about an hour and does not require to cut the power or modify anything on the wiring or the PV system – it is a simple plug-and-play solution. The designers Luca and Camillo will be present until December 10th to show is functions and potential to solar installers and businesses who are interested or know of situations where it may be useful.
Interested parties can get in touch with Luca Rossini directly via email (luca@rossinienergy.com) or phone (0412 399 391).