As Australia's rooftop solar market continues to boom, a new report has identified four key markets where uptake is yet to take off. According to the report, by EnergyLab, these markets – including rental homes, apartments, first home-buyers and commercial and industrial – have either been overlooked, or put in the too hard basket.
And they represent a major untapped opportunity. EnergyLab estimates that by targeting these markets, Australia's rooftop solar capacity could double, adding somewhere in the order of 7GW of installed PV, and generating close to $9 billion in investment.
The biggest opportunity, says the report, lies with those notoriously hard to reach rental properties and apartments. According to the report, those two areas alone could be worth around $6 billion to the residential PV market, and add another 4.6GW of installed PV capacity (3.2GW for rentals, 1.4GW for apartments).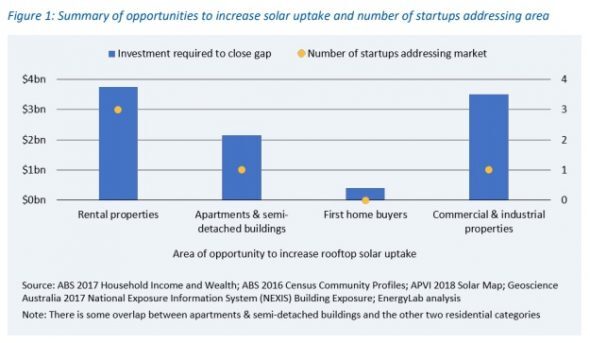 That's because, as things currently stand, renters who install solar are unlikely to get a good return on investment, particularly given the vast majority of lease periods are shorter than the average four-to-five year payback period for a PV system.
(Interestingly, the report finds "surprisingly little" connection between household income and solar uptake.)
On the landlord side of the equation, the report says the barrier most often cited is the "split incentive problem," which lands the owner with installation and maintenance costs, while delivering the main benefits of cheaper power to the tenant.
For apartments and semi-detached dwellings, there is some overlap with rental properties, as a great deal of apartments are leased. Otherwise, the main culprit preventing solar installation is the strata title – the often complex legal arrangement between the individually owned units and the collectively owned common property.
As for first home buyers, the report found that people living in the first property they had purchased were a good deal less likely to have rooftop solar than other owner-occupiers, with only 11 per cent installing solar, compared to the national average of 21 per cent and 30 per cent for other homeowners.
Why? EnergyLab suggests the issue could be financial; with first home buyers less likely to have the funds to install solar, on top of the huge cost involved buying a property. Another is that, with many first home-buyers being DINKS (double income, no kids) they would not be home enough to warrant investment in solar.