The number of Australian consumers choosing to go off grid is on the rise, installers are reporting, as households respond to the rising cost of grid energy, and the hopeless political environment.
And it's not just small, energy conscious households making the shift, as solar and battery storage options become more attractive.
Glen Morris, from SolarQuip, who says there is mixed bag of people leaving the grid – and a mixed bag of reasons.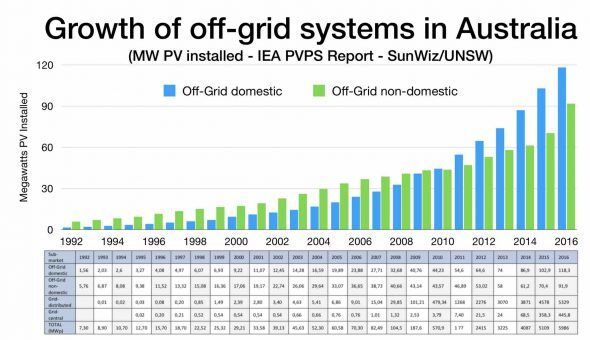 Some do it because of bushfire risk, some for independence, some because they are sick of outages, others to avoid smart meters and others to see money.
"In my area it costs at least $32,000 to connect a new home. For that money you can do modest stand alone system and for $40,000 to $50,000 you can have a very nice system, and you won't pay any more bills.
This, of course, has implications – not just for network owners and retailers, but also for the managers of the grid, and for other consumers.
The surge in the uptake of rooftop solar – installations are up 50 per cent from the same period last year – suggests that up to half of all demand will be met by distributed energy resources including solar, batteries, and demand management.
The question becomes how many of these stay on the grid.
One solar installer based in northern NSW, says he has taken 30 customers off grid in this financial year.
"More and more people are getting very irate," he says. "Some big customers have had enough. Some of them just want to save money. Some just want independence.
"Everyone is getting sick of it."
Compare Solar & Battery Quotes

Latest posts by Giles Parkinson
(see all)