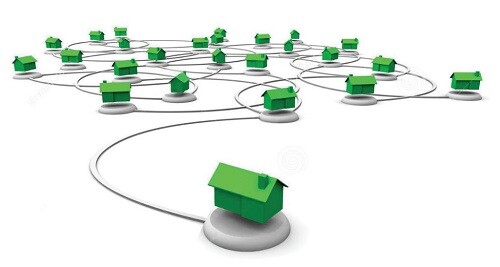 Simply Energy's virtual power plant in Adelaide, South Australia is offering some of the most generous terms to customers to participate in their trial.
The VPP offers customers up to $5,100 in accumulated access credits which subsidise the battery system that is installed at battery residences, and customers are offered a feed-in-tariff of 15c per kWh for any energy from the battery which is drawn down by Simply Energy.
The total project costs are estimated at $23.7m and is supported by $7.7m of funding from the Australian Renewable Energy Agency.
What is a Virtual Power Plant?
A Virtual Power Plant is a series of connection battery systems that can be collectively drawn down by a third party. Typically VPP's involve a series of household and commercial behind-the-meter battery systems and are controlled and operator by an electricity retailer (such as Simply Energy).
In most VPPs, participants are offered a contribution towards the capital cost of the system and an attractive feed-in-tariff rate in return for ceded some control of the battery.
The battery operator is then able to discharge the power in the batteries during peak pricing events on the energy wholesale market, intended to design a win-win for the customer and retailer.
Compare quotes from up to 7 installers in your area now.
Details of Simply Energy's VPP
Simply Energy are offering up to $5,100 towards the installation of an supported battery system, however it is calculated daily and paid monthly through a 2 year period if the participant meets the T&Cs of the programs.
In addition, any energy that is discharged from the battery to be sold by Simply Energy on the wholesale market is awarded a 15c per kWh feed-in-tariff.
The program supports the use of most of the major battery technologies including Tesla, LG, Sonnen, Varta and Eguana batteries.
In order to access in the scheme, participants must convert to Simply Energy's offer and they will receive the benefits of the program as direct offsets to their energy bills.

Latest posts by Jeff Sykes
(see all)