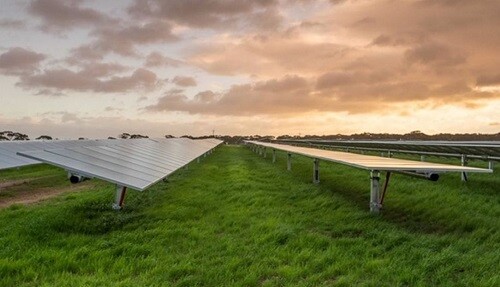 Trina Solar, one of the leading solar panel suppliers of Australia's booming residential PV market, is shifting its focus to big solar, with a new integrated utility-scale solution called TrinaPro.
Trina said this week at All-Energy Australia that the new product combined high output modules, smart PV trackers and inverters, and digital cloud-based software to boost large-scale solar generation, and cut the cost of installation.
Trina argues that system integration is becoming increasingly important as developers seek to further lower the levelised cost of energy for solar farms, partly by increasing their yield.
"The integration of smart trackers into TrinaPro can provide up to a 6 per cent power boost for Trina Solar DuoMax bifacial solar modules by angling them to reduce the effect of shading," said Trina Asia Pacific's director of solutions services, Holger Schenk, in comments on Wednesday.
Ku Jun Heong, Trina's Asia-Pacific director of sales and marketing, said Trina was "very positive" about Australia's large-scale solar market, including the large commercial and industrial markets, where the appetite for higher yield generation technology has also been increasing.
"Trina Solar is the only the company in the industry today that is integrating the module, tracker, and inverter with a level of the smart energy tracking algorithms to improve the entire system efficiency," Ku told RenewEconomy.
Compare quotes from up to 7 pre-vetted installers in your area now.
Since 2008 our knowledge and sophisticated software has allowed over 160,000 Australian households and businesses to make a well-informed choice on their solar & battery installer.