With the help of Solar Choice Commercial, the first McDonald's restaurant in Australia has gone solar. Although the Kilsyth restaurant's  12kW solar PV system is ground-breaking in this respect, other McDonald's restaurants may follow suit in the future.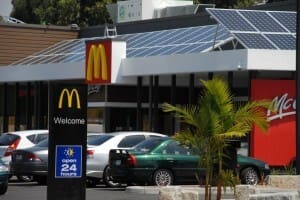 The newly-built restaurant in Kilsyth, Victoria is the first McDonald's in Australia to have solar panels installed on its roof, and is the result of nearly 2 years of collaboration between Solar Choice and McDonald's and negotiations with installers. Solar Choice, as tender manager, worked alongside McDonald's through the tender process, impartially advising on the selection of a wide cross-section of solar PV installers from across the country.
The installation finally chosen by McDonald's consists of forty-eight 250-watt Suntech monocrystalline solar panels and one 12.5-kilowatt Power-One Aurora inverter.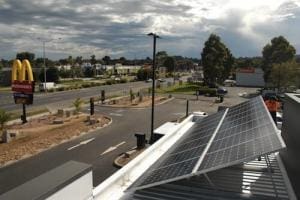 Designed for both functional and aesthetic purposes, the solar panel array is split into two sections: An 8-kilowatt east-facing array, and a 4-kilowatt north-facing array. This layout will maximise the amount of solar insolation as well as visual exposure to the carpark and streetscape, making it easily visible to customers and passers by. The system is expected to produce 14,888 kilowatt-hours across the year, or approximately 40 kilowatt-hours per day, offsetting a significant portion of the restaurant's electricity usage and lowering power bills. To further bolster its green credentials, the building is currently undergoing the certification process to obtain a Green Star Design rating.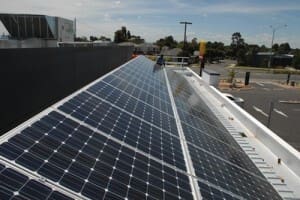 The McDonald's project was initiated in 2010 by Jarrah Harburn, now National Sales Manager of Solar Choice's UK subsidiary Solar Selections, and brought to completion by the Solar Choice Commercial team.
Other projects managed by Solar Choice Commercial include a 100-kilowatt system on the roof of the Blacktown NSW RSL, a 100-kilowatt system on the roof of a government trust premises in Ryde, NSW, a 2.5-megawatt rollout for a retirement village in Melbourne, a 1.3-megawatt rollout for ING retirement villages across Australia, and 120 kilowatts on the Newman airport in Western Australia.
© 2012 Solar Choice Pty Ltd

Latest posts by James Martin II
(see all)