Deciding whether you're happy with a solar installers' panel offering can be tricky business in a market flooded with different options (as is the case in Australia). Fortunately, DNV GL puts together an annual report based on physical stress testing of a wide range of popular panels brands & models that is probably a better indication of panel quality than the less fit-to-purpose but often cited 'tier ranking'.
You can download the report for yourself here or watch a video/webinar presentation about it here, but we've also provided a rough rundown of its contents and what the implications are for anyone shopping around for solar.
Compare Solar & Battery Quotes
Who are DNV GL?
Suffice to say that DNV GL is a large (over 13k employees and 350 offices globally), old (with history as far back as 1864) organisation involved in a wide range of industries and activities – including renewable energy generation research & testing. You can find more about them on Wikipedia if you have time. All in all, they are a solid outfit with a great reputation and lots of experience.
DNV GL's PV solar module reliability testing
One of the things that DNV GL does is solar panel reliability testing. They do the testing with end users in mind, and the results are immediately relevant to anyone considering buying solar panels and wanting to pick out a solid, reliable product.
Solar panels are sold in Australia (and many other places) with a performance warranty of 25 years, over which period their power output capacity can be expected to degrade very gradually (less than 1% annually) due various stressors in their operational environment.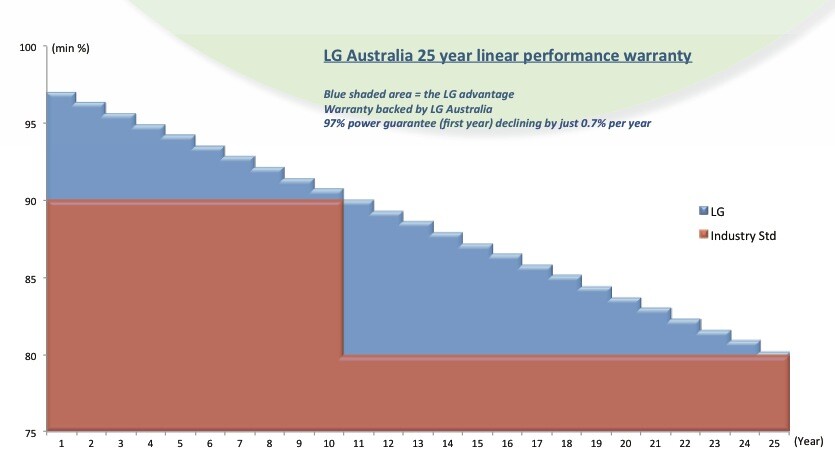 Example solar panel performance warranty structure covering degradation over 25 years (from LG Solar).
Since most products and technologies have not been around that long, we're left with a crucial question: "How do you know the panels will actually perform as expected over 25 years?" DNV GL endeavours to answer this question by essentially beating the hell out of them through a serious of tests that accelerate the 'natural' ageing process; these tests go above and beyond the minimum required for products to get the certifications they need to be sold legally (e.g. IEC and UL).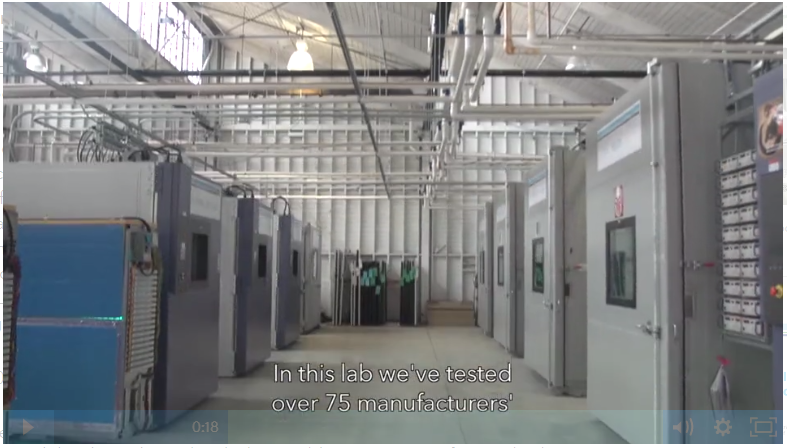 Additionally, they ensure that the modules they are testing are not 'golden panels' handed up directly by the manufacturer specifically for testing purposes, but rather ones randomly selected from the factory by DNV GL themselves or their agents.
In a nutshell, DNV GL:
Procures randomly selected modules from a range of manufacturers, ensuring that they also know which manufacturing plans (and countries) they come from as well as what materials are used. (The module manufacturers chosen for the Scorecard testing are drawn from those who participate in DNV GL's Product Qualification Program (PQP), which has more of a focus on the quality of the components used in panels as opposed to whole modules.)
Subjects them to five specific types of stressful conditions which panels may encounter in real-life operation – but  much, much harsher. In particular, these are:

'Thermal cycling' – simulating extreme temperatures
'Mechanical load' – simulating physical force on the modules (e.g. from handling/transportation, wind loads, etc)
'Damp heat' – simulating high humidity in warm conditions (especially relevant for hot, humid climates)
'Humidity freeze' – simulating cold & wet conditions (especially relevant for cold, damp climates)
'Potential Induced Degradation' (PID) – a bit technical, but has to do with static electricity in the module frames, which damages their power generation capacity

Complies performance rankings for each test, listing the top performers by name (and product number) but anonymising the data for the under-performers; also included are notes about whether the same products were named as a top performer in previous years.
Publishes the results for the world to see. For manufacturers who (pay to) participate in the PQP, appearing in the scorecard is part of the package – free exposure and potential marketing material, without the fear of being 'named and shamed' if their products don't make it into the ranks of the 'top performers'.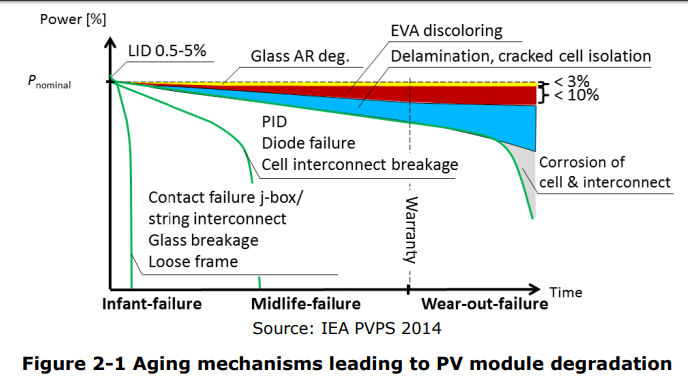 Mechanisms for solar module degradation.
Results from the 2017 Reliability Scorecard
It's important to note that this is an incomplete list – not every solar panel available in the world is tested by DNV GL. This goes for both high-end manufacturers* as well as a number who would be classified as 'tier 3'. That being said, the company says that about 70% of the world's largest manufacturers are represented in the results.
Some other things to keep in mind as you peruse the results:
While we've listed the results below by manufacturer brand, in fact DNV GL tests them by the product model – and some manufacturers have several product models represented in the results. To work out which products performed well on each test, you can have a look at the scorecard report itself.
Not all of the modules tested are available in Australia. We've cross-checked the ones included in DNV GL's Scorecard report against those listed on the CEC's list of approved modules to work out which are approved to be used here (although whether, where through which companies they're available is another question…)
Keep in mind that there are other quality/reliability schemes in place for some modules not covered by DNV GL. Australia's own Choice Magazine, for example, conducts their own independent tests and publishes the results (but you have to be a paying Choice member to see them). Additionally, the Australian Solar Council has a 'Positive Quality' program that does factory inspections & independent module testing (note that manufacturers must opt in and pay to participate in this scheme, which helps their marketability – currently, only three companies participate).
DNV GL PV Module Reliability Scorecard 2017 Top Performers by Test Type
(X indicates ranking as top performer)
 
Thermal cycling
Damp heat
Humidity-freeze
Dynamic mechanical load
Potential Induced Degradation
BYD
X
 X
X
X
X
Flextronics
X
GCL
X
X
Hanwha Q CELLS
X
X
X
X
Hyundai
X
X
Jinko Solar
X
X
X
X
X
Kyocera
X
X
X
X
X
LONGi
X
X
X
X
X
REC
X
X
X
X
Seraphim
X
SolarWorld
X
X
X
X
X
SunPower
X
X
X
X
X
Talesun
X
X
X
X
X
Trina Solar
X
X
X
X
X
Yingli
X
X
X
Other manufacturers not accredited for use in Australia
Astro Energy
X
X
X
X
NSP
X
X
X
X
X
Silfab
X
S-Energy
X
X
Solaria
X
SunSpark
X
X
X
Vikram
X
X
X
What to take away: Tier Ranking vs Reliability Testing
When it comes to quality & reliability, the term that gets thrown around most frequently in Australia is generally tier ranking. 'Tier 1' solar panel manufacturers spruiked by salespeople to be the best option for shoppers, but the reality is that most tier rankings (particularly the oft-cited one from Bloomberg New Energy Finance list – which, by the way is not published for the general public) are not intended for end-consumers, but rather investors.
BNEF doesn't test panels; instead they look primarily at which company's panels are being used in large-scale solar projects and which banks are financing those projects. They base their rankings on the premise that the banks/investors who are behind these projects have done their due diligence and aren't throwing their money away on projects that won't perform as expected.
This means that while tier ranking may be a reasonable proxy for quality, it doesn't get to the heart of the issue of concern for households & businesses, which is whether the panels will last the test of time. In most cases, small-scale solar system owners don't have the resources at their disposal that a large-scale solar farm developer would to hold the manufacturer accountable in the event of a performance issue. Most households would rest easier knowing that they've chosen a panel make & model based on its individual merits and performance track record.
For this purpose, module testing like that conducted by DNV GL for their Scorecard is much more relevant. It's just a shame their Reliability Scorecard doesn't cover all of the panels on the Australian market.
Compare Solar & Battery Quotes
© 2017 Solar Choice Pty Ltd
---
*Notably, solar panels from LG do not appear on the list despite that they are likely to perform well. LG Solar Australia provided Solar Choice with the below comment:
LG from time to time gets invited into specific solar testing trials. Being one of the best modules on the market LG is always eager to show our quality and participate. LG in these instances ensures that:

The trial is fair and unbiased in all aspects, for example the modules  can not be substituted  with "golden" panels and is using the real product on the market;
Most importantly –  The trial actually tests to the high limits of the LG modules. For example we test up to 4 time of IEC needs for the NeON R module. If the proposed test only tests to 2x IEC testing, then potentially an inferior product can be made to look like as good as an LG product – in which case the testing is actually potentially misleading.

In both cases above, if the testing party can not guaranteed a fair testing regime, LG chooses not to participate. (You can view a presentation about LG Energy's own stringent testing regime here.)

In the case of DNV GL Reliability Scorecard, LG Solar Australia understands our participation was not requested. (Back to text.)

Latest posts by James Martin II
(see all)