When purchasing a solar system, the quality of the components to be used is frequently a key consideration. However, differentiating one brand from another may not be so simple, especially in the case of solar panels, of which there are hundreds of brands on the Australian market.
The terms 'Tier 1', 'Tier 2', and 'Tier 3' are often heard with regard to solar panel manufacturers as a way of distinguishing the wheat from the chaff. This article takes a look at what these terms mean in practice and how they can help you to make a decision about going solar.
Understanding tier ranking systems
'Tier rankings' are systems through which organisations – usually financial analysis & investment firms – classify the 'bankability' of particular solar panel products. They are generally intended for investors in medium to large-scale solar projects, but in Australia they are commonly referred to when sales people talk to residential solar customers.
There are a few things that you should know about tier ranking systems from the outset:
There are a number of different tier ranking systems – but Bloomberg compiles the list which Australian solar companies refer to most frequently. Though largely similar in general thrust, their criteria do differ, and a Tier 1 manufacturer that makes one list will not necessarily be Tier 1 on another's list.
Tier rankings are about panel manufacturers, not the panels themselves – Panel manufacturers may offer a wide range of panels ranging in quality from premium to budget. Just because you're getting panels from a Tier 1 manufacturer doesn't mean that you're not getting old or relatively low-quality product.
Tier ranking lists are not ordinarily available for free to the public – Your installer may have access to one of these lists (either because they subscribe to reports or because they managed to get their hands on it otherwise), or they may not. So if a company tries to sell you a solar system saying that the panels they use are 'Tier 1', you may have no way of verifying this independently. Ask the installer which company the tier ranking list is compiled by, and to prove it to you using third-party materials (preferably the original, current tier ranking report).
Tier rankings usually put a lot of weight on large-scale projects and who financed them – If you're considering solar panels for your roof, you may not necessarily care if the manufacturer's products have been used in solar farms, or how many banks were willing to put money up to help fund their construction – but that's often what tier rankings are based on.
Tier rankings also put significant weight on manufacturing capacity – Manufacturers who achieve 'Tier 1' status are usually among the largest manufactures in the world.
Tier rankings are not a direct guarantee of quality (but they're a pretty good indicator of it) – The companies that compile tier ranking lists do not actually test any panels themselves – instead, they basically rely on banks to tell them indirectly which manufacturers have the most investment-worthy panels. So when it comes to applying tier rankings (which are developed mainly for industrial investors) to the small-scale, residential market, the reasoning goes something like this: "If these panels are good enough to get financing to be installed en masse across several gigantic solar farms, surely they'll be good enough for my roof."
Tier rankings may not take into account things that are important for Australian customers – One of the biggest questions concerns warranties: Does the company have a head office in Australia which can quickly and seamlessly handle your warranty claims (in the unfortunate event that you have a problem)? If they're overseas, replacement may be onerous and take a long time.
Instantly compare current prices for a range of installers & system sizes in your area
Compare Solar & Battery Quotes
What makes a Tier 1 solar panel? (An example from Pike Research)
The pyramid below provides a glimpse into the world of how panel manufacturers are ranked into tiers 1-3 by Pike Research (now part of Navigant Research). We should emphasis that this is only one system for raking panel manufacturers, but it's a handy example because of the chart's layout. Most installers will most likely refer to Bloomberg's ranking system.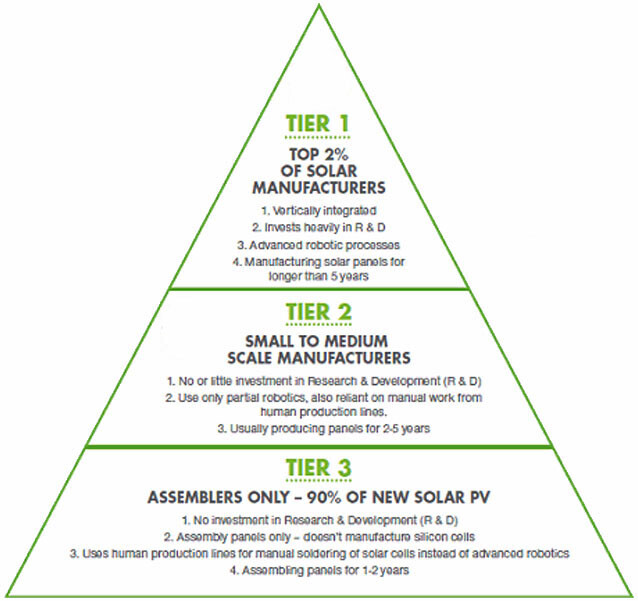 Click to Enlarge. (Source: Pike Research)
In Pikes's system, Tier 1 manufacturers represent only a small slice (2%) of the total number of manufacturers on the market, but a number of factors set them clearly apart from Tier 2 and Tier 3 manufacturers.
First of all, they are vertically integrated, meaning that they don't simply assemble solar panels using other companies' products, they manufacture their panels from the ground up. This means that they control the production process for everything from the silicon cells to the modules frames and ultimately panel assembly.
Tier 1 installers invest heavily in research & development (R&D) and continually innovate in order to improve their products and processes.
Tier 1 installers also use highly automated manufacturing techniques that are conducive to a standard level of quality, while (in many cases) saving money on manufacturing costs at the same time.
Finally, at least 5 years' history producing solar panels is the other criterion for being considered Tier 1 for Pike Research. Having been around for at least this amount of time in what is a relatively young industry is testament to a company's commitment to its own longevity as well as to its customers, and is indicative of the likelihood that that company will still be around in 20+ years' time to service its warranties.
Tier 2 solar panel manufacturers
Manufacturers that Pike ranked as Tier 2 are the 'middle ground' between Tier 1 and Tier 3, comprising about 8% of the market. Although they have been producing panels for longer than Tier 3 manufacturers (2-5 years), they still invest relatively little money in R&D compared to Tier 3 manufacturers. Robotic automation does not always play a major role in their panel production lines. Many Tier 2 manufacturers doubtless have Tier 1 aspirations, but may not have the wherewithal or experience to yet make the cut.
Tier 3 solar panel manufacturers
Tier 3 manufacturers comprise the bulk of the market (90%), according to Pike Research, but have the least experience. Their operations are limited to assembling panels using components manufactured by other companies (i.e. no R&D operations of their own), and their production processes are highly reliant on manual labour. With the solar manufacturing industry already having gone through at least one large-scale 'consolidation', is not unreasonable to think that many of these companies will not be around in the next few years as the industry consolidates. Choose wisely!
Compare quotes from installers in your area
Compare Solar & Battery Quotes
© 2017 Solar Choice Pty Ltd