Australia's booming rooftop and large-scale solar markets are being credited for the ongoing fall in electricity sector emissions – one of the only bright spots in Australia's otherwise disappointing climate mitigation efforts.
The latest National Energy Emissions Audit from The Australia Institute reveals solar as the fastest growing source of electricity in Australia, which along with wind and hydro has taken the share of renewables in Australia's main grid to around 22 per cent.
And this growth – particularly in big and commercial solar development – is helping to achieve an ongoing fall in annual emissions.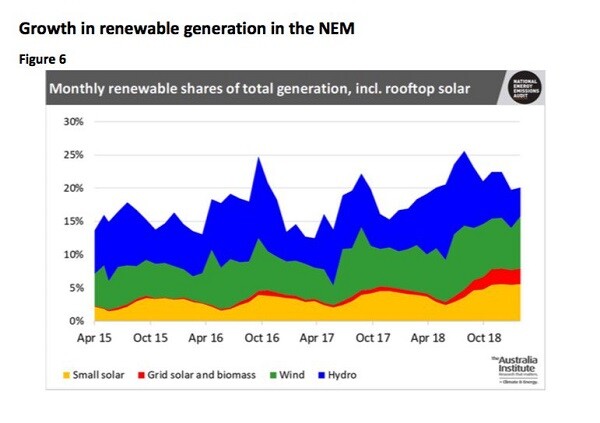 "The dramatic increase in grid-scale solar generation has contributed to renewables supplying monthly 14-15 per cent of total generation (including rooftop solar) since last November," said lead author Hugh Saddler in his notes. "This is a dramatic increase in the average 10-11 per cent share this time last year."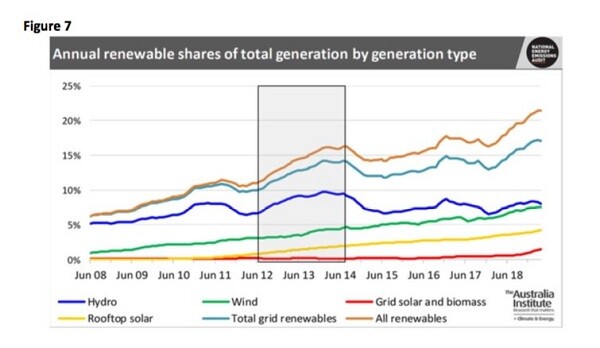 The fall in electricity emissions offers one of few bright spots in Australia's emissions profile, with even government figures showing a sharp increase since the abolition of the carbon price, and no anticipated fall by 2030, when Australia is supposed to have cut emissions by 26-28 per cent, at the very least.
Rather than improve its own emissions reduction policy, the Coalition government is resorting to Abbott-era scare campaigns against Labor's target of a 45 per cent cut in emissions by 2030, and the widening of the Coalition's own so-called "safeguards" mechanism.

Latest posts by Giles Parkinson
(see all)