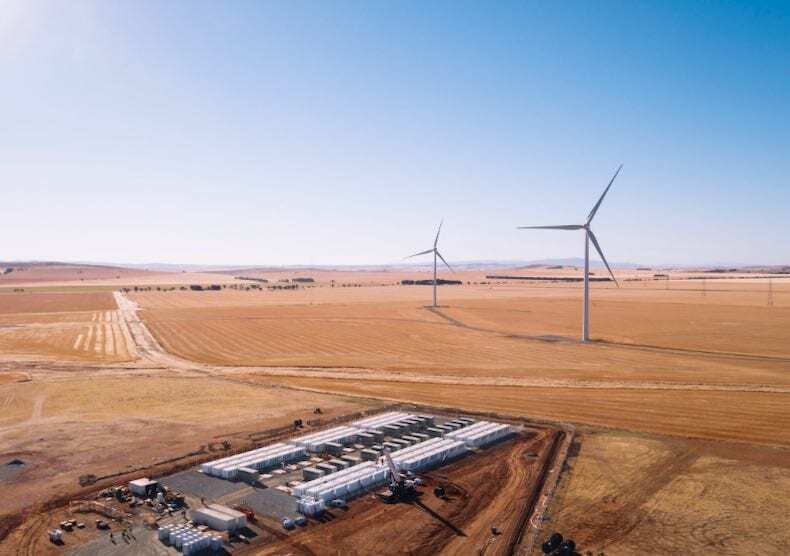 The Tesla big battery at Hornsdale in South Australia is setting new records as it enters the final stages of testing of its expanded capacity of 150MW/194MWh and prepares to provide new functions to the grid.
The Hornsdale Power Reserve was the world's biggest network-connected battery when it was installed in late 2017, with a capacity of 100MW/129MWh and quickly proved valuable in critical grid balancing services of frequency control and emergency back-up.
The bigger big battery – owned by French renewables developer Neoen and located next to the 315MW Hornsdale wind farm – will add new tricks to its repertoire, including the provision of synthetic inertia, a service once exclusive to fossil fuel generators in South Australia.
Having received the all-clear to connect last month, the expanded battery is now going through testing at various "hold points" that it can straddle once the market operator is satisfied with the outcome.
In its latest series of tests, the battery preformed a series of rapid 270MW flips – from charging at 120MW to discharging at 150MW – a feat that at one point pushed the wholesale price of electricity down to just above $8/MWh, and also likely set a new world record in both speed and extent of the change.
The new testing on synthetic inertia, or virtual inertia as David Leitch explains in this excellent piece on the work being done already by the Dalrymple North battery, will prove yet another critical grid service and function that can be delivered by inverter-based technologies, and remove another important brick in the wall of the incumbent synchronous generators.