Grid-connected energy storage for solar PV systems has become a hot topic in 2013 as energy storage technology prices fall and retail electricity prices rise–seeming inexorably. Meanwhile, feed-in tariff rewards have been cut back in every state in Australia, making it imperative that solar owners everywhere in the country 'self-consume' as much of the power that their systems produce as possible. Victron Energy's ECOmulti is an energy storage device recently introduced into Australia, offering a simple, wall-mountable solution that integrates easily into existing or new-build solar PV systems so that homes can increase their level of energy independence.
ECOmulti benefits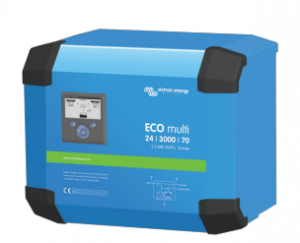 –Use your own electricity–even at night. A charged ECOmulti will allow you to go off-grid even when the sun is not shining, but will automatically switch to grid power if the batteries run dry.
–Charges while the sun is shining. The ECOmulti will automatically use the electricity from your solar panel array to charge the battery bank if you're not running any appliances. So instead of surplus energy going to the grid, it gets tucked away for later use.
–Solar smoothing capability. When the sun is shining, the ECOmulti will automatically switch on in the event that your solar array can't meet the electricity demand of your home–either because of a cloudy patch of sky or because you're using more electricity than usual. This in effect provides a buffer for the power your panels produce, allowing again for reduced reliance on the grid.

–Use the batteries to run extra loads. Once the batteries are topped up, they can be used to power additional loads like hot water heaters or pool pumps. Otherwise the excess power can be sent to the grid to earn the system owner credits on their electricity bill.
–Uninterruptible Power Supply (UPS). The ECOmulti can ensure that homes need not go without electricity in the event of a blackout–it will continue to power your home when the grid is down for as long as the battery lasts.
–Homes with low electricity demand could become almost entirely energy independent with the ECOmulti (capacity: 2.3 kilowatt-hours) installed. And even those who use more electricity could endeavour to reduce their consumption to fit more or less within the limits of what their PV system and battery bank can provide. And the grid is always there as a backup.
Download a spec sheet (pdf)
Other products by Victron Energy
In addition to the ECOmulti, Victron Energy manufactures a range of energy storage and power conversion devices.
Victron Energy: Company info
Headquarters: The Netherlands
History in the industry: Victron Energy is a privately-owned, Netherlands-based company which has been active in Australia the last 10 years. Victron was founded approximately 40 years ago,  starting business building and selling inverters for the marine market. Since then the company has found inroads with its products into the off-grid solar market. More recently, with the emphasis on 'self-consumption' of power for solar system owners, the company has become involved in the grid-connect solar market as well, introducing the ECOmulti to address this rapidly expanding niche.
Contact in Australia: Margreet Leeftink (mleeftink@victronenergy.com)
All images via Victron Energy
© 2014 Solar Choice Pty Ltd