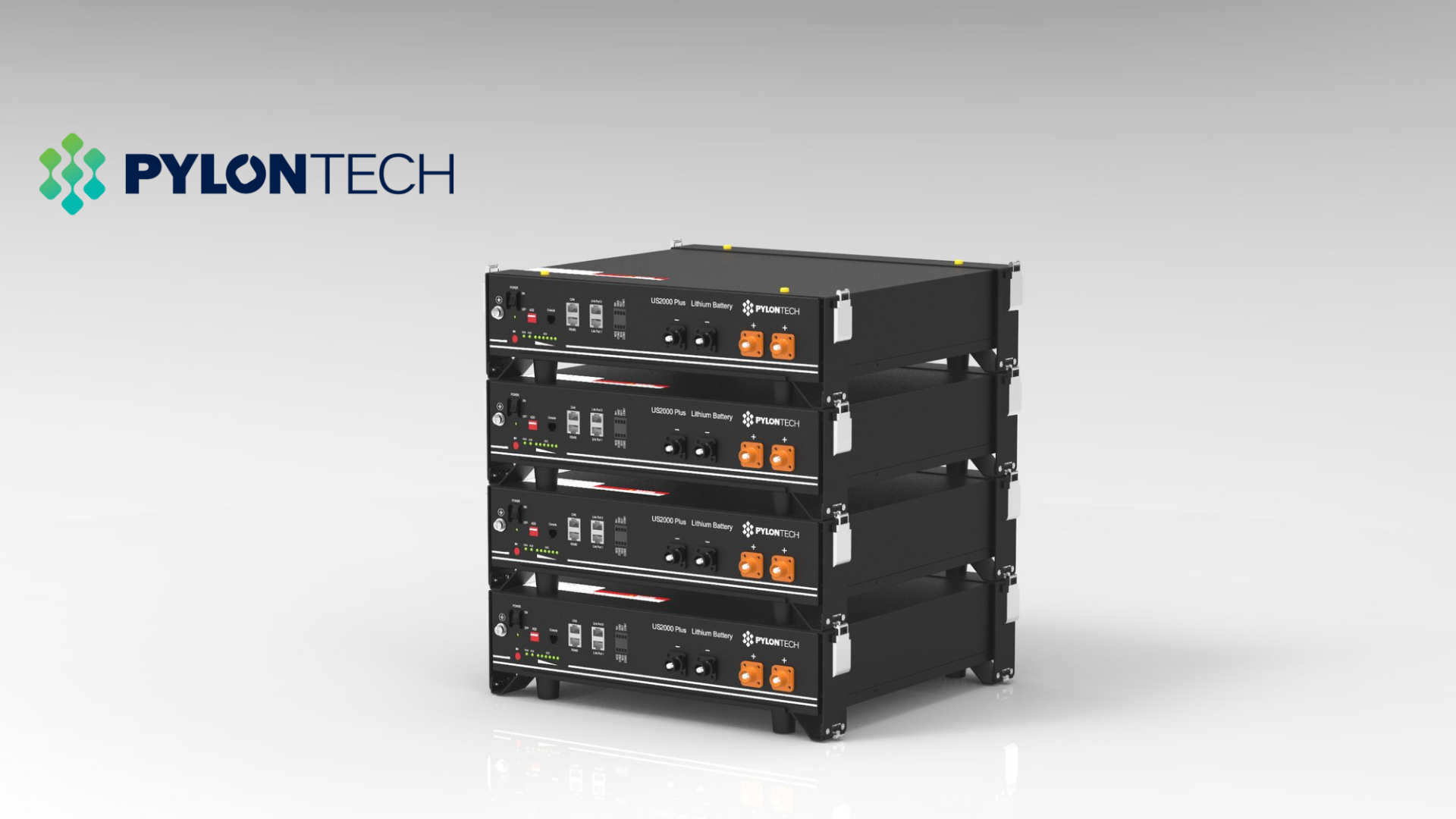 Background on Pylontech – Company History
Pylon Technologies, Co. Ltd is a Chinese battery manufacturer that was founded in October 2009 and since then they have become one of the world's leading providers of Energy Storage Systems (ESS). A subsidiary of Chinese telecommunications company ZTE, they produce a wide array of battery products across the full voltage range, from powerbanks, lithium-ion batteries to 100MWh systems for industrial use.
In 2013 they entered into the Battery Energy Storage Systems (BESS) market strategically to meet the growing demand for lithium-ion battery storage.  Following this, they started mass production for the European and Australian market in 2014. In 2018, they made a mark in the industrial battery market by shipping 1GWh batteries globally. They furthered this development with a 1.5GWh large battery. 
In December 2020, they solidified their growth by listing on the Shanghai Stock Exchange (STAR) Market with a successful Initial Public Offering (IPO) of more than $300 million USD, led by current CEO Wen Tan who is pushing for an aggressive move to expand their cell production and capacity expansion.
For the financial year ending 2020, their revenues were over $162 million USD. This was a significant increase compared with the previous year by about $44 million USD. As of writing on August 2021, their market capitalisation sits at $6.45 billion.
Their foray in the residential battery market is in the form of rack-mounted lithium-ion batteries with the US2000B and US3000C being their flagship products.
In June 2021, they became the first BESS company in China to pass the certificate of SII Earthquake Countermeasures from TUV Rheinland Japan. This was a measure the Japanese government introduced that signals that a battery storage system could withstand an earthquake. They were also awarded the Top Storage Brand in Italy and Spain in 2021 from EUPD Research, which surveyed installers with their awareness regarding product quality and service. EUPD Research is a consulting firm in the technology and health sector
They currently have 785 employees with their products available in at least 30 countries.
Basics of  Pylontech Lithium Batteries
US2000B:
The US2000B is Pylontech's flagship battery product which is a module with a nominal capacity of 2.4kWh module and a usable capacity of 2.16kWh. The battery module is designed to be stackable, although it's not clear from their datasheet what the maximum number of that is. 
We reached out to Pylontech to clarify the maximum scalability of this module. It's been confirmed that the US2000B can be stacked in 8 parallel modules in a rack. You can technically have 5 strings of batteries hooked up together with Pylontech's LV Hub, a master controller, giving a total of 40 modules. Furthermore up to 5 LV Hubs can be interconnected, each with up to 40 modules, giving a grand total of 200 modules. Therefore, a maximum capacity of 480kWh can be achieved which would put this battery system well within the range for commercial solar pv projects.
However, for the purposes of most residential consumers, between 4-6 modules run in parallel should be sufficient for their needs as their energy consumption requirements would lie within the range of between 10 – 15kWh
At 24kg per module they're designed to be compact and portable. These batteries are clearly designed to only be used inside although there's no clear rating stated in the documentation, although we've confirmed with Pylontech that it's IP20 rated. They are designed to be stackable in a rack, similar to how you would "rack and stack" in a computer data centre.
They have a working temperature of -20 to 60 degrees celsius which make them suitable to withstand the hot environmental extremes of Australia safely. On that point, they're developed with lithium ion phosphate which is well known for their chemical safety with batteries, as well as providing a long cycle life.
The US2000B is compatible with most non-all in one hybrid inverter brands, including Imeon, Goodwe, SolaX, Selectronic, Sungrow and Redback.
US3000C
The US3000C is a newer version of the US2000B, albeit with more grunt. The main difference is that the nominal capacity is 3.55kWh, with a usable capacity of 3.2kWh. In saying that, the dimensions of the US3000C is slightly larger than the US2000B at 442*420*132 mm with a weight of 32kg.
Pylontech Battery – Key Features
There are a number of features of the Pylontech battery worth mentioning:
Compact Design
The Pylontech US2000B battery is designed to be compact and portable. The US2000B dimensions are 440*410*89 mm (W x H x D). As mentioned this makes them suitable for stacking in a rack indoors. So, if you have limited space in your household, this is a big plus. At 24kg, these batteries are lighter than the average solar battery in the market, which makes them easy to install and move if required.
Scalable Capacity
As we've mentioned, these batteries are modular in design which enables you to "rack and stack" them in order to scale the nominal capacity of your storage system. The advantage with this, is that it gives you the flexibility to expand your solar energy storage in the future. This may be useful if you're finding that you're finding your battery stretched with your night time use of appliances.
90% Depth of Discharge
The Depth of Discharge (DoD) of the USB2000 is 90%. This puts it on par with some of Pylontech's competitors, namely Sonnen (90% DoD and Alpha ESS (90% DoD).
DoD is an important factor to account for when making a buying decision for a solar battery. It's the percentage of the battery that has been discharged compared with it's stated capacity. The higher the DoD, the more available stored energy you can use, and hence greater potential you're gaining from it.
In relation to this, it's not recommended that people discharge their batteries fully as it shortens their lifespan as they have a limited number of charge/discharge cycles. This is why a manufacturer will state the DoD to give you an indication of how much you can discharge it. In saying that it's important to remember that there's a correlation between the cycle life and the DoD, i.e. the more often you discharge the battery to it's maximum DoD, the shorter its lifespan.
How Much do Pylontech Batteries Cost?
The table below which provides an indicative guide based on data from Solar Choice's Battery Price Index on the cost of installing a Pylontech USB2000 with different battery capacity:
| | |
| --- | --- |
| Pylontech US2000B Solar Battery | Wholesale Price Range ($AUD) |
| 2.4kW (1 module) | $1000 – $1100 |
| 19.2kW (8 modules) | $8000 – $8800 |
| Pylontech US3000C Solar Battery | Wholesale Price Range ($AUD) |
| 3.55kW (1 module) | $1500 – $1600 |
| 28.4kW (8 modules) | $12,000 – $12,800 |
Please note
Prices are recommended wholesalers listed price and including back up box – final price a customer would be quoted depend on the installer's mark up and installation costs

Price estimates does not include any state-based incentives
To give this cost context it is important to balance the cost of a battery against the return of a cheaper power bill. Solar Choice's solar and battery calculator is a comprehensive tool to understand the financial viability – although be warned, we looked at 48 scenarios and couldn't find anything that made financial sense.
Compare quotes from up to 7 pre-vetted installers in your area now.
Since 2008 our knowledge and sophisticated software has allowed over 300,000 Australian households and businesses to make a well-informed choice on their solar & battery installer.
Australian Warranty Terms for Pylontech USB2000 Battery
As per Pylontech's warranty documentation, the length of warranty is 10 years which commences from the earlier of:
The date of installation of the product or
Six months after the date the product was manufactured.
It's important to mention that notable exclusions to the warranty include the fact that an inverter or charger failure will invalidate a claim. It is not clearly defined what constitutes a  "failure" and to what extent this has an adverse impact on the battery. 
Customers should be aware that any repair or replacement by Pylontech for a defective battery will continue the original remaining warranty period. It does not constitute the warranty being reset to the original period.
Also, it says if the product has been installed with inverters or chargers not certified by Pylontech, again a claim is excluded. However, there is no list of products that are approved, so it's not clear what is and isn't approved. Which means when it comes to making a claim, it's in the hands of Pylontech to determine whether the item is certified by them.
The warranty documentation says that claims can either be made through an authorised reseller in Australia that the product was purchased from or from Pylontech directly. We've noticed that the documentation only mentions Forte Powertech in South Australia. We've listed other authorised resellers below after reaching out to Pylontech. Note that the claim must be made within 48 hours of the defect being detected.
To make a claim locally in Australia, contact any of the following authorised retailers below:
If making a claim directly with Pylontech, you can contact their Chinese headquarters via telephone on +86 2151317693/+86 2151317697 or email service@pylontech.com.cn
We think Australian consumers should be aware of the dispute process just in case you disagree with Pylontech's verification of your claim.  As per their documentation, it says that the customer will bear the cost of any 3rd party evaluation service charge. We have reached out to Pylontech about this and they have confirmed that if the issue is due to a faulty installation or inverter, then the customer will be responsible for the service charge. However, if it's due to a fault because of Pylontech, then they will bear the cost.
Review Pylontech's warranty document here.
US2000B & US3000C Specifications
US2000B
8 x US2000B (in parallel)
US3000C
Usable Capacity

2.16kWh

17.28kWh

3.2kWh

Nominal Voltage

48V

48V

Discharge Voltage

45 – 53.5V

45-53.5V

Charge/Discharge Current

25A (recommended)

37A (recommended)

Cycle Life

>6000, 25 degrees celsius

>6000, 25 degrees celsius

System Connection

Max 8 pcs in parallel

Max 8 pcs in parallel

Battery Cell Technology

Lithium Iron Phosphate

(LiFePO4)

Lithium Iron Phosphate

(LiFePO4)

Dimensions (W x H x D)

449*410*89

449*3280*89

442*420*132

Weight

24kg

192kg

32kg

Operating Temperature Range

-20 to 60 degrees celsius

-20 to 60 degrees celsius

Outdoor/Indoor

Indoor only (IP20)

Indoor only (IP20)

Warranty

10 years

10 years
Independent Battery Testing
ITP Renewables have established an independent battery testing centre at the Canberra Institute of Technology and perform accelerated life cycle testing on batteries in 3 year phases. The centre is supported by a  $1.29m grant from the Australian Renewable Energy Agency (ARENA) under its Advancing Renewables Program, and testing is conducted scientifically without interference from any manufacturers. ITP is currently testing 15 residential scale batteries available on the Australian market, and has had a total of 26 batteries installed at the centre.  
The Pylontech US2000B commenced testing in 2017 as part of phase 2 of the program and the results are publicly available on the battery testing centre's website.
We've sifted through the reports and can see that the battery experienced no operational issues relating to  control, communication and reliability in its 4 years on the trial. Overall the capacity degradation rate observed in the testing centre looks to be in line with expectations.
Read About Home Battery Government Schemes Across Australia
South Australia, New South Wales, Victoria, and Australian Capital Territory all currently have a home battery scheme in place.
The South Australian Home Battery Scheme enables eligible South Australian residents to receive up to $4,000 per installed battery.
The New South Wales Home Battery Scheme offers an interest-free loan up to $9000 for eligible households looking to install a solar battery.
The Victorian Government under the Solar Homes Program provides to those eligible, a maximum discount of $4,174 off the battery sale price. The next release of battery rebates is on the 2nd of September 2020.
The Australian Capital Territory Government under the Next Generation Energy Storage program provides a rebate of $825 per kilowatt (kW). An average household with a 5kW system would be eligible for approximately $4,000.
Read more product reviews from Solar Choice
Compare quotes from up to 7 pre-vetted installers in your area now.
Since 2008 our knowledge and sophisticated software has allowed over 300,000 Australian households and businesses to make a well-informed choice on their solar & battery installer.