Background on Hanwha Q CELLS – Company History
Hanwha Q cells Co., Ltd., and "Hanwha Q Cells & Advanced Materials Corp." were established in 1999 and they are commonly known as Q Cells. They are a manufacturer of photovoltaic solar panels headquartered in Seoul, South Korea. Current operations extend from the manufacture of crystalline silicon solar cells and panels, through to the turnkey delivery of complete photovoltaic systems.
Whilst previously listed on the Frankfurt Stock Exchange and later the NASDAQ, the company is now a subsidiary of Hanwha Group who was founded in 1952 and is now one of South Korea's 10 largest corporations. They are listed as a global Fortune 500 Company and registered US$165.7 billion in assets in 2017.
Q cells currently have more than 8,500 employees and over 9 branch locations all over the world including Australia, Germany, USA, Japan and Malaysia.
Basics of the Q Cells Q.Home ESS HYB-G2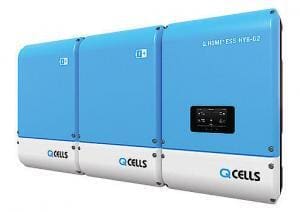 The Q.Home ESS HYB-G2 is effectively a hybrid solar inverter and a battery storage system paired together in an all in one unit. Effectively, now customers can buy an entire solar and battery system that is Q Cells branded which they argue provides one point of contact for technical and warranty support.
Currently the system is only available with a common 5kW hybrid inverter which has a maximum input of 6.6kW's of DC power (solar panel capacity). The battery however is scalable in 4kWh units with as many as three units being able to be combined into the same system reaching a maximum battery potential of 12kWh's. This will meet the needs of most residential applications in Australia, but if you want to install more than 6.6kW of solar panels then you will have to look elsewhere.
The Q.Home solution utilises a Samsung lithium iron phosphate battery, which is commonly used by renewable energy manufacturers due to its comparatively safe characteristics. The solution comes with a 10 year warranty which provides piece of mind and is backed by a large South Korean company.
The accompanying web monitoring provides installers and customers with all the necessary information on the performance and efficiency of the solar system. The system will require a ethernet internet connection and provides a cloud-based monitoring tool through a web application and a mobile app.
The hardware is IP65 rated as "dust tight" which means it would survive being sprayed by a hose pipe and is therefore suitable for installation indoors or outdoors. If outdoors, it would be important to keep the inverter and batteries out of direct sunlight to improve performance and life expectancy.
Q Cells Q.Home ESS HYB-G2 – Key features
Beyond the sleek appearance of the product, there are a number of features of Q.Home ESS HYB-G2 worth mentioning:
Back-up mode

Q.Home ESS HYB-G2 comes fully equipped with a backup power mode, ensuring the end-users keep the essentials running even in the event of a blackout. In the event of a power failure, the Q.Home will switch into backup mode within 60 seconds and can provide up to 3kW of continuous power which is more than enough to run critical items in the house.
High Depth of Discharge (DoD)

Depth of Discharge indicates the percentage of a battery's energy that has been discharged relative to the overall capacity of the battery. Because the useful life of a battery decreases each time you charge, discharge, and re-charge or cycle your battery, many battery manufacturers specify a maximum DoD level for optimal battery performance. In general, batteries with a higher depth of discharge provide greater utilisation to customers. The Q.HOME battery provides a reasonable depth of discharge of 90% which matches most of the better quality battery solutions in the market.
High Round-trip efficiency

Round-trip efficiency is a measure of electrical losses involved with charging and subsequently discharging a battery. The higher the efficiency percentage, the more efficiently the battery is able to convert incoming electricity into stored electricity and then back into usable electricity. The Q.HOME has a high round-trip efficiency of around 95%; this means that for every 10 kilowatt-hours of electricity you put into the battery, you'll receive 9.5 kWh of output.
How much do Q.Home ESS HYB-G2 cost?
See the below table which provides an indicative guide based on data from Solar Choice's Battery Price Index on the cost of installing a Q.Home ESS HYB-G2 with different battery capacity:
| | |
| --- | --- |
| Q.Home ESS System | Wholesale Price ($AUD) |
| Q.Home Hybrid 5kW Inverter | $2,599 |
| Q.Home Battery 4kWh | $3,399 |
Please note
Prices are recommended wholesaler's listed price – the final price a customer would pay depends on the installer's markup and installation costs
Price estimates does not include any state-based incentives
Compare quotes from up to 7 installers in your area now.
To give this cost context it is important to balance the cost of a battery against the return of a cheaper power bill. Solar Choice's solar and battery calculator is a comprehensive tool to understand the financial viability – although be warned, we looked at 48 scenarios and couldn't find anything that made financial sense.
Australian warranty terms for Q Cells Q.Home ESS HYB-G2
The Q.Home ESS HYB G2 comes with a 10 year product warranty and a 10 year performance warranty.
The product warranty covers and defects in materials and workmanship that have a significantly negative effect on the the product. Q Cells will decide to either repair, replace or compensate the customer for the defective battery.
The warranty document also outlines a performance warranty. The performance warranty lasts for 10 years or if the battery reaches an energy throughput of 11.838 MWh for each 4kWh. Through our calculations 11.838 MWh is roughly what we'd expect the energy throughput to be if you cycled the battery once a day for 10 years factoring in the depth of discharge and degredation. The warranty also guarantees that the battery will have a capacity of 65% of is starting value.
The operating temperature range of the Q Cells Q.Home ESS HYB G2 is 0oC to 40oC. If the battery is operated outside of these temperatures then this will affect the performance warranty. They provide a calculation to adjust the performance warranty for ranges outside these temperatures. If the average temperature exceeds 50oC or is less than -5oC then Q Cells will terminate the warranty.
Q Cells have an office set up in North Sydney which provides technical and warranty support for their solar panels and the Q.Home ESS systems. You can contact them on 02 9016 3033 or 1-800-Q CELLS.
Read Q Cells Q.Home ESS HYB G2 full warranty document here.
Q Cells Q.Home ESS HYB-G2 specifications
Battery Unit:
Usable Capacity
4kWh
8kWh
12kWh
Battery Usable Capacity

3.6kWh
7.2kWh
10.8kWh
Nominal voltage (single phase system)
230V
Operating voltage range (single phase system)
184 – 264V
Battery Cell Technology
Lithium Ion
Maximum Charging/Discharging Current

17 (9.8 with one battery module)/17
Operating Temperature Range
-20 °C to 55 °C
Outdoor/Indoor
IP65
Warranty
10 Years
Hybrid Inverter Unit:
| | |
| --- | --- |
| Max. Input Voltage [VDC] | 550V |
| Number of independent MPPTs | 2 |
| Max. Input Current per MPPT | 15A |
| Phases | Single |
| Nominal Output Voltage/Range | 230V/184V~264V |
| Nominal Current output | 21.7A |
| Max. Efficiency | 95.28% |
| Outdoor/Indoor | IP65 |
| Warranty | 10 Years |
Read about home battery government schemes across Australia
South Australia, New South Wales, Victoria, and Australian Capital Territory all currently have a home battery scheme in place.
The South Australian Home Battery Scheme enables eligible South Australian residents to receive up to $4,000 per installed battery.
The New South Wales Home Battery Scheme offers an interest-free loan up to $9000 for eligible households looking to install a solar battery.
The Victorian Government under the Solar Homes Program provides to those eligible, a maximum discount of $4,174 off the battery sale price.
The Australian Capital Territory Government under the Next Generation Energy Storage program provides a rebate of $825 per kilowatt (kW). An average household with a 5kW system would be eligible for approximately $4,000.
Read more product reviews from Solar Choice
Compare quotes from up to 7 pre-vetted installers in your area now.
Since 2008 our knowledge and sophisticated software has allowed over 300,000 Australian households and businesses to make a well-informed choice on their solar & battery installer.

Latest posts by Jeff Sykes
(see all)
Reviews from Australians who have installed Q Cells Batteries
Rated 5.00 from 2 reviews
17th January 2023
Frank
VIC - 3782
8kW system
15th December 2022
Ian
VIC - 3995
6kW system