Note: Solar Choice is not a solar installer and has no financial or other incentives to promote any product brand over another.
Overview of Sunways
Sunways was acquired by SFCE Group in 2014 which is the parent group to tier 1 solar panel manufacturer Suntech. The company was originally established in Konstanz, Germany in 1993. After the acquisition in 2014, SFCE Group shifted production of the inverters to Cixi in China to slash production costs. Their current production capacity is 10,000 units per month.
The Sunways inverters will piggyback off Suntech's distribution channels and technical support office in Australia and will be available in the market during 2021. Their 5kW single-phase inverter is expected to enter the Australian market at less than half the cost of a German-branded SMA 5kW inverter. It is intended by the company to be positioned as a German-designed inverter at a fraction of the cost.
A Brief Rundown on Solar Inverters
A solar system's inverter is the point at which the DC electricity produced by solar panels is turned into grid-compatible AC electricity. Typically, there are 2 approaches to inverters – either string inverters or micro-inverters
String inverters (including all of Sunway's product range) have traditionally been the standard in the solar industry. They send the power produced by solar panels to a central inverter that changes it from DC electricity to the usable AC electricity that powers homes. Sunways also produce hybrid string inverters (launching towards the third quarter of 2021) which provide the ability to charge a battery as well as use solar power immediately as its created.
Micro-inverters, generally a more expensive solution, provide a small inverter for each solar panel that is installed. This means that each panel operates individually which creates more visibility over performance and can offer some advantages in partly shaded conditions.
Sunways Inverters – Point of Difference
STS Series – Residential String Inverters
The residential STS series will be the first to launch in Australia and they will offer models from 3kW to 5kW which were approved by the Clean Energy Council in November 2020. The inverters have two MPPTs enabling two strings of solar panels to be connected and feature a maximum efficiency of 98.1% which we would describe as above average.
Through a setting on the OLED display, the inverters can 'overclock' their output by 10%, meaning the 4kW inverter could continuously output 4.4kW (if this is permitted by the local network). This may help avoid clipping if the solar panel array is oversized to the inverter capacity (commonly designed this way in Australia) and would add a small amount of additional benefits. Sunways STS inverters can have 30% more solar panel capacity than their AC capacity.
Sunways inverters use aluminium casing and are heat sinked, which provides a better thermal performance than some of the cheaper inverters that use plastic casing. They suggest this leads to an internal operating temperature that is lower than their competitors, but there are not indepedent tests published at the time of writing.
3-Phase Commercial Solar Inverters & Hybrid Inverters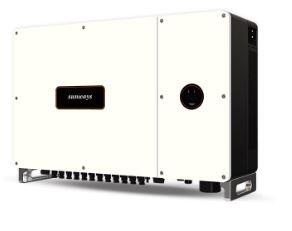 We have been informed by Suntech that Sunways will be launching a range of 3-phase inverters in the next few months and a hybrid inverter range in Q3 2021. Currently, no information has been provided regarding what sizes and specifications will be released in Australia.
Compare quotes from up to 7 installers in your area now.
Sunways Inverter Efficiency
An important aspect of getting the most value out of a solar inverter is choosing an appropriately sized inverter to optimise the solar panel system efficiency. To read about the importance of inverter sizing and system efficiency click here.
Residential inverter efficiency standards are generally 95 to 99 percent. Sunways inverters meet these standards and have at least 98.1% max efficiency. Sunways integrates premium components into their inverters and used an optimised PWM algorithm, which leads to higher conversion efficiency in comparison to the average efficiency from other inverters, which has slightly better performance under the same installation conditions.
Sunways Inverter Warranties
In Australia, all CEC-approved Sunways inverters (which is currently only the STS series) come with a standard 12-year manufacturer's warranty. Most inverters in Australia come with either a 5 or 10-year warranty included so this leaves Sunways leading the industry for the included warranty term (matched only by SolarEdge). Customers do have the option of purchasing an extended warranty of up to 20 years from Sunways within the first 24 months of purchase.
Sunways inverter warranty claims will be managed out of Suntech's Australian office which can be contacted at (+61) 2 8188 2450 or by email to services@suntech-power.com.au. The first point of call for any warranty claim is the installation company responsible.
Major Range of Sunways Inverters Available in Australia
The majority of Sunways Inverters (under the name of Ningbo Sunways Technologies Co Ltd) are approved by the Clean Energy Council for the Small-scale Renewable Energy Scheme, which is Australia's home solar rebate program.
The following Common residential Sunways Inverter Series & sizes are CEC approved:
Sunways Single Phase STS-3KTL
Sunways Single Phase STS-3.6KTL
Sunways Single Phase STS-4.2KTL
Sunways Single Phase STS-4.6KTL
Sunways Single Phase STS-5KTL
Comparison Sunways Solar Inverter Specifications (common models)
Sunways 3kW
STS-3KTL
Sunways 4.2kW
STS-4.2KTL
Sunways 5kW
STS-5KTL
Rated AC Power Output
3kW
4.2kW
5kW
Phases
Single-phase
Single-phase
Single-phase
Maximum Continuous Output Current
15A
21A
25A
Maximum DC Power
3,900kW
5,460W
7,500W
Number of MPPTs
2
2
2
Maximum Inverter Efficiency
98.1%
98.1%
98.1%
Dimensions
410W*360H*120D mm
410W*360H*120D mm
410W*360H*120D mm
Weight
13kg
13kg
13kg
Warranty
12 Years
12 Years
12 Years
Operational Temperature Range
-25°C to 60°C
-25°C to 60°C
-25°C to 60°C
Made in
China
China
China
For a full comparison and guide on what you need to know about solar inverters – read our article.
Read more product reviews from Solar Choice
Compare quotes from up to 7 pre-vetted installers in your area now.
Since 2008 our knowledge and sophisticated software has allowed over 300,000 Australian households and businesses to make a well-informed choice on their solar & battery installer.

Latest posts by Jeff Sykes
(see all)