The amount of renewable energy being generated by Australian businesses has more than doubled over the last two years, with nearly half all corporations making the switch to wind and/or solar to cut costs and emissions.
A Climate Council survey found that soaring electricity bills, and low costs of technology had seen 46 per cent of businesses turn to wind and solar – and often to provide the bulk of their power needs.
"This report shows that the rising cost of energy is the number one concern for Australian businesses over the next decade," says the Climate Council's Greg Bourne, a former chair of the Australian Renewable Energy Agency.

"So it's no surprise that a variety of businesses from bakeries to breweries, and tech agencies to chilli and chicken farms, are all turning to affordable renewable energy and storage solutions.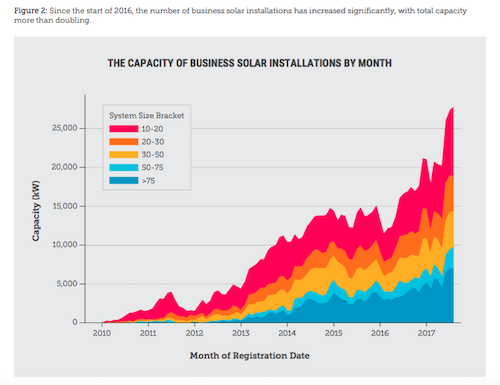 "These businesses are actively investing in renewable energy in a bid to cut costs and take control of their power bills, while also playing a crucial role in transitioning the nation away from ageing, polluting and unreliable fossil fuels."
In terms of solar, a total of 46,000 Australian businesses have taken the plunge, investing mostly in relatively small-scale rooftop arrays. And momentum is building rapidly. According to the Clean Energy Regulator, the amount of rooftop solar installed by businesses (arrays of up to 1MW) will increase five fold in 2018 to around 100MW.
Moving beyond rooftop solar, there is also a growing trend for very large businesses and energy users to turn to large-scale wind and solar projects – in response to the doubling of electricity prices and soaring gas bills.
The Climate Council quoted a recent Baker & McKenzie survey of business intentions which shows that 40 per cent of its respondents are looking at renewables, and 40 per cent are also considering some form of storage.
"It simply makes good economic sense for businesses to make the switch to clean, affordable and reliable renewable energy and battery storage," said Climate Council energy and climate analyst Petra Stock.
"Renewables are taking care of Aussie businesses facing high electricity prices."
Compare Solar & Battery Quotes

Latest posts by Giles Parkinson
(see all)