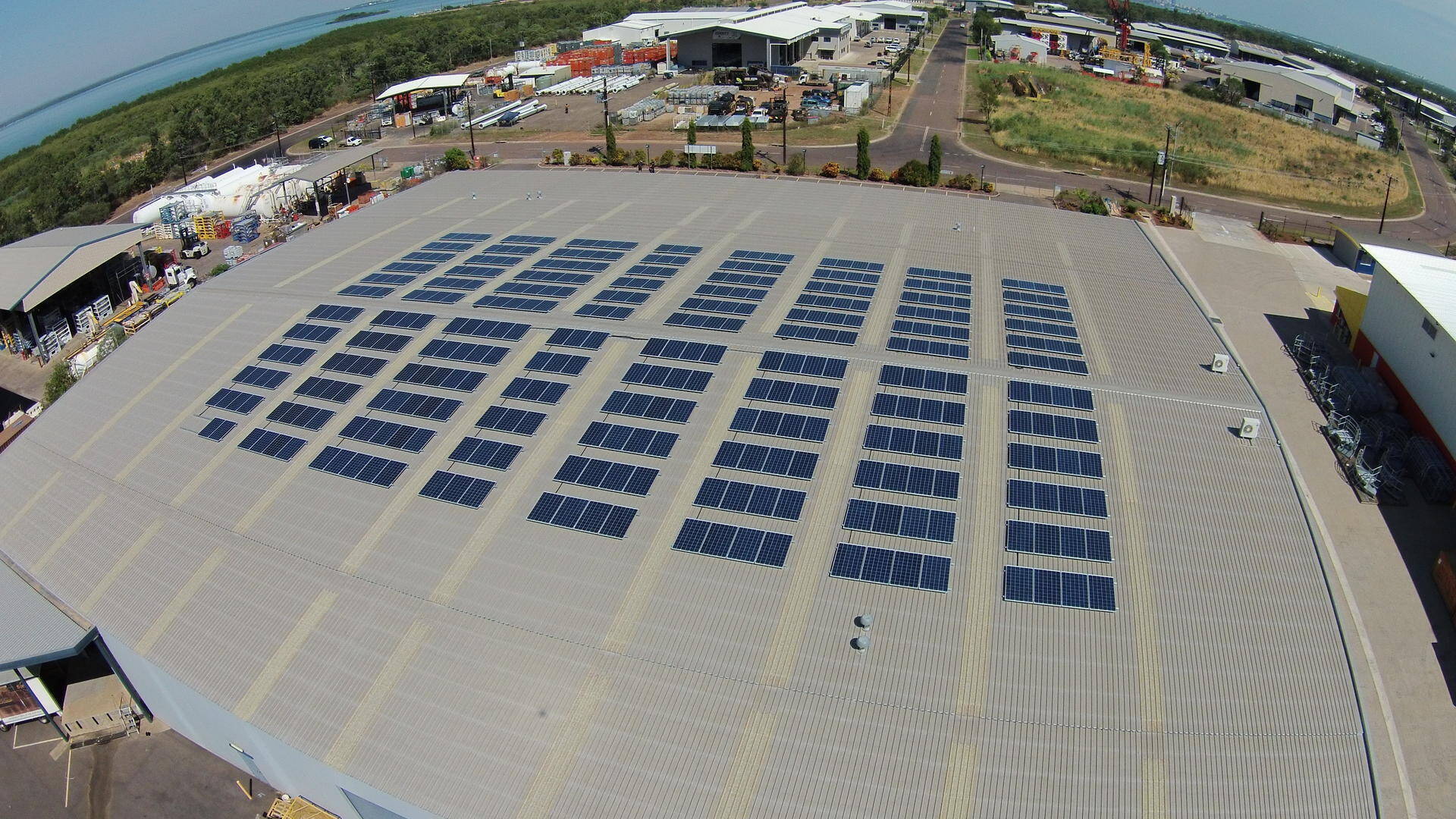 This article provides a guide on what you need to know when considering installing a commercial solar system in Darwin.
What are the benefits of Commercial Solar Power in Darwin?
Solar power can help businesses lower their operating costs, and can provide an EBIT improvement with no upfront costs required. The combination of high solar utilisation in businesses where operations are typically during daylight hours and high energy prices in the NT mean the Return on Invesment for solar is better than many other Australian states.
Solar rebates keep costs low
The federal solar subsidies enable commercial solar projects to generates Small-scale Technology Certificates (STCs) if under 100kW of solar panels, or Large Generation Certificates (LGCs) if over 100kW. The STCs can be sold immediately creating an upfront discount of approximately ~30% to ~35%, whilst the  LGCs are generated throughout the lifetime of the project and provide an additional revenue stream.
Low maintenance costs
Solar systems generally have few moving parts and require little in the way of regular maintenance. Once installed, the expected life of a solar project is 25 years matching the performance warranty on most solar panels. Aside from an inverter replacement once through the lifetime, it is recommended to get an electrical inspection completed every 3-5 years. Cleaning solar panels occurs naturally in Darwin with the heavy rainfall being sufficient to wash panels at a natural tilt.
Financing options mean solar can be cash flow positive
There are a number of commercial solar financing options available to businesses that enable a project to be cash flow positive. That means no upfront investment is required, and the immediate energy savings will more than cover the cost of repayments. You can save money straight away without having to take on any costs!
Request a free solar business case and compare leading commercial installers
What size Commercial Solar System do I need?
There are a number of factors that need to go into sizing the optimal solar PV system including the energy consumption profile, sunlight patterns, roof orientation and shape, rebates and your budget. Solar Choice has developed a model to independently identify the best system size agnostic of product brands, finance options and a pushy sales pitch – click here to get a free assessment.
Our engineers have reviewed the sunlight irradiance data published by the Bureau of Meteorology station which has published intra-day sunlight irradiance data for over 25 years and we can say on average Darwin receives 5.9 peak sunlight hours per day. That figure is slight higher in summer than it is in the winter, meaning a solar system will produce more energy in the summer months. That means we can estimate the output of typical solar system sizes:
Typical Output in Darwin for Commercial Solar System Sizes

(assumes 80% efficiency)

15kw Solar PV System
25,842 kWh p.a.
30kW Solar PV System
51,684 kWh p.a.
50kW Solar PV System
86,140 kWh p.a.
100kW Solar PV System
172,280 kWh p.a.
Commercial solar system pricing in Darwin
The price of solar generally speaking in Darwing is a little more than $1 per watt for system sizes under 100kW. As part of our service, Solar Choice has live pricing from the major commercial installers in the Northern Territory which we can provide at no cost.  We also publish average pricing monthly for residential system sizes in Darwin via the Solar Choice Price Index.
Request a free solar business case and compare leading commercial installers
Since 2008 Solar Choice has consulted with over 3,000 businesses around Australia and helped develop over 800MW solar commercial and solar farm projects.

Latest posts by Jeff Sykes
(see all)