Every June for the last three years I've attended the Energy Storage Conference & Exhibition in Sydney. This year the event took place on 14-15th at Sydney's new Convention and Exhibition Centre (ICC Sydney) in Darling Harbour. It was held concomitantly with the Renewable Cities conference.
As in the style of previous years (e.g. 2015 and 2016), we've put together a rough roundup on the events of the event below.
A snapshot of the exhibition:
As in previous years, the exhibition was free to enter and full of booths from a range of storage-related products, including batteries, electric vehicles and software solutions.
Batteries & battery software
Stopping by the Alpha-ESS booth, I saw how the company is preparing for the possibility that indoor battery installations may not be allowed under the impending battery standard. Their new SMILE units (essentially their old units with new casing) are ingress protection (IP) rated at IP65, meaning that they're suitable for outdoor installation.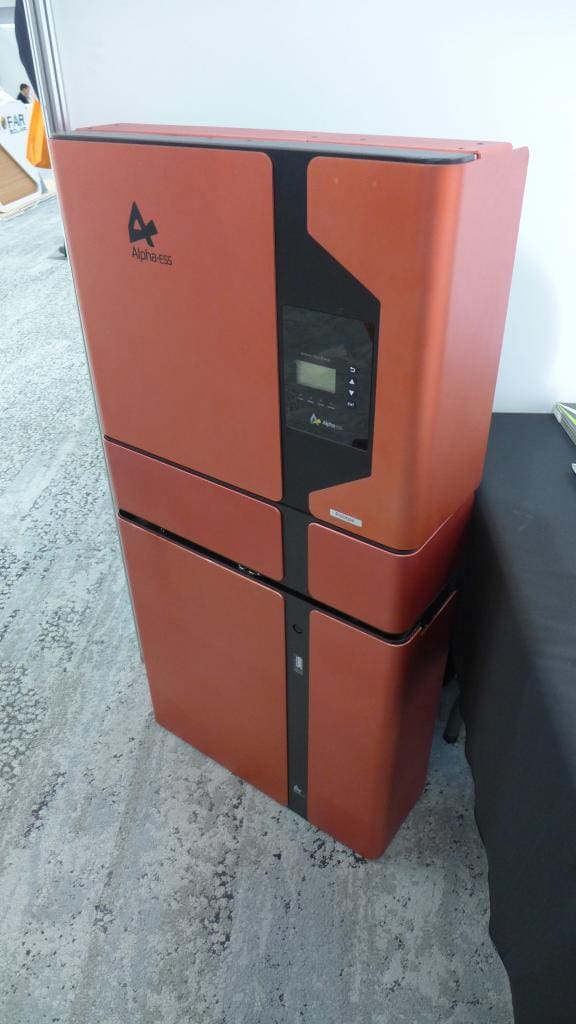 Alpha-ESS' new-look SMILE units.
I also managed to get up close with BYD's compact & sleek MiniES units (their B-Box units were not on display). The MiniES units have 3kW output capacity with 3kWh, 6kWh and 9kWh capacities (as 'feet' underneath the main units) and come with a built-in PCS, allowing them to be easily retrofitted onto a solar system with an existing inverter.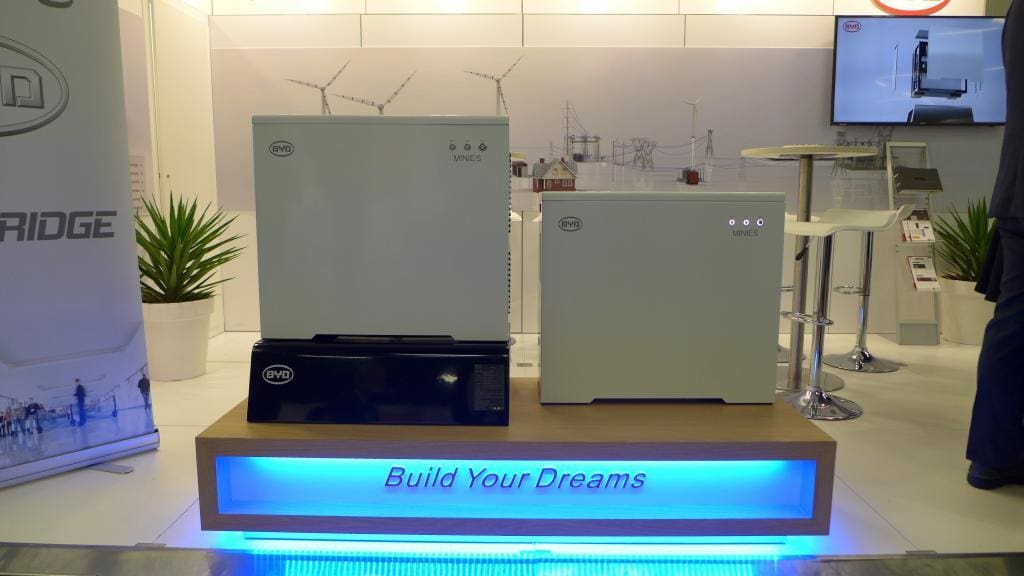 BYD's MiniES units on display in the exhibition hall.
Tesla also had their Powerwall 2 on display:
 Tesla's Powerwall 2 on display in the exhibition hall.
Chatting with the folks at the Reposit Power booth, I learned that they recently launched monitoring-only app which works with any energy system (not just one with batteries, as was previously the case). We briefly discussed the recall affecting a number of their installations, which they said is not an underlying issue with their technology – only the configuration of components in systems they're connected to. Their booth was well attended throughout the two days of the exhibition.
I spoke with one of the people at the IntelePower / Century Yuasa booth – a regular staple at this event every year. The company specialises in large commercial & industrial applications for batteries, and as such isn't very well known in the residential space. I learned that they're Australia's last battery manufacturer, and has been well aware of the benefits of batteries for quite some time. Their solutions may not be pretty, but they're evidently quite practical.
Electric vehicles
There were a number of vehicles on display on the exhibition floor, ranging from plug-in electric hybrids to fuel cell to full electrics. One of the plug-in hybrid electrics (PHEV) was a Mitsubishi Outlander on display with ChargePoint charger – I had a chat with representatives of both. The gist was that electric vehicles have enormous potential as new 'moving parts' on the grid, but that Australia is currently still sorely lacking standards & leadership to make two way transfer of energy possible and viable (e.g. using EVs as mobile batteries and widespread availability of shared charging infrastructure). The vehicle on display was showing off how it could be used to run appliances (e.g. the floodlights) – an application already allowed and common in Japan but not currently possible in Australia.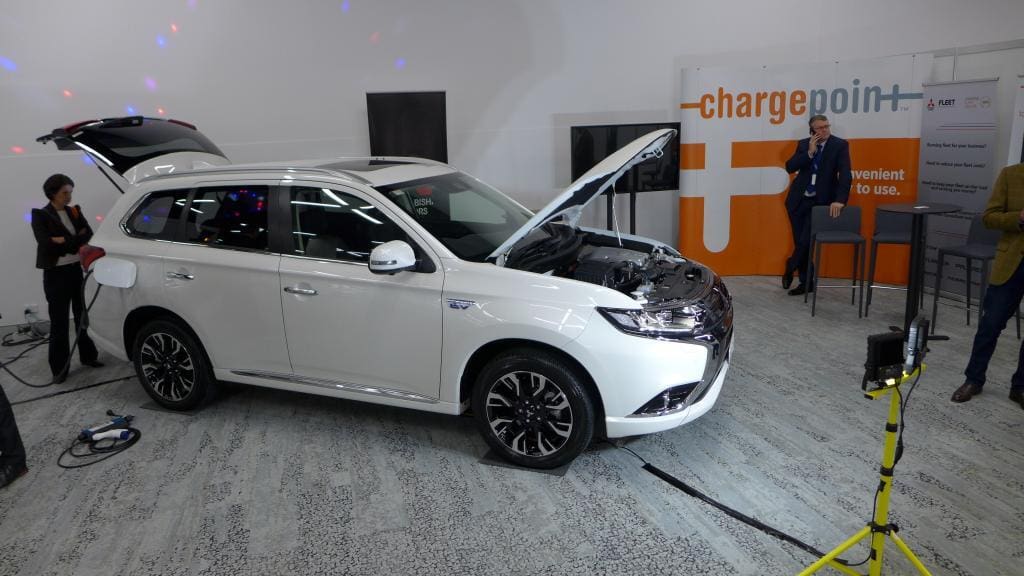 A Mitsubishi plug-in hybrid electric vehicle; the vehicle's battery is being used to run the floodlights at front.
I also had a chat with some of the folks at the Hyundai booth about their fuel cell-based ix35 (their electric one wasn't able to make it). For those who have ever wondered how a fuel cell works (as I have), here's the (very brief) rundown: A small amount of hydrogen can power a fuel cell car for long distances, with no emissions but water. However, creating hydrogen requires special equipment and an energy input (mostly fossil fuel if you source it from the grid), and you may only get out about half a kilowatt-hour (kWh) of energy for every kWh that you do (not a very efficient process – yet). Furthermore, there aren't many hydrogen fuelling stations in Australia, and they're not easily installed at a home. In sum: Hydrogen fuel cell vehicles are interesting but still have quite a ways to go before mass uptake in Australia.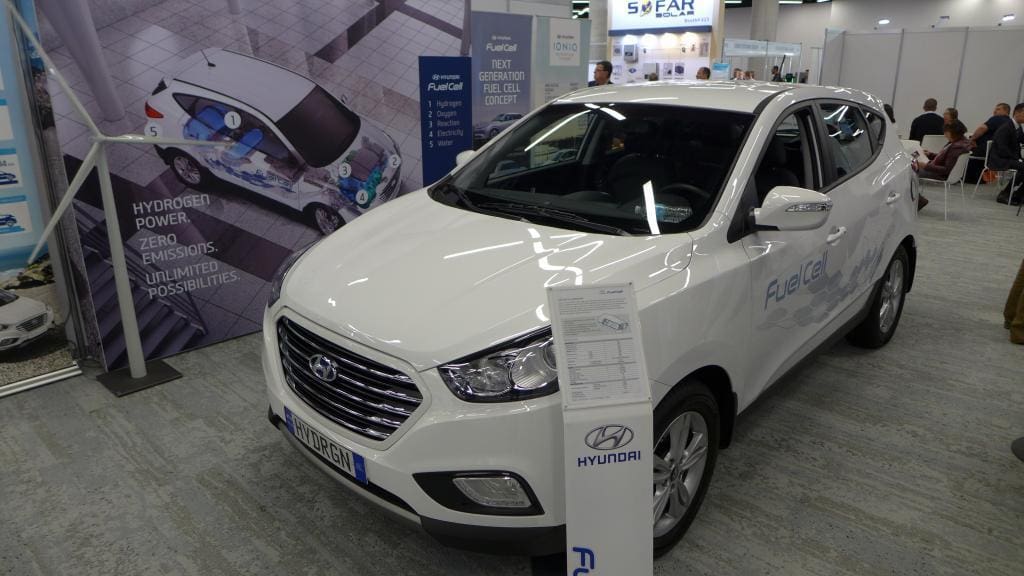 A Hyundai ix35 fuel cell vehicle.
Also on display at the Tesla booth was one of the company's fully electric (as they all are) Model X, alongside the company's much-vaunted Powerwall 2.
Tesla's booth in the exhibition hall, replete with Model X and Powerwall 2 on display.
A snapshot of the conference & talks: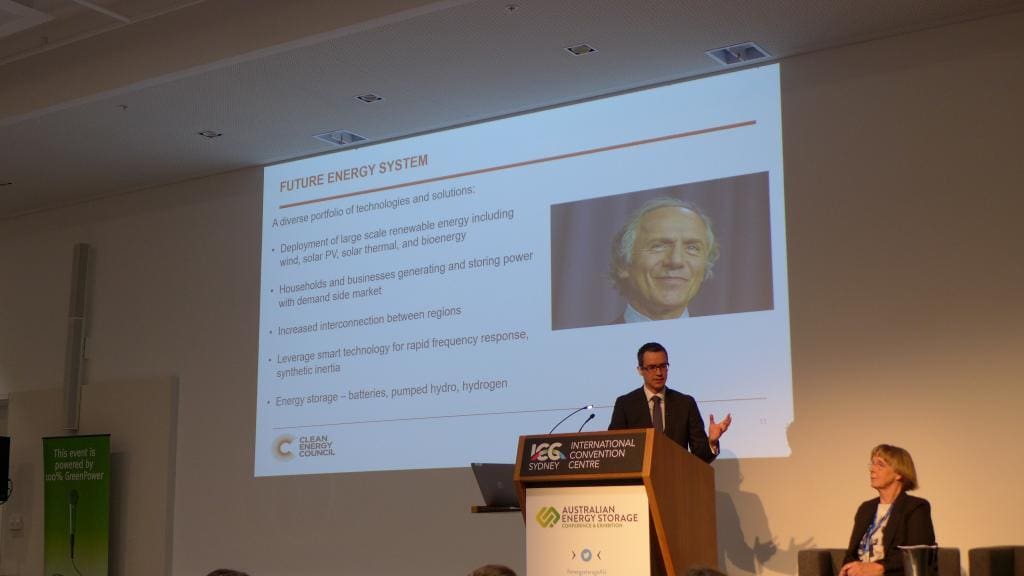 This year the theme was 'investing in Australia's energy future', and conveniently coincided with two news items of significance to the energy sector: the release of the 'Finkel review' and the announcement that the 'big 3' electricity retailers will jack up prices from July 2017 – with others likely to follow. Much of the discussion focused on the topic of how distributed generation & batteries can be better deployed in and harnessed by the electricity system – and the current lack of leadership that seems to be making things worse for both industry and end consumers.
There were lots of talks across two streams (not even counting the Renewable Cities conference happening simultaneously in the same building – which I did not manage to attend). Here are some of the highlights from the ones that I attended – by no means meant to represent the entirety of presentations that were given:
Dean Spaccavento of Reposit Power offered up a 'progress report' on where the company and its technology is at. The talk focussed on six projects currently they currently have up and running & showcasing the potential for batteries to service the electricity grid & energy markets whilst also benefiting end-users.
Bjorn Sturmberg spoke about his work on the Stucco Cooperative student accommodation project in Sydney – including some of the successes with solar & batteries as well as the difficulties with retrofitting an embedded network into the property so that all residents could be billed fairly.
Mark Paterson of WA's Horizon Power discussed the formidable challenges his company faces in bringing its infrastructure into the modern age; the company has nearly 40 different microgrids across an area covering about 1/3 of the Australian continent, where selling electricity is always at a loss. For them, the main challenge is how to reduce those losses; distributed solar and batteries are looking increasingly attractive.
Presenters from Geli & Greensync covered the bigger picture of 'smartening up' the grid across the full spectrum management of issues facing grid & electricity market. Geli have applications for residential home energy, while Greensync focuses on commercial and grid-scale projects.
A snapshot of other conversations I had:
Identifying him from afar, I managed to speak with Nick Pfitzner – widely covered in the media as the first person in Australia to install a Tesla Powerwall back in 2015. Judging by my conversation with him, it seems Tesla couldn't have chosen a better evangelist for their product and the benefits of home solar & battery systems in general. Perhaps the most interesting part of the conversation with him, was about how his behaviour changed to maximise the solar & battery capacity that he had on site – delivering better results than might have otherwise been expected in a desktop study. Nick has recently started his own blog – Unlease the Powerwall.
I spotted Mojo Power employee Dominic Adams by his Mojo Power t-shirt. His title is 'regulatory strategy manager' for the company, and we ended up speaking about the regulatory challenges preventing more effective utilisation of distributed generation assets on the grid – and ways to reward distributed system owners for being part of this larger solution. One of the lowest-hanging fruits, he says, is changing the National Electricity Market settlement period from 30 minutes (in 6x 5 minute 'trading invervals') to a simple 5-minute settlement interval; doing so would unlock the market for small-scale generators by putting them onto a more or less equal footing with much larger generators. (More on this topic to come!)
On a more personal note, after a conversation with the staffers at the Alternative Technologies Association booth, I've decided at long last to become a member to receive their awesome magazines as I move into the world of home ownership – more details to come on this front soon.
© 2017 Solar Choice Pty Ltd

Latest posts by James Martin II
(see all)