For anyone who has a solar PV system for your home/business or is thinking about getting one, understanding electricity usage patterns throughout the day is integral for guaranteeing a good return on investment. Previously we published an in-depth article about getting the most out of a solar PV system, with a focus appropriate system sizing & conscientious power usage.
(Part 1 of this series looks at solar PV system size selection considerations.)
Since that time, Warwick Johnston of solar consultancy SunWiz has published an excellent, data-centric article that investigates the topic of electricity usage patterns in even more detail. On top of making the important point that Australia's distributed solar PV systems easily 'pay their way' on the electricity grid – countering arguments to the contrary by the current government and Australia's electricity infrastructure establishment – the article also serves as something of a sales guide for solar installers, as well as a user's manual for solar system owners.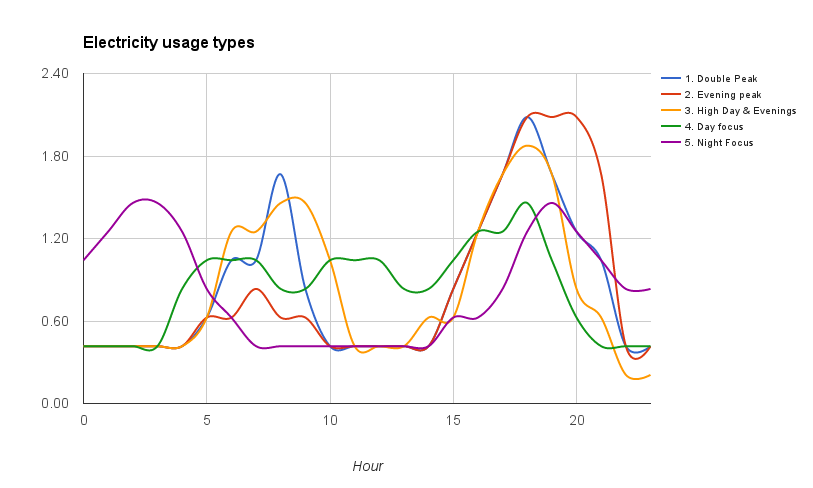 The usage profile graphs from Warwick's article (which were generated using SunWiz's PVSell software) will make it easier for future (and current) solar system owners to determine which electricity usage pattern they might fall into, thereby leaving them better informed about how to choose a appropriately-sized system and how to use that system after installation.
Which of these patterns that best fits any given home will undoubtedly change as time goes on and as behaviours change, children grow up and people move in and out. But being aware of what they are and when they best suit your household (or business) is an important first step in becoming a proactive electricity generator & consumer.
Note that the following graphs are intended only to provide some generalised insights into how a home's electricity is used throughout the day, and as such do not include any actual usage figures – just the patterns over a 24-hour period.
Also note that none of these take into account the possible benefits of installing an energy storage system. Energy storage allows greater flexibility in when solar energy can be used – making it possible to consume your own power even after the sun has gone down.
1. Families with school-age children
The 'double hump'
Characterised by two distinct peaks denoting the flurries of activity associated with morning and afternoon routines. Low-level background electricity use continues throughout the day (mainly refrigerator, water heating & other devices on-all-day devices).
Ideas to get the most out from solar: Get a system that will take care of the baseline usage during the day, as system power generation is generally weaker in early morning & late afternoon, although it will also help eat away at the end of the morning peak and the beginning of the evening peak.
2. Households without school-age children
The evening peak
Characterised by a peak in usage when occupants get home from work and begin preparation for dinner, watching television, having showers, etc.
Solar tips: Again, best to select a system that will meet baseline daytime electricity demand and eat into the beginning of afternoon peak. Switch electricity loads as much as possible to daylight hours by scheduling clothes washing & drying (for example) to daylight hours).
3. Households with infants & preschoolers
High day, higher evenings, low overnight
Similar to the 'double hump' mentioned above, but with more daytime usage.
Solar tips: More solar usage during the daytime as the home is occupied for a larger portion of the day, which means a larger system might be warranted and useful.
4. Day focus
Retirees & those who work from home
Day focus households (and businesses) use a relatively steady amount of electricity throughout the day. They also have the most flexibility when it comes to choosing when to run their appliances.
Solar tips: These households are the best sort of household for solar power, as they use the bulk of their electricity when the sun is shining. Choosing a larger system is generally warranted in these cases.
5. Night focus
Mainly night shift workers
As the name indicates, night focus households have the inverse of the electricity usage pattern of day focus households. Most activity and electricity consumption takes place when the sun is not shining.
Solar tips: Night focus homes are those who would benefit the least from a solar system, unless they manage to shift a greater portion of their usage to daytime hours.
Not sure what size solar system would be best for your home or business?
Check out our Simple Solar PV System Sizing Estimator. Or if you're interested in a battery+storage system, see our Solar Plus Battery Storage Sizing & Payback Estimator.
[This article was originally published in August of 2014.]
© 2016 Solar Choice Pty Ltd

Latest posts by James Martin II
(see all)