More than 60 leading companies in the Australian and global energy storage industry will come together at the Australian Energy Storage Conference and Exhibition (AES 2018) on 23-24 May to explore the innovative energy storage technologies currently in the market and look at what's next for the sector.
The exhibition will be held at the Adelaide Convention Centre and feature major energy companies including Tesla, Toshiba, GE, ABB, and Victron Energy, among many others.
Australia's energy industry is in the middle of a huge transformation, as government and industry seek solutions to issues surrounding reliability, affordability, and a move to more renewable sources. Energy storage technologies have a critical role to play in these rapid changes, making it essential for industry to explore the potential of these technologies to determine which ones will be the best fit for certain areas and applications.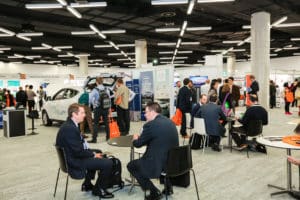 Attendees at AES 2018 will be able to take a look at the most groundbreaking of these technologies, including: lithium batteries, flow batteries, hydrogen, silicon thermal storage, compressed air storage, flywheel energy, inverters, lead acid, pumped hydro, system providers, and energy management.
Compare Solar & Battery Quotes
While the conference and exhibition forms the peak industry event for energy storage in Australia, it also has global significance, as attendees will hear from leading international companies and see where their technologies are headed. With so much innovation and change in the Australian sector, it's important to look to other countries and see what we can learn and implement here.
The AES 2018 exhibition will feature international exhibitors from all around the world, including:
Germany: Max Bögl; Belectric

Spain: Ingeteam
Switzerland: Nel Hydrogen
Canada: Hydrostor
US: ESS Inc; NEC; and Amber Kinetics
A highlight of the 2018 exhibition will also be the addition of new floor zones which give a targeted look at specific storage areas and include live demonstrations.
This year will see a German Pavilion as well as an electric vehicle and charging zone, featuring Delta/Mitsubishi, Hyundai, Bestech, and Aurrigo, who will showcase self driving pods.
There will also be a future tech zone where first time exhibitor 1414 degrees will join Aurrigo, to highlight the advantages of silicon thermal energy storage and what it's doing differently in the market. This is in addition to a Renewable Cities Zone featuring Tritium.
AES 2018 will be the peak gathering of companies and experts whose products and technical innovations are providing energy-storage solutions at the residential, commercial and grid levels.
If you work for an energy system provider or manufacturer; a utility; in mining or a remote community; in any level of government, for an installer, contractor, designer or specifier; or anywhere else in the energy sector, this event is your chance to stay ahead of new technologies, processes, and improvements across energy storage.
There's only two weeks to go so register today for the free exhibition, or the conference, by visiting www.australianenergystorage.com.au/register.
Latest posts by Jessica Dickers
(see all)