Australian homes and businesses installed more than 100MW of new rooftop solar capacity for the month of October, up from 97MW in September, and almost guaranteeing a record 1GW-plus total for the year.
Solar industry analysts SunWiz have reported another "massive" month of small-scale solar installs, totalling 107MW, and pushing the nation's total installed capacity to 6.7GW, 6GW of which is made up of systems sized at 100kW and below.
This takes total registrations to 852MW for 2017, and means the market is "almost certain" to eclipse 1GW of rooftop solar in 2017, Sunwiz said.
Commercial solar had a particularly good month, with installations in the 10kW-20kW range only outdone, in volume, by installs in the 75kW-plus range, as you can see in the table below.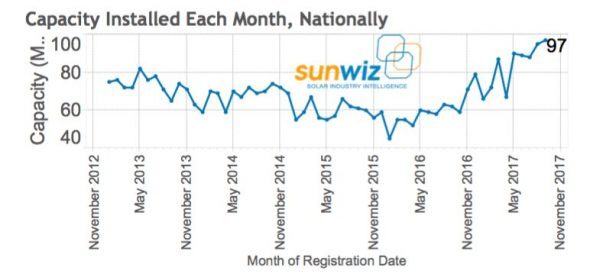 SunWiz notes that the growth in volume occurred in every category, but was especially pronounced in the 6.3-8kW range and in the 75-100kW range.
"Volumes grew substantially in the 75+kW range, which tallied over 10 MW – 10 per cent of the volume … – which is a new record," the report says.
"The proportion of commercial solar grew to 32 per cent, just below a previous record."
At a state level, Queensland continues to lead installation rates, although followed fairly closely by New South Wales – which is having its biggest year ever. Victoria surged to 20MW installed capacity in October, putting it 35 per cent ahead of the same time last year, and on track for its best year ever.
Compare Solar & Battery Quotes

Latest posts by Giles Parkinson
(see all)