German battery storage maker VARTA has become the latest company to enter Australia's burgeoning battery storage market, attracted by the huge penetration of rooftop solar and the growing shift towards "aggregated" storage.
The Bavarian based VARTA claims to have a market share of 10-12 per cent in its principal markets – Germany, Austria and Switzerland – and aims for a 20 per cent share. And it is targeting similar market share in Australia, its first venture outside Europe.
"There are not many places that present such an attractive opportunity, we would be stupid not to go after it" Clements says in an interview ahead of the company's formal launch in Melb0urne next week.
"The flip side of that (attraction) is that it is a very competitive market. There seems to be a lot of noise, but not a lot of clarity. The message that goes to end customer is not as clear as ought to be. That something that would like to see improve as time goes by."
VARTA will sell two models in its "Pulse" range, a 3.3kWh system and a 6.5kWh system. Pricing for installers is yet to be revealed (it may be in next week's official launch), but VARTA considers itself to be at the quality end of the market.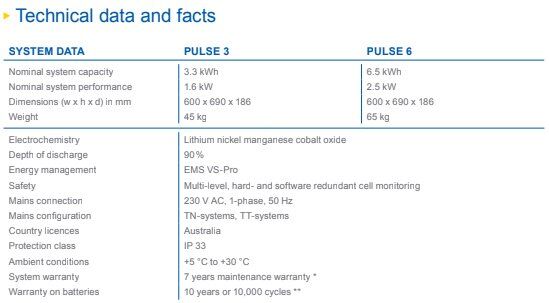 Clements says the key benefits are its quality, that it is a fully integrated system, and is compact.
Australia's battery storage market is getting a boost from record levels of rooftop solar installations, a push by households to install as much capacity as they can, and incentives such as those in South Australia to connect as many as 50,000 low income homes.
There is also a big push towards "aggregation", or linking battery storage installations through software and creating "virtual power plants", where households can share output and capacity and storage can be pooled to play in wholesale markets and network support.
Clements cited the push by AGL into a virtual power plant in South Australia, as well as the role of Australian software providers such as Reposit Power, which is involved in several schemes that seek to unlock the value of household battery storage.
"That is one of the things we see in Australia that we don't see elsewhere is aggregation. We see that as long term future of energy storage and Australia has a lead in that market."
Clements says VARTA's Pulse range is easy to install – within half an hour once the cabling is done – and that should lower installation costs. It comes as a "plug and play" unit including inverter but does not provide back-up should the grid go down.
It may introduce that capability at it looks to new products for the US market, where home energy demand is bigger and grid outages often longer. Manufacture is done in Germany, although it could shift to a plant it owns in Indonesia if the market responds as hoped.
VARTA is located in the Bavarian town of Nördlingen, and says it has been in the battery business for more than 100 years. It entered the energy storage market in 2011 and in 2016 made its first expansion move into Italy in the second half of 2017.
"We've had some real success there, particularly in Q4 …. and the model in Italy is what we want to do in Australia," Clements says.
"In Italy, we set up a training organization where we can train installers, and we signed up a partner responsible for wholesaling. That is the model we will use in Australia."
"We come to this market as a battery supplier, not a software company or an energy provider, or a PV provider.
"We don't want to be an energy provider. We will work with energy providers in providing a solution to the market. We want to work with the big energy providers, not try and knock them out."
Manufacture is done in Germany, although it could shift to a plant it owns in Indonesia if the market responds as hoped.
Compare Solar & Battery Quotes

Latest posts by Giles Parkinson
(see all)