The International Energy Agency has called the end of the coal boom, and hailed the age of solar, in its latest annual World Energy Outlook.
The report, long considered the industry bible for the fossil fuel sector, says that if the world does act in accordance with the long term Paris targets, coal is dead and buried and going into immediate decline.
According to its "sustainable development scenario," renewables will account of 60 per cent of global power production by 2040; coal for just 6 per cent, and much of that only if it can make carbon capture and storage work.
Solar, the IEA says, is already the cheapest fuel source in most countries and will dominate capacity additions. And the world will become electrified, turning to electric vehicles and changing many of its industrial process to take advantage of cheap renewables.
In a new Sustainable Development Scenario – designed to reduce CO2 emissions in line with Paris, while also tackling air pollution and universal energy access – the IEA says the world is better off without coal to meet all or any of these targets.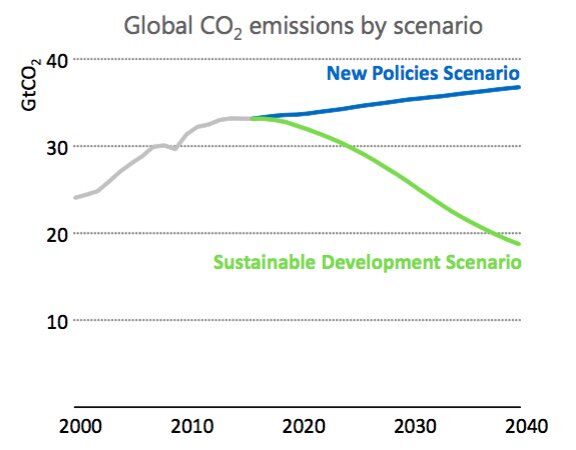 "Decentralised modular technology solutions with short lead times (such as solar PV or wind power) will be able to respond more easily to the simultaneous challenges of the Sustainable Development Scenario than centralised power generation facilities can," the document says.
Another scenario modelled, the Faster Transition Scenario, brings coal comes to an abrupt end, with fossil fuel subsidies removed by 2025; more renewables used in industrial process; more EVs on roads; and more energy efficiency deployed.
"Renewables will capture two-thirds of global investment in power plants as they become, for many countries, the least-cost source of new generation," the IEA report says.
By 2040, solar becomes the biggest source of lower carbon power in both China and India, where the share of coal falls below 50 per cent, and wind becomes the biggest source of electricity in Europe.
Renewable sources of energy meet 40 per cent of the increase in primary demand and their explosive growth in the power sector marks the end of the boom years for coal.
Compare Solar & Battery Quotes

Latest posts by Giles Parkinson
(see all)