Wind and solar power costs appear to have crossed a new threshold, after a US energy tender suggested "firm and dispatchable" renewables were now cheaper than existing coal plants.
The stunning revelation, quietly released over the Christmas/New Year break, came from Xcel Energy in Colorado, which last year put out a "request for proposals" (RFP) to replace two coal-fired generators it aims to shut down, as it moves to take its share of renewables to more than 50 per cent.
The results, described by Vox's David Roberts as "mind-blowing", reveal a median bid price for projects proposing a mix of wind plus battery storage at just $US21/MWh ($A25.80/MWh), while the median price for solar plus battery storage projects was just $US36/MWh ($A44.30/MWh).
According to Carbon Tracker, these are the lowest renewables plus battery storage bids in the US to date, and most likely anywhere in the world.
"The median bid for wind plus storage appears to be lower than the operating cost of all coal plants currently in Colorado, while the median solar plus storage bid could be lower than 74 per cent of operating coal capacity," it noted in a report earlier this month.
(See graph below. This shows that the operating cost of the cheapest coal plants in Colorado is just below $US40/MWh, rising to more than $40/MWh and then soaring beyond $100/MWh for the most expensive units)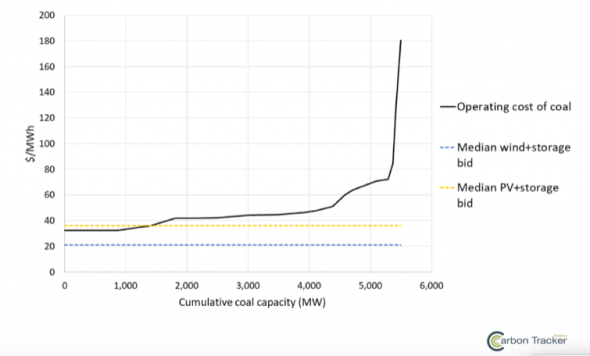 The significance of the tender result is the small additional cost of storage – between $US3 and $US7/MWh. This is less than half the $US15/MWh priced in the previous lowest bid – $US45/MWh for solar and storage in a bid accepted by Tucson Energy easier last year.
The cost of wind without storage was $18/MWh, while the cost of solar without storage was $29/MWh – both prices benefit from federal tax incentives, and would likely be around $US25/MWh and $US40/MWh without them.
The significance for Australia is enormous. The battery storage sector has only just commenced, but the potential is clearly huge.
Compare Solar & Battery Quotes

Latest posts by Giles Parkinson
(see all)