Queensland network operator Ergon Energy is set to tender for up to 200MW of large-scale solar capacity, as well as to accelerate its push into battery storage and electric vehicles as part of its plans to transform the country's biggest grid.
The move by the regional network operator is the biggest tender for large-scale solar seen in Australia (the country only has 200MW of large-scale capacity built or under construction).
It also underlines how the technology – with the help of falling technology costs, some preferential financing support and some political jawboning – is about to take off in Australia, in large arrays and not just on rooftops.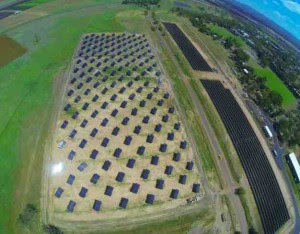 Ergon Energy CEO Ian McLeod told RenewEconomy last Thursday that a formal request for expressions of interest for 150MW of large-scale solar capacity will be issued in the next few weeks. A separate tender for up to 50MW of solar capacity – mostly in the range of 3MW to 10MW – will be conducted to reinforce its "fringe-of-grid" operations.
McLeod says Ergon will take the best offer, but given the number of projects and the nature of the network, it would likely spread the tender across a few sites.
This is especially the case for the fringe-of-grid tender, which will seek a number of smaller 3MW-10MW solar installations to reinforce its SWIR network – thin lines at the edge of the network. McLeod says the transmission losses to some western towns, from ferrying electricity from coal-fired power stations 900kms away, were huge.
As reported here before, Ergon is installing a series of 100kWh battery storage arrays to boost its network security (it's cheaper than replacing or upgrading a sub-station).
It is also trialling 10 lithium-ion battery storage devices in homes and businesses in Townsville, and is installing 30 battery storage devices from Sunverge as part of its "Project Sunshine".
McLeod said the Ergon grid, which covers 44 per cent of the area of the National Electricity Market, with just 7 per cent of its customers, was built on old technology, and weighed down by the needs and response to air conditioning, poorly framed tariffs and dominance of centralised generation.
© 2015 Solar Choice Pty Ltd

Latest posts by Giles Parkinson
(see all)