The Queensland Productivity Commission has recommended bringing an early end to the state's solar bonus scheme, arguing that it has done its job and is too costly to be continued.
The QPC says it has been provided new data on the scheme – which gave 44c/kWh to several hundred thousand homes – that suggests its cost has soared to $4.4 billion, without giving details about how.
According to Energex, the Queensland utility, these premium feed-in tariffs cost $15 million a month. The QPC says it wants the scheme stopped because of the "huge transfer of wealth" to solar households.
There is no mention of the cross subsidy for air conditioning, however, which is six-times greater than that of solar PV – $700 per household versus $200.
The second major recommendation concerning rooftop solar from the QPC was for the Queensland government to abandon its commitment to having one million homes – and therefore around 3,000MW – of rooftop solar installed by 2020.
The QPC argues that to reach that target would require the state government to re-introduce a feed-in tariff of 45c/kWh. Yet, according to the modelling done by ACIL Allen, the state will likely get close to the 3,000MW target anyway.
If the feed-in tariff was raised to 10c/kWh, then the target would be reached in 2021, and nearly reached in 2020. Even the "base case" – unchanged tariffs – nearly reaches the target in 2020.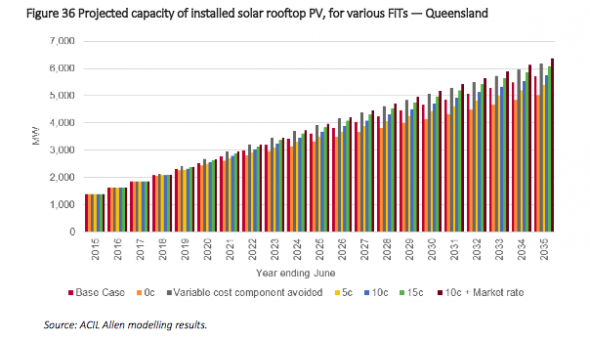 On the estimated costs of going "off grid", the QPC quotes two reports that suggest it could be anywhere between $56,000 and $72,000.
On the other hand, it admits that some of the investment in networks has not been necessary. But the only salient recommendations on network costs – which have contributed 82 per cent of the 87 per cent rise in bills – is to merge the two networks into an even bigger, more powerful state-owned monopoly than it is now.
© 2016 Solar Choice Pty Ltd
Giles Parkinson regularly contributes unique content to Solar Choice News. Giles is the founder and editor of clean energy industry news service RenewEconomy. He is a journalist of 30 years experience, a former Business Editor and Deputy Editor of the Financial Review, a columnist for The Bulletin magazine and The Australian, and the founding editor of Climate Spectator.
Latest posts by Giles Parkinson (see all)