Rooftop solar and battery storage already offers a cheaper option for Australian households than electricity from the grid, according to a leading analyst from Bloomberg New Energy Finance.
"Solar and battery storage is simply unstoppable," said Kobad Bhavnagri, the head of BNEF in Australia, which has predicted 33GWh of battery storage and 37GW of solar PV in Australia by 2040.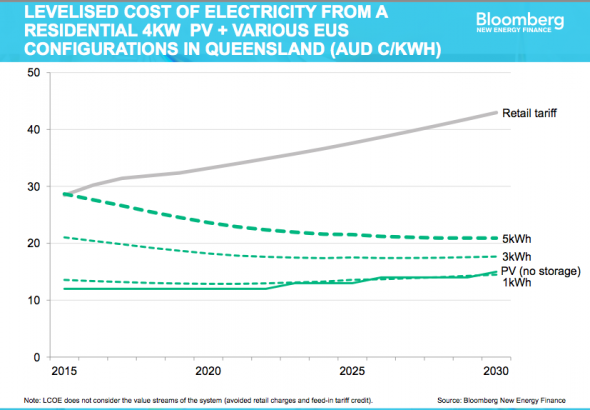 As the BNEF graph shows, even if retail electricity prices remain flat, rooftop solar PV can already provide power to consumers in homes at well below the price of electricity.
Adding one kilowatt-hour of battery storage raises that cost slightly, but is still well below the cost of the grid-sourced power. Even 5kWh of battery storage can be installed and still costs are below that of the grid.
(These examples are taken in Queensland, with a 4kW rooftop solar system. A different  version of this graph, showing the costs in payback terms, is included in this story on how battery storage prices are already falling in Australia).
"Storage technologies as well as PV will be able to provide costumers with electricity at a cheaper cost than the grid," Bhavnagri says. "And as storage gets cheaper even larger amounts of storage will be able to supply consumers at a cheaper cost to the grid.
"On economic fundamentals this technology is unstoppable," he said. But that didn't mean customers would be quitting the grid, he added.

"We will still need the grid for different purposes," said Bavnagri, although their business model would have to change. 

"They have got to sell services instead of kilowatt-hours," Bhavnagri said. "Much of what they built is redundant, resulting in excess capacity, and networks are overcharging and not delivering a commodity or service that is valuable to consumers."
© 2015 Solar Choice Pty Ltd

Latest posts by Giles Parkinson
(see all)