Hybrid solar photovoltaic (PV) cum energy storage systems are set to see rapid growth, according to a report by Lux Research, corroborating similar predictions put out by IMS earlier this year. By 2018, the industry could be worth 2.8 billion dollars, Lux says. The energy storage industry–still in its infancy–is expected to benefit substantially from the growth of the solar market, as developers seek to ensure that their products stand out in increasingly competitive conditions. The flip-side, however, is not true, with battery storage adoption is only expected to increase the the solar PV industry growth by about 1%.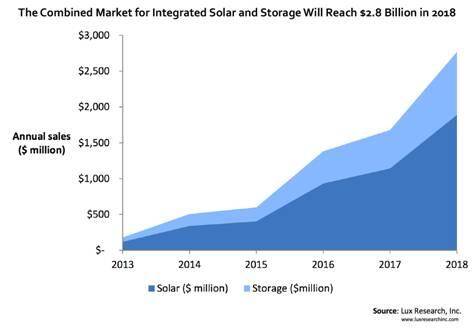 Lux's report–Batteries Included: Gauging near-term prospects for solar/energy storage systems–say that the bulk of uptake will be concentrated in the residential market until 2018, with 382 megawatts (MW) expected to be installed between now and then. Lux also anticipates that storage for the light commercial sector will increase to 220MW, while heavy commercial/industrial applications grow to about 73MW. Of the 711MW total expected to be installed, 675MW of this will be found in grid-tied installations as opposed to off-grid systems, although Lux notes that the off-grid sector will have higher profit margins.
At 381MW, Japan (which is already planning the world's largest battery storage facility) will be the biggest market for grid-tied solar, due mainly to the high cost of electricity there, as nuclear plants across the country remain closed after the Fukushima crisis. Germany, will be the second largest market, followed by the USA. Lux notes that energy storage growth could be accelerated further if/when incentive programs like that planned by Germany are brought in.
There has been much talk in Australia about the prospect of fast growth in the grid-connected energy storage sector, and although not quite yet at a critical mass for a boom, the technology is expected to become more common in the coming years.
© 2013 Solar Choice Pty Ltd

Latest posts by James Martin II
(see all)