The Victorian Government has been applauded by the Clean Energy Council for their 'Switch On' project. The scheme will allow residents of Victoria to take control of their energy bills using flexible pricing and energy efficiency advice. The scheme is similar to the 'Smart Grid, Smart City' project being funded by the NSW Government.
The new flexible pricing scheme will come into effect from mid-2013, residents will able to choose between the traditional flat tariff or the new flexible pricing system. The diagram below is an approximation of how the flexible tariff may work, times may differ between energy retailers, essentially there would be a peak period when the price of electricity is higher, typically on weekday afternoons and evenings, when the demand for electricity is the highest. A shoulder period when demand is slightly lowered and the price of electricity is can be reduced to match and an off-peak period when both demand and, therefore, cost is low.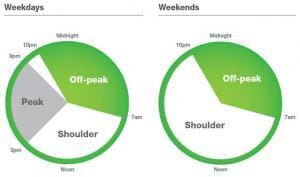 The flexible pricing options will be available to all customers from mid-2013, perhaps the most important factor is that the scheme is voluntary with customers able to opt out completely and revert back to their old (flat) pricing scheme at anytime until 31 March, 2015.
The Victorian Government believe that many of its residents could benefit from flexible pricing, smart meters and online portals will allow customers to see exactly when energy is being used and what appliances cause the biggest jump. According to the Victorian Government 'approximately 12 per cent of residential consumers and 20 per cent of small business customers already have some form of flexible rates for their electricity usage'. In addition to this about 20 per cent of Victorian consumers have peak and off-peak rates for specific appliances such as electric hot water and space heating.
The 'Switch On' flexible pricing options will give customers with smart meters more opportunities to save money and those with existing peak and off-peak options to apply the savings to their whole energy bill and not just specific appliances.
The Clean Energy Council's Chief Executive, David Green said of the scheme:
"Today's announcement is an important step towards empowering Victorian consumers to control how much energy they use and when,"

"By giving households better access to flexible pricing arrangements but ensuring vulnerable people such as the elderly can keep their existing plans, the Victorian Government has made a really positive step towards easing the power price pain for everyone."
Image via the Switch On project
© 2012 Solar Choice Pty Ltd
Rebecca is a sustainable development and marketing graduate, with a background in community engagement and research. She has a particular interest in sustainable resource use.
Latest posts by Rebecca Boyle (see all)