Renusol GmbH is a leading innovator in the field of solar module mounting. The company and its US subsidiary Renusol America design and manufacture solutions for both ground-mounted and rooftop (flat or pitched) solar PV systems. Their aim, as Renusol America CEO Bart Leusink says, is "to make solar simpler every way we can". This article looks at Renusol America's CS60, the company's groundbreaking solar module mounting solution for flat surfaces.
What is the CS60?
The CS60 is a 'one-panel-per-unit', non-penetrating, ballasted solar panel mounting solution for use in ground-mounted or flat roof solar systems. It is suitable for deployment in solar projects of all scales, from small & medium-sized to large-scale commercial solar PV projects and even utility-scale solar plants.
Points of difference
A number of features set the CS60 apart from other flat surface mounting technologies, but some of the key benefits of the system derive from the fact that it requires no or little penetration to install, and that each module is an independent unit that holds exactly 1 panel. Instead of requiring screws or nails to stay in place, CS60 units are weighted down with gravel, sandbags, or other heavy materials, which are inserted inside. Solar panels of any standard size are then attached to the units, which can be arranged freely or interconnected for uniform orientation.

CS60 modules each mount 1 standard-size solar panel. (Image via Renusol.)
Benefits: Design & installation
The benefits that the CS60's unique design offers installers/system designers include easier planning and shorter mounting times. Because of their non-penetrating nature, they can also be used on virtually any type of flat roof, regardless of its composition. They are available in 2 mounting angles–10 and 15 degrees. The 15-degree modules are designed such that Enphase microinverters can be readily integrated into each unit in the case that the system in questions employs microinverters.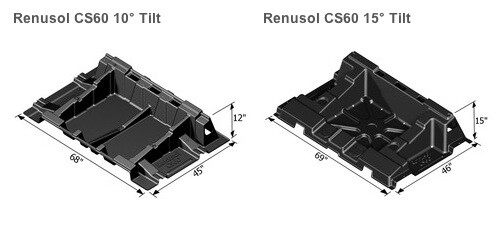 CS60 10-degree tilt angle (l) and 15-degree tilt angle unit (r) (Click to enlarge. Image via Renusol.)

CS60 installation instructions (Click to enlarge. Image via Renusol.)
Other benefits
CS60 units offer a number of advantages even outside the design and installation process. They are lightweight and stackable, making them easy to transport. They are made of made of 100% recycled, chlorine-free, UV-proof, high molecular weight polyethylene (HMWPE (pdf)), a durable material commonly used in storage drums, automotive fuel tanks, and a wide range of other heavy-duty applications. CS60 modules are 100% made in the USA, and come with a 25-year limited product warranty.
Download: CS60 Spec Sheet (pdf)
Other products by Renusol America & Renusol GmbH
Aside from the CS60, Renusol America manufactures a range of other mounting solutions for both flat and pitched roofs. Likewise, Renusol America's German parent company, Renusol GmbH, offers a catalogue of mounting systems for a variety of applications in addition to flat roofs, including a unique ground-mounting solution (TerraSole (pdf)), as well as a fully roof-integrated system (IntraSole CL (pdf)), and a semi roof-integrated system (IntraSole SE).
History in the industry
Renusol began in Germany as Ubbink Ecoenergy Solar GmbH in 2004, but became Renusol GmbH in 2005, when it was integrated into the CENTROSOLAR Group AG. By 2010, over 2.4 million solar modules (about 400 megawatts) were installed across Europe using Reunsol mounting systems. The company debuted in the US as Renusol America in 2011, and since then over 250,000 CS60 units have been used in installations in more than 23 US states.
Renusol GmbH and Renusol America product catalogues are not yet available in Australia.
Contact
Bart Leusink, CEO Renusol America
Email: Bart.Leusink@renusolamerica.com
Ph: +1 877 847 8919