Solar Choice has enabled another NSW club to make an informed choice of solar installer and save money on the cost of installing a system. Club Macquarie Dubbo has recently gone ahead with installing a 35 kilowatt (kW) solar panel array in order to reduce ballooning power bills. In doing so, the club joins a quickly growing number of businesses across the state and the country opting to generate a portion of their own electricity rather than purchase it from utilities.
In an article in the Daily Liberal, Macquarie Club Dubbo president Dick Smith credits Solar Choice Commercial as having saved the company 'thousands of dollars' on the cost of the installation. Solar Choice acted as broker for the installation and kept the club up to date on progress during the tender and installation processes. In the long run, this savings will translate into stronger a return on the club's investment in the system.
Mr Smith explained his reasons for deciding to install the array. "Our electricity bill was getting unmanageable and we thought it would be a good idea to keep abreast with the times," he said. He said that the comment of one of the club's committee members swayed his opinion towards embracing the technology. "What convinced me was one of the committee members said to me that if they hadn't built the Sydney Harbour Bridge when they did it wouldn't be affordable today."
State-sponsored feed-in tariff incentives for generating solar power no longer exist in New South Wales, but thanks to the falling cost of solar photovoltaic (PV) technology, the business case for having a system installed is still strong and growing stronger, especially for organisations whose business hours coincide with daylight hours. The system's 35kW capacity was chosen to match the club's daytime energy use, allowing the club to produce and consume all or most of its own power while the sun is out.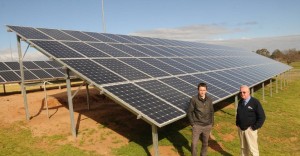 Photo credit: Amy McIntyre
Solar Choice Commercial manages tenders for a wide range of commercial-scale solar PV projects throughout Australia, including solar farms and utility-scale solar PV plants. For enquiries and professional advice on helping your business go solar, please contact:
Matt Lasauce (Solar Choice Commercial Tenders Manager): 0410 124 850
Alternatively, you can can request a Commercial Solar Quote Comparison by selecting the orange tab at the top of the box on the right of this page and filling in your details. A Solar Choice Commercial team member will be in touch with you soon.
© 2013 Solar Choice Pty Ltd

Latest posts by James Martin II
(see all)