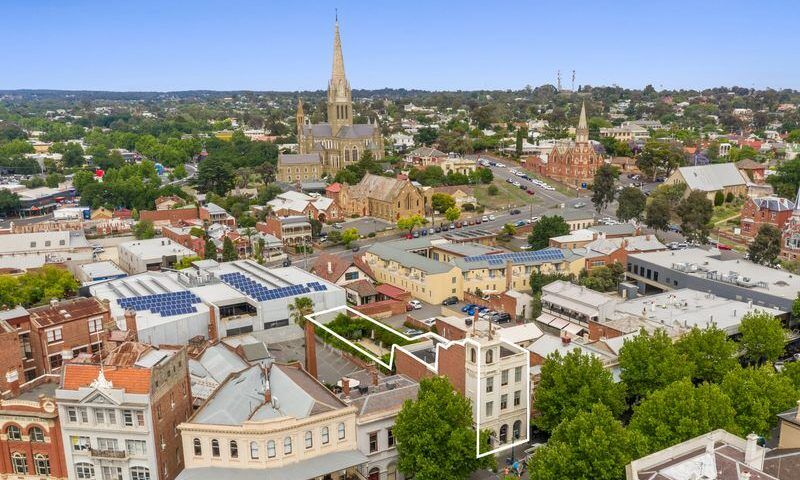 Data from the Australian Photovoltaic Institute finds that 15.3% of dwellings in Bendigo already have solar panels installed, with the majority of those being residential installs under 10kW in capacity. This article aims to explain why solar power is a good investment in Bendigo and is supported by independently verified facts.
How much Solar Power will a system generate in Bendigo?
Using NREL's online calculator we can see that a 1kW Solar Panel System will generate 4.77kWh of energy on average per day. This multiplier will

increase to 6.92 in January compared to as low as 2.61 in June. You can multiply these figures by the system size you are looking to install, or compare your average daily usage on your energy bill against the figures we have calculated for you below:
*Assuming solar panels are mounted at slope of 20 degrees to the north (with no shading) and a system efficiency of 85%
Instantly compare quotes from installers in Bendigo
How to work out what system size is best for you?
All grid-connected Victoria residents may benefit from having a solar PV system installed in two ways:
– Reducing the amount of power you buy from the grid – By consuming solar power as it is generated ("self-consumption") you can reduce the size of your bill. To maximise this benefit you should switch as much power consumption (pool pumps, dishwasher, laundry, water heating) to run between 9am and 3pm if possible.
– Earning a Feed-in Tariff for surplus energy exported back to the grid – This surplus energy can be sold via your electricity retailer and will appear as a credit on your energy bill. Note that the mandatory minimum for feed-in-tariffs is 9.9c so you sell power at much lower rates than what you buy power at. Fora typical single-phase electrical connection in Bendigo, Powercor permits solar systems with a 5kW inverter and up to 6.6kW of solar panels can export energy.
So generally speaking its best not to oversize your system beyond 6.6kW unless you have large consumption during the daytime, plan to install a battery, or aren't too concerned about your financial return and would simply like to be as self sufficient as possible.
Use the Solar Choice Payback Calculator to work out how much different solar system sizes would reduce your energy bills!
Bendigo Solar Panel and Battery Rebates – Government Incentives
In Bendigo there is both a federal and state incentive scheme for renewable energy projects.
The federal solar rebate provides an upfront rebate on the costs of Solar Panels based on the size of the system installed, the date of installation and the geographic 'zone' within Australia. An eligible Solar Panel system will generate a number of certificates (STCs) which are then solar by the installer. Instead of paying for the total system and then receiving a rebate afterwards, Clean Energy Council accredited installers will reduce their upfront costs.
STC prices rise and fall with supply and demand, but solar installation companies can fix rates for a certain time period through bulk trades or via a broker. (STC prices are disclosed in Solar Choice's Solar Quote Comparisons)
* Estimates taken from Greenbank on 27 May 2020 at a price of $37 per STC – it is a live market so prices are always fluctuating
Solar Victoria is the body the state government has setup manage the delivery of the Victorian Government's Solar Home Program – which offers an additional rebate to the federal program to eligible households. If eligible, your rebate could be as high as $1,888 for solar panels and $4,838 for solar batteries (only 1,000 rebates available). This rebate is in addition to the federal solar rebate, taking eligible Victorians into a 'no brainer' decision to go solar.
Average costs of Solar Panels in Bendigo, Victoria
Solar Choice has been tracking price trends in Australia's capital cities since 2012 in our monthly Solar PV Price Index. The chart below tracks average solar system prices in Australia from August 2012 to 2020. We don't publish average pricing for Bendigo specifically, but the average costs in Melbourne are fairly similar. Most Melbourne-based installers will also be happy to install in Bendigo with minimal (if any) travel costs.
Based on a May 2020 data, a common 6kW Solar PV system would cost $5,350 including GST and the federal rebate (but excluding the Solar Victoria rebate).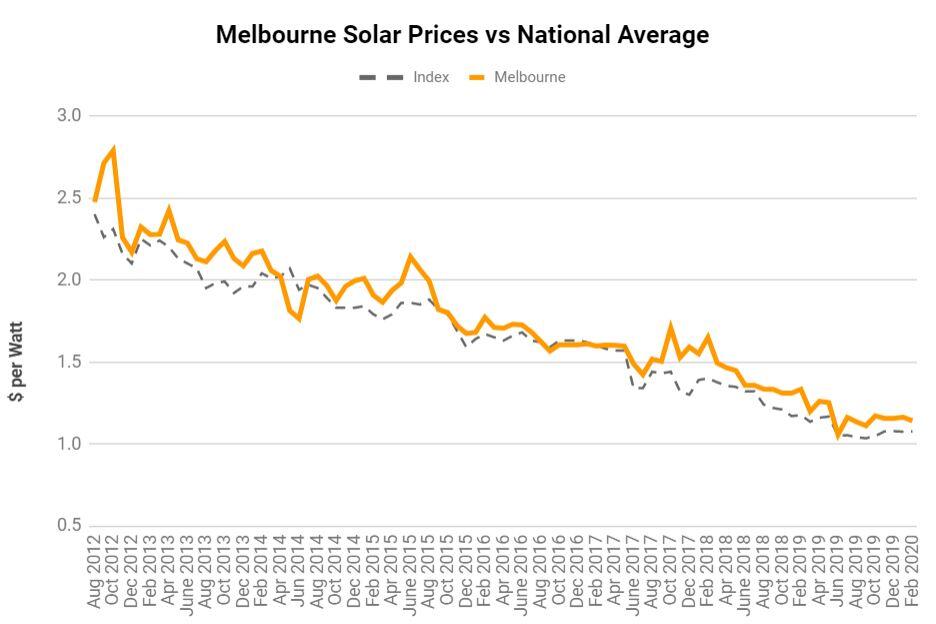 So what about Solar Batteries?
Battery technology has been available for many years, but generally speaking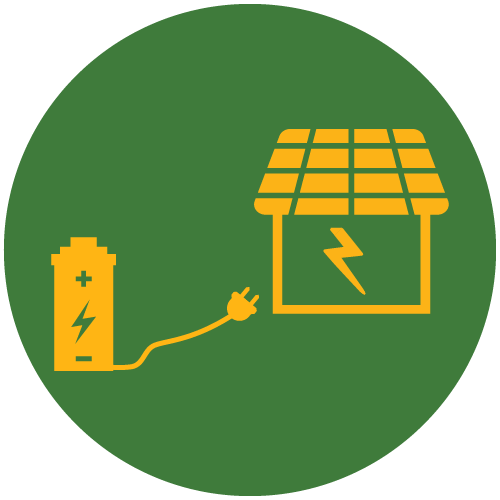 are still very expensive compared to the alternatives of buying power from the grid or selling surplus energy from your solar system for a feed-in-tariff. In our recent analysis of the payback period of batteries we observed for example that a Tesla Powerwall 2 would take 20 years to pay for itself and provide a IRR of -3.2%.
Many residents are keeping options open for the future by ensuring their systems are battery ready. This would mean, ensuring roofspace is used efficiency to enable a future solar panel expansion and using a hybrid inverter to keep options open for a DC-coupled battery.
How to get quotes from reputable and trustworthy solar installers?
Solar Choice have done the hardwork and pre-vetted over 200 installers around Australia ensuring that you will be dealing with a company with the appropriate Clean Energy Council accreditations, reviewed their suggested products, warranties and pricing and collected feedback on installs since 2008. Through our platform you can instantly browse through quotes online ahead of a meaningful discussion with your preferred installers – click the Compare Now button below to get started!
Compare quotes from up to 7 pre-vetted installers in your area now.
Since 2008 our knowledge and sophisticated software has allowed over 300,000 Australian households and businesses to make a well-informed choice on their solar & battery installer.

Latest posts by Jeff Sykes
(see all)