Energy storage is an option whose appeal is growing globally–and Australia is no exception. But energy storage is seldom considered as an option in isolate: the vast majority of those homes and businesses looking into an energy storage system are thinking of the bigger issues of electricity bill savings and or energy independence–both things that have only managed to enter the public consciousness through the rise of rooftop solar power. 
This article breaks down the things to consider when looking at installing a solar plus energy storage system in Australia–or even if you're thinking about adding an energy storage unit onto an existing solar system.
Falling solar system prices have paved the way for energy independence…
Solar Choice has written extensively about the cost of installing a solar PV system, having published monthly figures on where the market is at since August 2012. Through this time, we've seen prices come down significantly, even as solar incentives have been slashed on both the federal and state levels. The graph below shows how solar system prices (in dollar-per-watt format) have changed since we began keeping track. (You can also instantly compare system prices from installers specific to your area by filling out the Solar Quote Comparison request form to the right of this page.)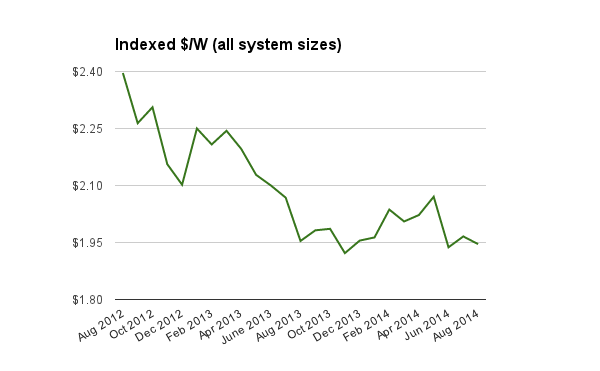 What this means, in essence, is that it is now more affordable to generate electricity at home than to purchase it from the electricity grid in many places. Plenty of homes and businesses now realise this, and installations continue apace across the nation. Even in the absence of strong solar feed-in tariff incentives, solar power makes financial sense, as long as the system's owners focus on the 'self-consumption' of whatever power they generate. This is because solar system owners save more money by consuming their solar power (and therefore avoiding the purchase of some electricity from the grid) than exporting it to the grid.
But there are lots of different electricity consumption profiles among homes and businesses in Australia, and not all of them perfectly coincide with the production curve of the typical solar PV system. Solar power production tends to peak during the middle of the day, when homes tend to be unoccupied and therefore not consuming electricity. Energy storage systems promise to maximise the money-saving potential of a solar system by allowing more flexibility in the timing of its use.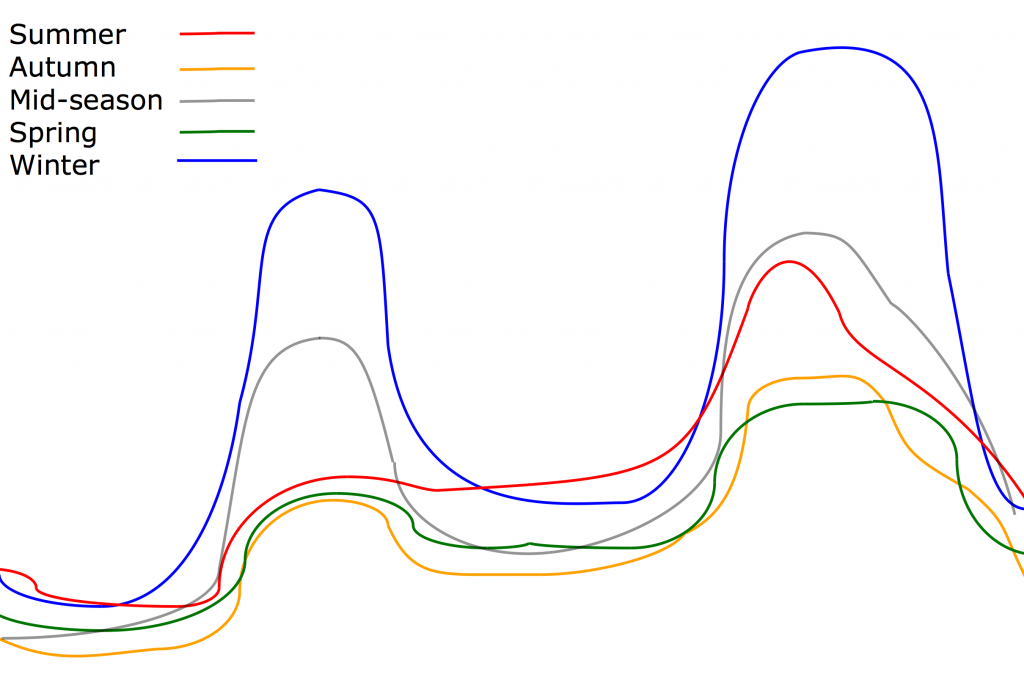 A typical electricity consumption pattern: The 'double hump'. Solar power production is generally at its highest just between the two peaks.
…and now energy storage will help fill in the solar gaps
Energy storage technology, the price of which is also falling steadily as more companies enter the field, is a game-changer for solar power. Without energy storage, solar system owners who want to get the most out of their system need to try as much as possible to concentrate their electricity usage during daylight hours. With energy storage, timing is significantly less important–the solar power can be 'bottled' and saved for later, bringing modern homes and businesses closer to energy independence than has ever been possible. This is why so many homes are looking into it.
Some things tips for installing solar + energy storage
Solar Choice published an article about what to look for in a solar + energy storage system back in 2012, and the main points still hold true. Most importantly, a 'smart' energy management system is critical so that all electricity produced is put to the best use possible–whether that be to power your appliances, to be fed into a battery bank, or to be exported to the grid.
Below are some other things to keep in mind related to selecting and getting the most from a solar PV system with storage:
–Know thy energy consumption: Having a quality monitoring system will help you to make sure you know when you're consuming electricity and how much–so that you can adjust your behaviour accordingly to get the most out of your system. Long-term data tracking will show let you see how the changes you make can get results.
–Get energy efficient: Related to the previous point above, making sure that the appliances you use do not consume any more electricity than necessary–and switching off devices when they are not in use–will go a long way in reducing your electricity consumption, which will in turn reduce the size of solar PV array and energy storage system that you will need in the first place.
On another note: Solar leasing has not taken off in Australia the way that it has in the USA (mainly because systems are more affordable here). If a similar, lease-style arrangement were to be developed for energy storage systems, however, the capital outlay hurdle associated with energy storage could be overcome–clearing the path for dramatic uptake in this type of technology. Keep an eye out for developments on this front in the near future.
A bright future for solar-plus-storage
The solar-plus-energy-storage combination has a bright future by most accounts. It also has implications for the nature of electricity generation, distribution and transmission as we know it, threatening the business model which electricity utilities are founded on: that of generating and selling electricity through networks to end-users. Australia's own CSIRO has conducted some investigation into what Australian electricity infrastructure will look like in 35-40 years' time, but their conclusions are open-ended, making informed guesses about what trends might be seen in 2050. One thing is for sure, though: things will be very different at that point in time.
Top image via ABC
© 2014 Solar Choice Pty Ltd