More than 16,000 Australian households and businesses installed rooftop solar systems in July, adding a total of 70MW of small-scale PV capacity to the national total.
The latest data from Green Energy Markets shows that 16,601 rooftop solar systems were installed in Australia for the month, taking the national total so far this year to more than 108,000 systems, or 450MW.
Queensland, accounting for just over one-third of installations, continues to lead the way as Australia's biggest market for rooftop solar.
Victoria ranks second, followed by NSW, WA and then South Australia.

The share of commercial-scale systems for the month totalled 19 per cent of installed capacity, according to Green Energy Markets, and 16 per cent of all installations so far this year.
The biggest markets for commercial solar are in NSW, followed by Victoria and Queensland.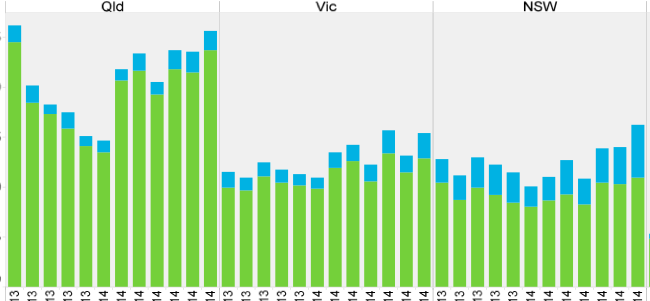 © 2014 Solar Choice Pty Ltd
Giles Parkinson regularly contributes unique content to Solar Choice News. Giles is the founder and editor of clean energy industry news service RenewEconomy. He is a journalist of 30 years experience, a former Business Editor and Deputy Editor of the Financial Review, a columnist for The Bulletin magazine and The Australian, and the founding editor of Climate Spectator.
Latest posts by Giles Parkinson (see all)