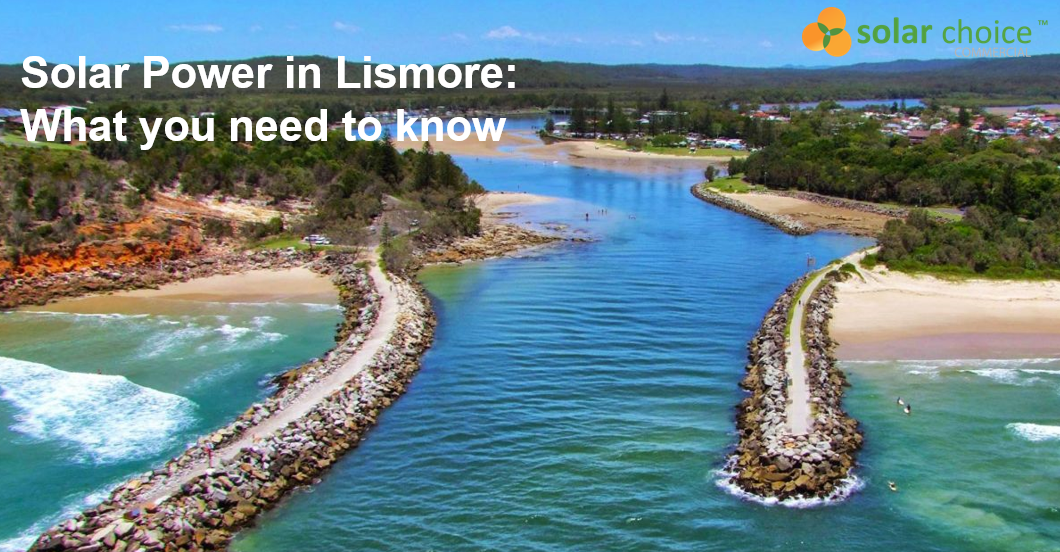 If you haven't already realised it, Lismore NSW is a great spot for solar power. As with the rest of the state, solar power is affordable and electricity prices are high, making solar panels a 'no brainer' investment for anyone who has the budget and some unshaded roof space. This article covers the main things that you need to know about going solar in Lismore.
Compare solar quotes from up to 7 local installers now.
Key things you need to know about going solar in Lismore
How much energy will a solar system produce?
On the far north coast of New South Wales, Lismore's sunshine rates are just a bit less than those in Brisbane, with about 5 'peak sun hours' of solar fuel available daily (on average throughout the year).
The table below provides a rough idea of how many kilowatt-hours (kWh) of energy you can expect to generate with various popular solar system sizes, operating at 80% efficiency.
(Note that we've assumed a north-facing solar panel array tilted at 30 degrees – the ideal for Lismore's latitude. The performance of an individual system will depend on your circumstances, including the tilt & orientation of your panels and whether or not there is any shading.)
Wondering which solar system size is right for your home? These days 5kW systems are the most popular and offer best value for money, but if you'd like to look at the matter in more detail, see our article about selecting the right system size, or check out our quick solar system sizing guide.
Solar system energy production estimates for Lismore, NSW 
System size

Approx daily energy production (annual average)

3kW
12kWh
5kW
20kWh
7kW
28kWh
10kW
40kWh
How can you get the most value out of the solar energy your system produces?
In NSW, a solar panel system can save (or earn) you money in two key ways:
Helping you to reduce the amount of energy you need to purchase from the grid. Grid electricity is expensive – about 25c/kWh in the Northern Rivers region. Each unit of solar energy that you use yourself is one less unit that you have to buy. (Read more about maximising solar self-consumption.)
Solar feed-in tariffs will earn you credits on your bill. A solar feed-in tariff is the amount you are paid for solar energy that you don't use yourself. These days, solar feed-in rates are about 10-16c/kWh in the Lismore area. While these rates may not be as high as what you can save by using the energy yourself, they play a crucial role in helping households reduce their electricity bills. (Note that different electricity companies offer different rates. Read more about how to choose an electricity retailer)
Check out Solar Choice's solar system payback estimator:
Solar PV System Payback Estimator
What about batteries?

Home battery storage is quickly gaining popularity in Australia. You can learn more about solar battery storage in NSW here, or check out our Solar & Battery System Sizing & Payback Estimator here.
What incentives are available for solar power in Lismore?
There is a federal incentive for small-scale solar systems in Australia that takes the form of an up-front discount on the price of your system (sometimes erroneously referred to as a 'rebate'). This discount should be directly applied to the price you are quoted by solar installers; you do not need to do anything to secure it other than choose a system that will be installed by an accredited solar electrician. Ordinarily, the value of this discount will be detailed in the quote that you receive.
How much does a solar PV system cost in Lismore?
The table below contains average pricing figures for solar systems in Lismore & the far north coast region of NSW as of November 2017. The prices are based on data from Solar Choice's installer network database (we also publish monthly figures for all Australia's capital cities here.) These prices are intended as a rough guide – to get current, specific pricing, you can request a free & impartial Solar Quote Comparison by filling out the form on this page.
Indicative solar system prices for Lismore & far north coast NSW (Nov 2017)
System size
Average price
Average price per watt
2kW
$3,300
$1.65
3kW
$4,000
$1.33
4kW
$4,900
$1.23
5kW
$5,500
$1.10
6kW
$6,200
$1.03
7kW
$8,200
$1.17
8kW
$9,400
$1.18
10kW
$11,700
$1.17
Compare solar quotes from up to 7 local installers now.
What is the typical payback period on a solar system in Lismore? Typical return on investment?
A payback period of about 5 years is fairly realistic for households with north-facing roofs that go solar in Lismore; by contrast, the standard solar panel performance warranty is 25 years, and an inverter warranty is 5-10 years, depending on the brand & offer. Internal rates of return (IRR – like 'return on investment' but more sophisticated) can easily be above 20% for most systems due largely to the high price of electricity, making solar a very attractive investment.
Potential energy bill savings vary greatly with the size of the system and the rate of solar self-consumption. In the table below we've included a few different popular solar system sizes and two separate 'self-consumption' ratio assumptions for each system size, based on realistic high & low scenarios. Self-consumption rates will typically be higher for smaller systems (as it's easier to use up a greater proportion of the energy produced directly), while we've set them lower for larger systems. Again, results will vary depending on your circumstances.
Indicative returns for solar systems @ average Lismore prices (Nov 2017)

(Assuming 80% system efficiency, 25kWh electricity consumption/day, retail electricity @ 25c/kWh, solar feed-in rate @ 12c/kWh)


3kW
5kW
$4,000
$5,500
@ 50% self-consumption
@ 70% self-consumption
@ 30% self-consumption
50% self-consumption
~4.6 year payback
~4 year payback
~5 year payback
~3.8 year payback
~22% IRR
~26% IRR
~22% IRR
~27% IRR
~$860 annual savings
~$990 annual savings
~$1,200 annual savings
~$1,400 annual savings
7kW
10kW
$8,200
$11,700
@ 20% self-consumption
@ 40% self-consumption
@ 20% self-consumption
40% self-consumption
~5.3 year payback
~4.4 year payback
~5.3 year payback
~4.4 year payback
~19% IRR
~23% IRR
~19% IRR
~23% IRR
~$1,500 annual savings
~$1,800 annual savings
~$2,200 annual savings
~$2,600 annual savings
Want to play with the numbers yourself?

Compare solar & battery quotes for Lismore with Solar Choice
Since 2008, Solar Choice has helped over 120,000 Australian homes & businesses make an informed decision about going solar with our free & impartial Quote Comparisons, which give users the ability to compare prices, products & warranties from different installers across an array of system sizes and product categories (including primary, premium and microinverter systems). You can also browse battery storage offerings and access a range of useful tools via your personalised platform.
Compare quotes from up to 7 pre-vetted installers in your area now.
Since 2008 our knowledge and sophisticated software has allowed over 300,000 Australian households and businesses to make a well-informed choice on their solar & battery installer.
© 2017 Solar Choice Pty Ltd 

Latest posts by Jeff Sykes
(see all)