Solmetric's Suneye 210 is a comprehensive site evaluation tool for solar PV system design and installation. The Suneye 210 allows installers and designers to accurately predict a solar PV system's performance, and to preemptively identify potential future shading issues as nearby trees grow or new buildings are constructed.
Preventing partial shading when designing solar systems
Thanks to the existence of free online aerial imaging programs such as Google Earth and Nearmap, these days evaluating a roof for a solar PV system installation can easily be done remotely and with a fair degree of accuracy. However, images on these sites have inherent limitations: They may be out-of-date, may not give a good indication of which nearby items may cast shadows on the panels, or may not reflect how shading for each season of the year.
Even partial shading of a solar array can have a disproportionately large impact on overall system ouput, due to the way that conventional solar systems are arranged, with one or more 'strings' of solar panels feeding into a centralised inverter. Shading on even one panel in a string can result in a 'weak link' effect that drags down output for the entire string. If there is only one string in the array, the output of the entire system can be compromised. Although micro-inverters and AC solar modules are increasingly popular technologies that mitigate most of the negative effects of shading, having accurate shading information is still necessary for good system design. Additionally, conventional systems are still generally the more affordable option, and therefore remain the most popular one.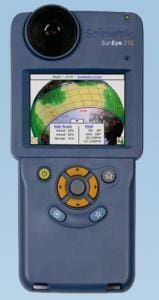 Solmetric Suneye Advantages
Solmetric's Suneye is designed to enable a higher level of confidence among installers, designers, owners, and financiers in predicting system power output by providing on-the-spot data relating to roof tilt angle, orientation, and potential shading from nearby objects. The Suneye also helps to identify and troubleshoot shading issues as they could potentially appear in the future–e.g. trees growing and buildings being constructed or renovated–by enabling designers to model hypothetical scenarios. In this way, the Suneye is a useful complement to the aerial images that are commonly used for initial site assessments. It enables those on the ground to identify exactly how not only trees and buildings, but also rooftop objects like ventilation ducts, chimneys, or skylights (whose dimensions can't usually be made out in satellite images) might cast shade on sections of the roof throughout the year.
The financial case for rooftop solar PV is important not only to homeowners who purchase their systems themselves, but also to financiers in solar leasing schemes, as well as any installer-designers who wants happy customers. At the end of the day, siting and designing systems using the Suneye can result in better returns on investment and shorter payback times than without, thanks to improved power yield over the course of the system's operational life.
Solmetric Suneye: Features
–Fisheye lens and digital camera, for photographing the sky above the site and identifying objects that could potentially obstruct sunlight
-Full colour, hi-res touch-screen display
-Annual sunpath overlay view, for visualising how the sun will travel over the location in question throughout the year
–Electronic inclinometer, for measuring the angle of a roof
–Electronic compass, for establishing a solar array's orientation
–Compact design for ease in carrying; single-handed operation for ease of use in even awkward positions
–2 year warranty anywhere in the world
–Optional integrated GPS
–"Live Survey Mode" makes it possible to see the path of the sun throughout the year from different vantage points on-site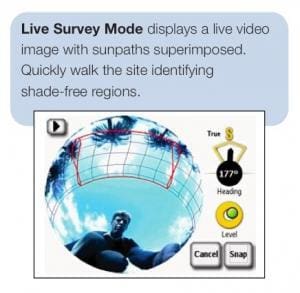 –Data storage on device for saving different scenarios, including different orientations and modelling hypothetical situations in with sunpath obstructions are removed
-IPhone owners can also download the Solmetric Suneye app, which while not as accurate as the Suneye tool itself, can still give indicative performance predictions for a solar PV system for a particular location
-Solmetric also offers extension kits for rooftop measurements from ground level, as well as PV system design software (PV Designer) that integrates with data from the Suneye
Download: Solmetric site evaluation and system design infosheet (pdf)
All images via Solmetric
© 2012 Solar Choice Pty Ltd

Contributor
at
Solar Choice
James was Solar Choice's primary writer & researcher between 2010 and 2018.

He is now the communications manager for energy technology startup SwitchDin, but remains an occasional contributor to the Solar Choice blog.

James lives in Newcastle in a house with a weird solar system.

Latest posts by James Martin II (see all)