The world's biggest solar tower power plant has begun commissioning in Morocco, and is scheduled to begin production of solar thermal energy by October, in a landmark moment for solar thermal technology.
Just the second large-scale project of its type, the 150MW Noor Ouarzazate III solar receiver, with 7.5 hours of molten salt storage, dwarfs its predecessor in size – the 110MW Crescent Dunes solar tower in Nevada.
Spanish group Sener has built the Noor plant as part of a massive 510MW facility that also comprises two other solar thermal facilities, using parabolic trough technology with between 3 and 6 hours storage.
Sener also built the 20MW Gemasolar solar tower near Seville in Spain in 2011 (which Renewconomy visited in 2016) at Ouarzazate (Morocco), but the technology has stalled since, over-run by the plunging cost of solar PV.
Now that the value of storage is being better recognised, the solar tower and molten salt storage sector is hoping that it may finally find a place in global energy markets.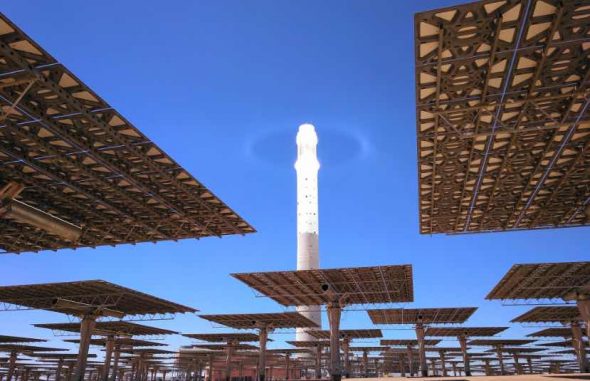 SolarReserve, which built the Crescent Dunes facility, is due to begin construction on the Aurora Project near Port Augusta, which surpass Noor in size.
It is also building another large facility in South Africa, and pursuing more projects both in the US and Australia.
The key to the technology's long term success will be its ability to rapidly reduce costs to keep pace with the falling cost of battery storage, and the interest in pumped hydro.
Noor has a price of $150/MWh, and Sener admits that further reductions are essential.
Compare Solar & Battery Quotes

Latest posts by Giles Parkinson
(see all)