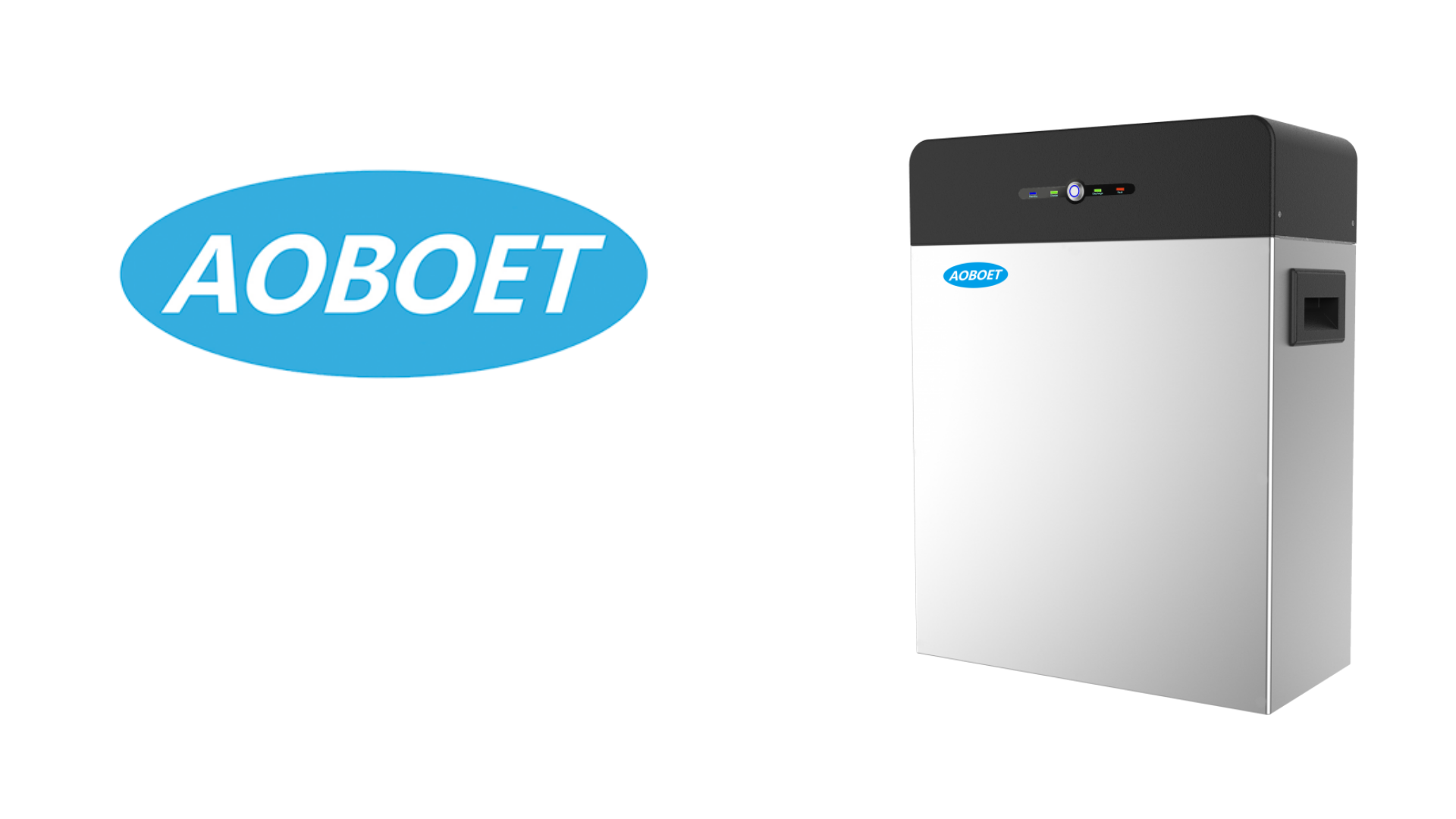 Background on Aoboet – Company History
Aoboet was founded in Wuxi City, China in 1999 and commenced manufacturing industrial dehumidifiers. In 2007, they developed the first N-methyl pyrrolidone (NMP) recovery system at a lithium-ion battery manufacturer.  In 2010 they expanded  to markets outside China including Japan, Israel, Taiwan, South Korea, Argentina, France, Malaysia, the Philippines, UK and Germany.
In 2017 they started researching and development of energy storage system products. In 2018, they had a product launch for the energy storage systems in October in Melbourne, Sydney and Brisbane and released Aobo brand solar energy storage systems in Australia. In 2019 they became a member of Australian Clean Energy Council (CEC) Membership and Smart Energy Council. They furthered their distribution network in Australia by appointing distributors in Australia for both ATS products and energy storage systems.
Basics of Aoboet UHOME NCA Battery
The Aoboet UHOME NCA is their flagship product in Australia. With a 6.8kWh nominal storage capacity, this battery uses Panasonic manufactured cells and a Battery Management System (BMS) developed by Aobo.
With a usable capacity of 6kWh, it uses Panasonic manufactured cells and a battery management system developed by Aobo. The "NCA" stands for Lithium Nickel Cobalt Aluminum Oxide (LiNiCoAlO2), the chemistry of the cells used in the battery.
As per their datasheet, the maximum number of modules that can be connected in parallel is 4, which would provide a battery system totalling 27.2kWh. This scalability would place it within the range of either residential or commercial applications.
At 62kg it's fairly heavy compared with other battery modules. This is likely due to the combination of metal and plastic casing as it's designed for both indoor and outdoor use as it's rated IP65.
With an operating temperature of -10 to 45 degrees Celsius places it to work well in the temperature extremes of the Australian environment. On that point, they're developed with Nickel Cobalt Aluminium Oxide which is well known for their chemical safety with batteries, as well as providing a long cycle life.
They state on their documentation that the product has as high compatibility with many different inverter brands, however no specifics have been stated. We've reached out to Aoboet to clarify this.
Aoboet Battery – Key Features
There are a number of features of the Aoboet battery worth mentioning:
Scalable Capacity
As mentioned, this battery can be expanded in parallel with 4 modules giving a total of 27.2kWh. The advantage with this, is that it gives you the flexibility to expand your solar energy storage in the future. This may be useful if you're finding that you're finding your battery stretched with your night time use of appliances.
90% Depth of Discharge
The Depth of Discharge (DoD) of the Aoboet UHOME NCA is 90%. This puts it on par with some of Aoboet's competitors, namely Sonnen (90% DoD and Alpha ESS (90% DoD).
DoD is an important factor to account for when making a buying decision for a solar battery. It's the percentage of the battery that has been discharged compared with it's stated capacity. The higher the DoD, the more available stored energy you can use, and hence greater potential you're gaining from it.
In relation to this, it's not recommended that people discharge their batteries fully as it shortens their lifespan as they have a limited number of charge/discharge cycles. This is why a manufacturer will state the DoD to give you an indication of how much you can discharge it. In saying that it's important to remember that there's a correlation between the cycle life and the DoD, i.e. the more often you discharge the battery to it's maximum DoD, the shorter its lifespan.
Smart App
Aoboet self-developed APP complements the product for easy monitoring by both customers and Aobo. The benefit of this app is that it enables the user to both monitor and optimise their electricity consumption. Also, you can switch to charging up your battery system during off-peak tariff periods.
How Much Do Aoboet Batteries Cost?
We've reached out to Aoboet to find out the wholesale cost of their batteries. We'll update this section once we hear back from them.
Compare quotes from up to 7 installers in your area now.
Australian Warranty Terms for Aoboet UHOME NCA Batteries
As per Aoboet's warranty documentation, the length of warranty is 10 years (5years for free + 5 years appropriate transport costs) from the first installation date.
There's a few points about the warranty we think you need to know:
Repaired product is warranted for the remainder of the original Period of Performance Guarantee. In any event, the replaced battery shall not justify the renewal of the Period of Performance Guarantee.

Anyone else not authorized by AOBOET to modify, disassemble, repair or replace the product results in warranty being void.

AOBOET guarantees that the Nominal Energy of Uhome-NCA 6.8kWh/LV battery still remains at least 60% either 10 years after the date of the initial installation or minimum 21MWh since the battery is operated under a normal use followed by the specification and the user manual provided by AOBOET.
Warranty claims can be claimed through the authorised distributors listed below:
Energy Cloud Australia Pty Ltd
Email: enquery@energycloudaustralia.com.au 
Phone: +61 1300 845 531 
Address: UNIT 17, 21-35 Ricketts Road, Mount Waverley, VIC 3149. 
Website: www.energycloudaustralia.com.au 
Contact person: Feng Jiang 
AOBO New Energy Pty Ltd
Email: info@aoboet.com.au 
Phone: +61 03 9645 8001 
Address: UNIT 211, 370 St Kilda Rd. Melbourne VIC 3004. 
Website: www.aoboet.com.au 
Contact person:MARK XU
Read Aoboet's Warranty Documentation Here
Aoboet UHOME NCA Specifications
Aoboet UHOME NCA
4 x Aoboet UHOME NCA (in parallel)
Usable Capacity
6.0kWh
24kWh
Nominal Voltage
50.4VDC
Peak Power (only discharging)
7kW for 3 sec.
System Connection
Max 4 pcs. in parallel
Battery Cell Technology
Lithium Nickel Cobalt Aluminium Oxide
Dimensions (L x W x H)
525 x 675 x 238mm
525 x 2,700 x 238mm
Weight
62kg
248kg
Operating Temperature Range
-10 to 45 degrees Celsius
Outdoor/Indoor
Both (IP65)
Warranty

10 years
Battery government rebate schemes across Australia
South Australia, New South Wales, Victoria, and Australian Capital Territory all currently have a home battery scheme in place.
The South Australian Home Battery Scheme enables eligible South Australian residents to receive up to $4,000 per installed battery.
The New South Wales Home Battery Scheme offers an interest-free loan up to $9000 for eligible households looking to install a solar battery.
The Victorian Government under the Solar Homes Program provides to those eligible, a maximum discount of $4,174 off the battery sale price. The next release of battery rebates is on the 2nd of September 2020.
The Australian Capital Territory Government under the Next Generation Energy Storage program provides a rebate of $825 per kilowatt (kW). An average household with a 5kW system would be eligible for approximately $4,000.
Read more product reviews from Solar Choice
Compare quotes from up to 7 pre-vetted installers in your area now.
Since 2008 our knowledge and sophisticated software has allowed over 180,000 Australian households and businesses to make a well-informed choice on their solar & battery installer.