Residential solar PV system finance: Options available through Solar Choice installers
Government subsidies plus financing make going solar more affordable than ever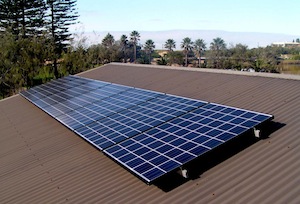 In addition to the subsidy offered through the Federal Government's Solar Credits Scheme (in the form of RECs/STCs), a number of the accredited installers in the Solar Choice Installer Network offer finance packages to make going solar an attainable goal for those who are unable or unwilling to pay for the full cost of their system outright.
What kind of financing is available through the Solar Choice network of solar PV system installers?
A number of installers in the Solar Choice network offer financing packages for residential solar power systems. Financing options are either interest-free or come at a small additional cost.
Interest-free financing for residential solar power
Some installers offer interest-free financing for periods of 6 to 24 months. This option allows new system owners to spread the cost of their system over a set period of time to make payments more manageable, at little or no additional cost to the customer.
Pay-as-you-go Solar Power / "Free Solar Panels" / Solar Leasing
Highly successful in the US and Europe, this type of agreement is now available in Australia and through the Solar Choice installer network. Under such an agreement, a company will install a solar system on the customer's roof at no up-front cost to the customer. Customers enter a 20-year agreement to purchase the solar power produced by the system from the installer at a rate lower than their retail electricity rate, thereby saving them money on their electricity bills. It is more useful to think of the agreement as an agreement to purchase power than an agreement to have a solar system installed.  Read more: Is solar leasing right for you?
Other payment plans
Other installers on the Solar Choice network offer financing for solar systems at a set cost to the customer. Financing packages may provide customers with the option to pay in instalments with interest. This means that the faster the system is paid off, the lower the ultimate cost to the owner. Alternatively, customers may be offered a package in in which the total price of the system is higher than paying for the system outright, but is broken into more manageable monthly or fortnightly payments.
Talk to your Solar Choice Solar Energy Broker to learn more
Please consult your Solar Energy Broker to find out more about the financing options available to you through the installers that service your area, and keep in mind that some finance packages may void your eligibility for a Solar Choice discount.
Financing for Commercial-scale Solar Power
Solar Choice recently announced a unique Commercial Solar Finance Package for large-scale solar systems. An operation lease agreement allows for zero capital expenditure and instant parity with commercial electricity tariffs. Consult our Commercial Tender Management team today for more information.
Back to top
---
Residential Solar Power
Residential solar power systems overview
Residential solar power finance options
Back to top