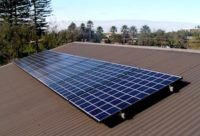 1.5kW solar systems were once the most popular system size in Australia. As solar technology prices have come down in recent years, however, most homes are now tending to opt for larger systems – in the 2kW to 5kW range. This article takes a look at the case for installing a 1.5kW solar system in current Australian market conditions.
A 1.5kW solar system is pretty much the smallest solar system size that you can have installed professionally. While 1kW solar systems are out there, you will not generally see them advertised by installers because they're so small as to have a minimal impact on your energy bill. Additionally, our experience is that systems in the 1kW-1.5kW size range offer significantly less value for money than systems even just a little bit bigger.
Nonetheless, 1.5kW solar systems may offer superior returns over larger system thanks to the fact that it may be easier for a home to 'self-consume' more or all of the energy produced directly.
Compare solar quotes from up to 7 local installers now.
How much does a 1.5kW solar system cost?
Solar Choice has been keeping track of Australian solar system installation prices since August 2012. During this time, we've seen prices for larger systems fall significantly, while 1.5kW system prices have hardly moved (or even increased in some instances). A lot of this is to do with the fact that a high percentage of the cost of this system is time and labour from the installation company. Generally it will still be a days work to install a 1.5kW or a 7kW solar system for an install crew.
Based on the Solar Choice Price Index we expect the average cost for a 1.5kW solar system to be around $2,800 depending on your state and location. See the below graph which details the history of 1.5kW Solar System pricing in Australia.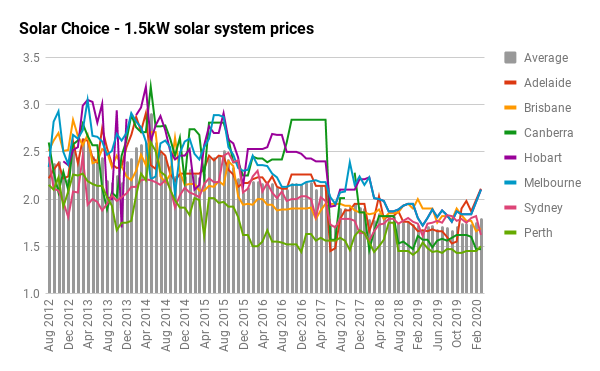 How much energy does a 1.5kW solar system produce?
The power output of a 1.5kW solar power system will vary due to a number of factors including, including the local climate, nearby shading, and the tilt and orientation of the panels themselves, among other factors.
While it may be convenient and useful to summarise a solar system's output in a single 'kilowatt-hours per day' (kWh/day) figure, the reality is that most locations receive more sunshine in the summer than the winter.
The table below provides some rough figures on average daily outputs from 1.5kW solar systems in a handful of Australia's capital cities, as well as the maximum and minimum outputs for summer and winter. All the situations below assume that the panels face north, and that the system has an overall system efficiency of 85%. (Data source: PVWatts.)
 Indicative 1.5kW solar system output for select Australian cities

 Sydney
 Brisbane
 Melbourne
 Perth
 Average
5.8kWh
6.3kWh
 5.7kWh
 6.8kWh
 Summer (Dec)
6.7kWh
8.5kWh
 6.7kWh
 7.9kWh
 Winter (June)
4.5kWh
4.8kWh
 3.7kWh
 4.8kWh
What's the payback period for a 1.5kW solar system?
Because 1.5kW solar systems are relatively costly for their size, it's imperative to use as much of the energy they produce as possible in order to maximise the investment and minimise the payback period.
The table below shows payback periods and internal rate of return (IRR) for 1.5 kW solar systems in select capital cities, assuming that they pay 25c per kWh (c/kWh) for electricity from the grid. We've assumed that the home in question either uses 70% of the solar energy produced by the system or 100% of the solar energy produced – but please keep in mind that it may require effort (or at least planning or the right technology) on your part to ensure that the self-consumption rate is this high.
Keep in mind that the figures in the table below – which are already pretty good – are indicative only and based on median system installation prices; you might be able to improve these numbers by shopping around (we can help).
Indicative returns for 1.5kW solar systems @ average prices

(Assuming 25kWh electricity consumption/day @ 25c/kWh, 85% system efficiency and 8c/kWh feed-in tariff)


Sydney
Brisbane
$3,200
$2,900
@ 70% self-consumption
@ 100% self-consumption
@ 70% self-consumption
@ 100% self-consumption
~6.1 year payback
~4.9 year payback
~5.2 year payback
~4.1 year payback
~15% IRR
~20% IRR
~18% IRR
~24% IRR
~$500 annual savings
~$640 annual savings
~$540 annual savings
~$690 annual savings
Melbourne
Perth
$3,300
$2,300
@ 70% self-consumption
@ 100% self-consumption
@ 70% self-consumption
100% self-consumption
~6.5 year payback
~5.2 year payback
~3.9 year payback
~3.1 year payback
~14% IRR
~19% IRR
~26% IRR
~33% IRR
~$480 annual savings
~$610 annual savings
~$580 annual savings
~$740 annual savings
Want to learn more?

Try plugging some figures into our solar system ROI calculator yourself! Self-consumption is just one of the variables that can be adjusted to determine your likely payback time and return on investment. (Calculator outputs are indicative only–please keep in mind that electricity rates and feed-in tariff rates may change over time.)
Compare quotes from up to 7 pre-vetted installers in your area now.
Since 2008 our knowledge and sophisticated software has allowed over 300,000 Australian households and businesses to make a well-informed choice on their solar & battery installer.
© 2022 Solar Choice Pty Ltd

Latest posts by Jeff Sykes
(see all)