Different types of businesses have different energy requirements, but solar will work for virtually any of them – including car dealerships.
Concerned about already high – and rising – electricity bills, the owner of Artarmon Mazda approached Solar Choice in August 2017 for assistance in selecting the right company to put solar panels on the roofs of three buildings owned by the dealership.
After initial discussions over the phone, the Solar Choice Commercial team paid a visit to the dealership's flagship shop front on the Pacific Highway to discuss the project and the client's needs in more detail. Solar Choice also explained how we bring value to the process with our extensive commercial solar installer network and using our Tender Management Platform.
During the meeting, the client passed on their historic electricity bills for our in-house engineer use in compiling a business case analysis and making system size recommendations. Once completed, Solar Choice returned the electricity bills as promised.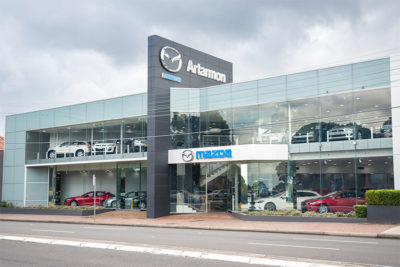 Examining each of the three sites separately, Solar Choice was able to recommend optimal sizes and the most cost-effective ways of proceeding for each building. We also presented the client with an indicative quote comparison from a range of leading commercial solar installers operating in the area.
After receiving formal proposals from a number of companies both inside and outside our network, the client narrowed down there options to just two – both of which had been recommended by Solar Choice. In the end, the company they chose was selected based on their having offices nearby and their extensive history with similar projects.
A total of 140 kilowatts (kW) was ultimately installed across three buildings: 75kW for the main dealership and showroom, and 55kW & 10kW for service and maintenance centres. All three systems used TaleSun solar panels and SMA inverters.