The popularity of solar panels as a cost-cutting measure has been growing quickly in popularity amongst a wide range Australian businesses. This article is about the potential of benefits for solar power for car dealerships, and how Solar Choice Commercial can assist car dealership managers and owners to ensure they get the best value deal on their solar photovoltaic (PV) systems.
Why solar panels are a good idea for car dealerships
It's no secret that electricity prices have skyrocketed in Australia over the past few years; homes and businesses alike have felt the sting as they've watched their power bills nearly double in the space of 3 years. This has driven many businesses to look for a solution, and thanks to the falling cost of solar PV technology, solar panels–as a fuel-free, on-site way of generating power–have proved themselves to be one of the most attractive options.
Businesses that will benefit most from installing a solar PV system are businesses that operate during daylight hours and therefore use the bulk of their electricity during the day. Car dealerships fit the bill perfectly, having a need to run energy-hungry HVAC systems (which generally account for a sizable portion of electricity load), plus lighting, appliances, and possibly even power tools if a maintenance garage is located on site.
For any car dealership that does opt to go solar, the benefits will therefore soon be visible in the form of reduced electricity bills. Payback periods on a solar system for a commercial enterprise currently sit at around the 4-7 year mark, with returns on investment in the range of 15-22% depending on the client. Once the system has paid itself off, all of the power produced by the panels is free for the duration of the system's lifetime of 25+ years.
Where to put the panels?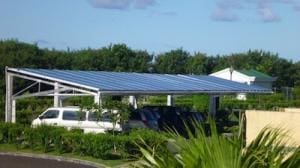 There are a number of options available to car dealerships when it comes to where the solar panel arrays should be located. Conventionally, building rooftops are the most popular location, but car dealerships may also consider going the solar car port route. Solar car ports are one of the simplest alternatives to standard roof-mounted systems. They also offer the additional bonus of protecting customers' or dealer cars from the elements. As time goes on and electric vehicles grow in popularity, such structures could even potentially be converted to serve as EV charging stations.
How can Solar Choice Commercial help your car dealership go solar?
Solar Choice Commercial manages tenders for a wide range of commercial clients across Australia, including mining companies, airports, schools, clubs and local councils. We have managed hundreds of projects since 2008, making a significant contribution to commercial solar uptake across the country. Solar Choice knows there is enormous potential for solar power to help businesses save money because we have seen the success stories–and in many cases, we had a role in making them successful.
The Solar Choice online Tender Management Platform
In addition to the expertise and experience that our commercial team members bring to the table, Solar Choice's online Commercial Tender Management Platform allows our clients to easily and intuitively compare the offerings of numerous installation companies. Amongst other benefits, the Tender Management Platform brings an unprecedented level of transparency to solar project development, ensuring that installers cannot bluff on margins. Also included in the platform are full business case and finance analysis, plus project mock-ups and video fly-overs animations. (Interested in learning more? Take an interactive tour of the Tender Management Platform.)
Contact Solar Choice about your solar project today
You can initiate a dialogue with us by filling out the Quote Comparison Request form to the right of this page (click the 'commercial' tab).
Top image by CZmarlin, via Wikipedia.
© 2013 Solar Choice Pty Ltd