Assisted by Solar Choice Commercial, Sydney's prestigious Mount St Benedict College has decided to move forward on plans to install a solar photovoltaic (PV) system to reduce the school's power expenses. The contract for the planned 100 kilowatt (kW) solar system was signed in February 2013, with construction slated to commence in the coming months. (Update Aug 2013: System installation is now complete–see below for photo.) Annually, the system will generate an estimated 145,000 kilowatt-hours (kWh) of power–22% of the school's total electricity usage–and cut the school's carbon footprint by approximately 155,000 tons of CO2-equivalent.
Mount St Benedict College's intentions to go solar were on the table from as far back as 2011, but a budget was not officially allocated until plans for the project were revived in March 2012. Thanks to the rapidly falling cost of installing a solar system and skyrocketing electricity prices, the business case for the project has become even more compelling since the time when the school first considered going solar.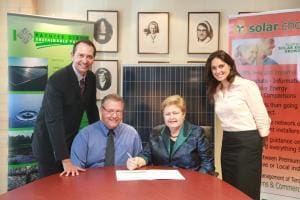 Mount St Benedict Principal, Maria Pearson, signing off the 100kW solar PV project
The project stands out because of the fact that the school will not receive any special government funding (such as under the National Solar Schools Program) to install the system; in fact, once completed Mount St Benedict's solar array will be the largest self-funded system of any school in the country. The decision to go ahead with the system even in the absence of government support demonstrates both the school's forward-thinking attitude and business-mindedness. More broadly, it is also representative of the growing attractiveness of solar PV systems as an investment option for all sectors–not only homes and businesses, but also schools, governments, not-for-profit organisations.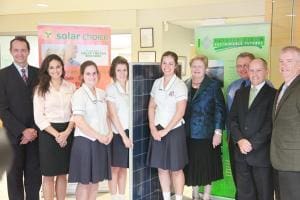 Solar Choice Commercial in conjunction with Paynter Dixon Construction acted as tender manager for the 100kW system, allowing the Mount St Benedict College board of directors to ultimately choose a quality system at a reasonable price, ensuring an optimum return on investment during the course of the system's life. The planned system will utilise 284x 250W Canadian Solar panels and 2x Fronius CL48 inverters.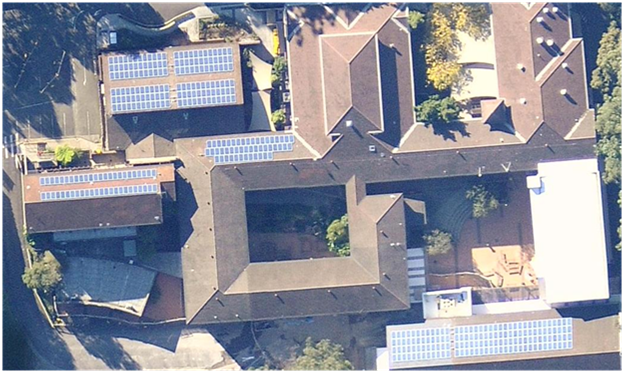 Aerial photo of the completed 100kW solar PV array on the Mount Saint Benedict College rooftop.
For more information about how Solar Choice can help your organisation go solar, contact our commercial team directly or fill out the Quote Comparison Request form to the right of this page (click the 'Commercial' tab) or contact our commercial team via the details below.
Angus Gemmell, Managing Director: angus@solarchoice.net.au
© 2013 Solar Choice Pty Ltd

Latest posts by James Martin II
(see all)