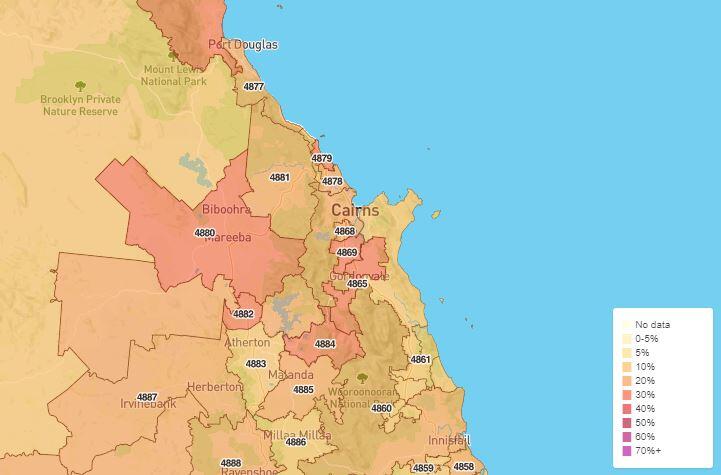 In several regions around Cairns solar panel pentration has exceeded 30% as can be seen in above image and data sourced from the Australian Photovoltaic Institute. This article helps to explain why so many people are taking advantage of solar power.
Why is Cairns a good place for solar power?
Lots of sunshine means lots of potential for Cairns homes and businesses to harness solar power
Cairns receives an an average of around 5.3 hours of full sun per day, making it one Australia's sunnier cities, as well as one of the best places to install solar PV. To calculate how much a solar system will produce you need to multiply the peak sun hours by the system DC (solar panel) capacity and reduce by a efficiency factor typically around 80%. We have done the calulations for you below with some popular system sizes:
This means that with a 5kW solar system will cover an average home's energy use. Whether it would best to go smaller or larger than 5kW for your home will depend on:
How much of the solar power can you self-consume during the day
What your budget is for a solar project
Whether you want a good return on investment, or want to cover your entire energy bill with the assistance of a solar battery
Compare quotes from up to 7 installers in Cairns now
More sunshine means more up-front Federal Government Solar Rebates
The federal government offers what are effectively up-front discounts on solar PV system installation costs under the small-scale portion of Australia's Renewable Energy Target (RET). This 'discount' is usually applied directly to the price of your system by your installer. The amount of the incentive depends on your location – sunnier locales receive a bigger discount. The Gold Coast is technically in the second sunniest 'zone' under the scheme, the same one as Brisbane. As an example see the below system sizes and estimates of the rebate they would receive as of 2020:
* Estimates taken from Greenbank on 30 March 2020 – it is a live market so prices are always changing
Feed in tariffs in Cairns, QLD
Feed in tariffs in Cairns are offered individually by electricity retailers with no mandatory minimum in place. Current offers range between 5.9c per kWh to as high as 17c per kWh for some bonus sign up rates. You can assess whats available given your situation using the Government's comparison tool – energymadeeasy.gov.au. Generally speaking oversizing your solar system to earn a feed in tariff will always reduce your return on investment – so if you want to optimise your return, we recommend using our solar power system ROI calculator to determine the best system size to apply for.
How much do solar panels cost in Cairns?
Solar panel prices in Cairns typically follow a similar pattern to the average prices in Queensland. Solar Choice publishes monthly the average cost of solar panel installations in each of Australia's capital cities. This is the best guide based on live data for the expected costs of a solar system in Cairns. See below graph of historial pricing, or you can refer to the Solar Price Index here.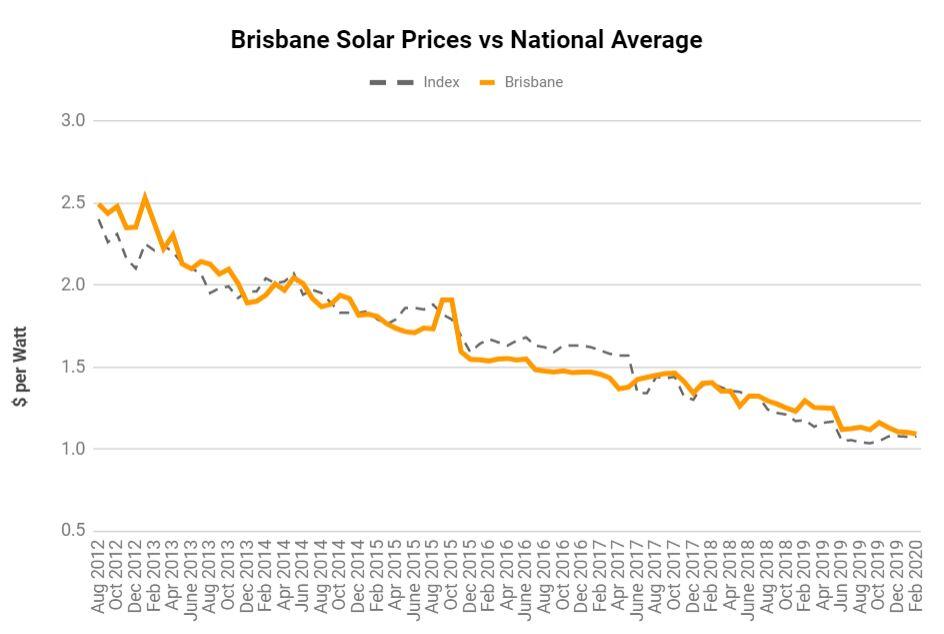 How can I find the best deal on Solar Power in Cairns?
Solar Choice, as Australia's free Solar Energy Brokering and advice service, connects solar PV customers with installers who service their area. We provide comprehensive quote comparisons of solar power installations throughout the country–including in Cairns. With a bird's eye view of the solar power market, Solar Choice is uniquely poised to identify the best deals on offer and facilitate our customers to find the solar system that best suits their needs and budget.
Request a Solar Quote Comparison today by filling out the form to the right of this page.
© 2020 Solar Choice Pty Ltd 

Latest posts by Jeff Sykes
(see all)